College of Business Announces Business Plan Competition Winners
11/17/2015
JONESBORO – The Arkansas State University 2015 Business Plan Competition once again has produced some innovative ideas by creative groups of students who earned monetary prizes for their efforts.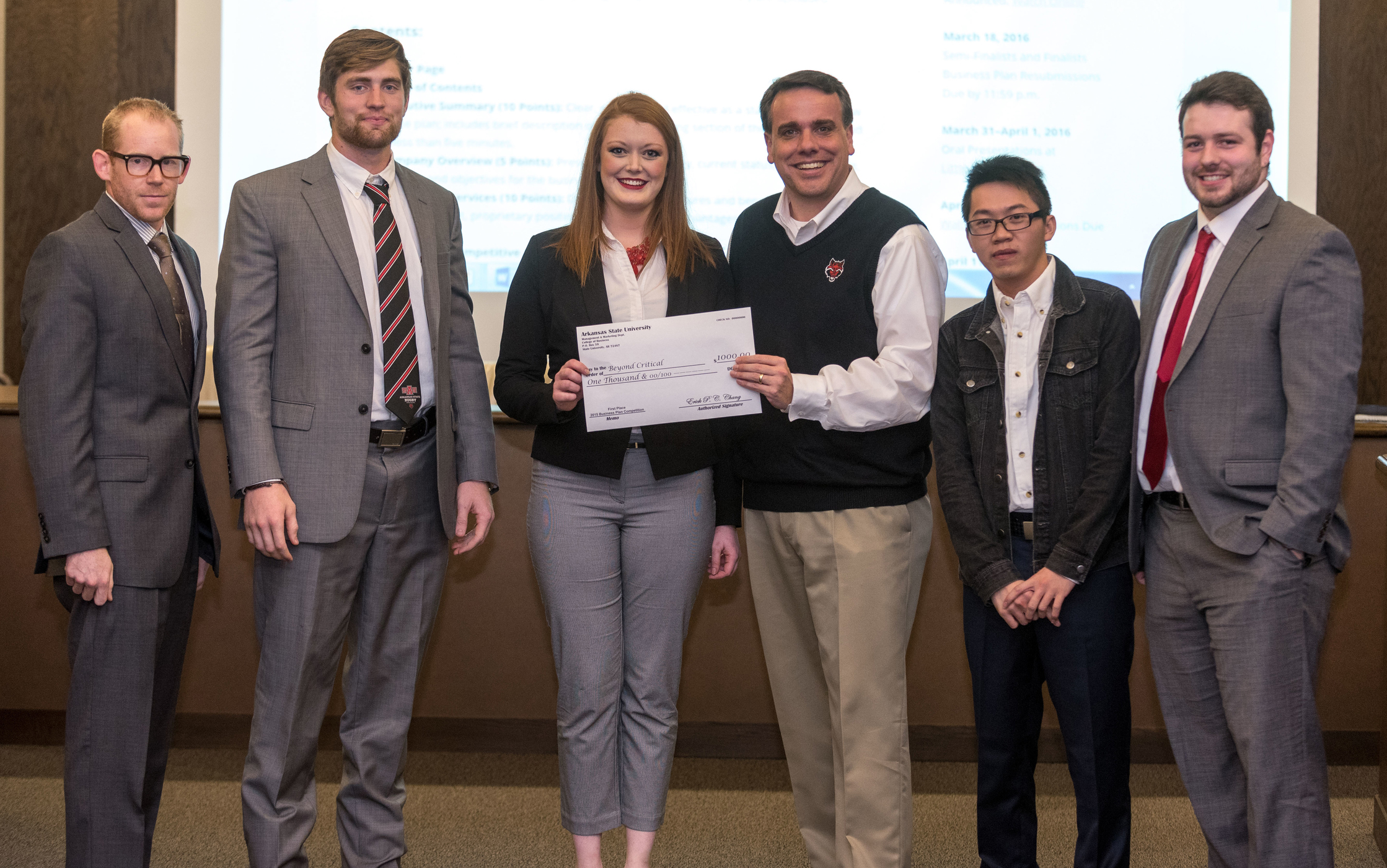 Members of "Beyond Critical," the overall winning team from the College of Business 2015 Business Plan Competition (from left) Derrick Stroh, Alex Goff, Michelle Allen, Dr. Shane Hunt, Runkun Zhang and Jason Card.
Dr. Shane Hunt, dean of the College of Business, stated the competition provided the largest amount of monetary prizes (about $6,000) and he is very proud of the students' accomplishments.
The overall winning plan and most innovative idea is "Beyond Critical," which includes students Michelle Allen, Alex Goff, Jason Card, Derrick Stroh and Runkun Zhang. The group won a total prize of $1,400.
Goff, a chemistry major, originally conceived the idea as he has been researching how to improve processes for reusing oil. He teamed up with the four other students and they are working on commercializing the process.
"We do really encourage students from all the colleges to participate in the annual competition as we have students from five colleges and two campuses participating this year," Dr. Erick Chang, associate professor of management said. "Students find students without faculty interaction. Michelle got Alex, an A-State rugby player, involved in the competition when the team wanted to have a winning idea, but they were missing the innovation element. That is why our competition differs from others as we want students to act and behave entrepreneurially rather than force them to work on researchers' or university's ideas on a for-hire situation. We are different and that is why we are proud of our results."
The team received very useful advice from Dr. William Burns, chair of the Department of Chemistry and Physics and associate professor of chemistry, and Benjamin Goff, Alex's father.
The second place team and winner of the elevator pitch include Rebekah Dillon, Hannah Barnett, Jeffery Martin and Jennifer Myers, who won $750 in prize money. Their business idea, "Car Seat Comfort," is a heating/cooling pad that can be attached to a child car seat. The pad also contains a sensor that can alert if the child is in the seat or close to the parent. Dillon provided the second win in a row for an Honors student-led team in the Live Elevator Pitch category.
Third place, worth $300, went to Brittany Berry, Jason Brock, Sarah Dickerson and Emily Fisher for their concept, "Find Me." The idea behind "Find Me" involves a micro global positioning system (GPS) chip that can be attached to different items or even pets so the user can track it from a smartphone. The main distinction from existing competitors is the use of GPS technology instead of Bluetooth.
In the freshman video elevator pitch category, the $600 winner is "Rhodes Band," with Sarah Pitts, Morgan Krokstrom, Uriel Esparza and faculty adviser Sheena Gammon. The idea is a band that can be used to track and seek persons who may be suffering from Alzheimer's.
Sarah Hoeting, Allison McQuay, Taylor Parket and Wesley Hogan took second place with "SPOT," winning $400. The group's faculty adviser is Dr. Philip Tew. "SPOT" is an application that can help students find parking spots on campus.
Third place in the freshman elevator pitch category and $300 in prize money went to "WeCare Package," with Jennifer Fullen, Morgan Walters, Laiken Kaylor, Ann Philips and faculty adviser Kerry Tew. The idea is a non-profit organization that will sell a package of food and supplies to organizations helping homeless, foster homes, soup kitchens and schools.
A $200 award was also given to Marvin Jones of ASU-Beebe; Sheena Gammon, instructor of business administration at A-State; and Kerry Tew, program director for the first-year experience, for the newly created category for faculty advisers.
The other teams competing in the final rounds were also awarded monetary prizes.
Chang commended the efforts of all students who participated in the competition as the goal is to serve as an example of what students can do when they are motivated and challenged. Particularly, the freshman competition provides an entry perspective to what students can do later in their studies.
The teams will be working on finalizing business plans and compete in the 2016 Donald W. Reynolds Governor's Cup to defend their state-level competition championship.