City Management Group Recognizes Tarnisha Tilson
11/01/2018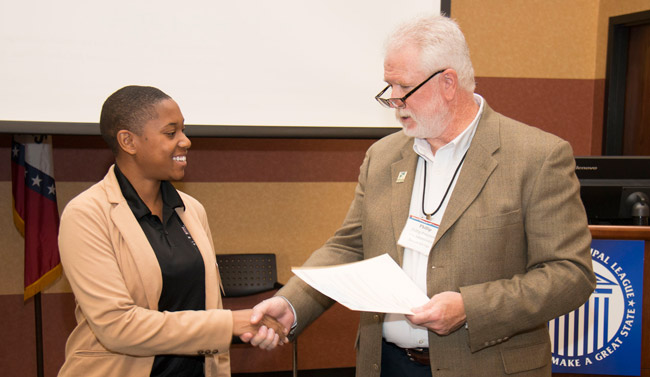 Tarnisha Tilson accepts the Henry M. Alexander Scholarship from Phillip Patterson, city manager at Siloam Springs and president of the Arkansas City Management Association.
JONESBORO – The Arkansas City Management Association (ACMA) has named Tarnisha Dionna Tilson, formerly of Helena-West Helena, as a 2018 recipient of the Henry M. Alexander Scholarship.
Tilson received her Bachelor of Arts in criminology and Bachelor of Arts in sociology from Arkansas State University in 2017. She is completing requirements for a Master of Public Administration in the Department of Political Science and will graduate in May.
"We are very proud of what Tarnisha has accomplished. She is a self-starter who gets the most out of every opportunity," commented Dr. William P. McLean, associate professor of political science and chair of the department. "The faculty unanimously recommended her for the Alexander scholarship because of her commitment and dedication to public service, especially at the local government level."
Among her campus activities, she recently was elected president of the Graduate Student Council.
"We are not surprised that the scholarship committee recognized Tarnisha's burgeoning skills as a servant leader and the impact she will have on local communities in Arkansas," McLean added. "Her research interests in prison reform, inmate education and community reintegration will drive public policy forward and leave a lasting mark."
The ACMA developed the scholarship in 1991 as part of its strategic plan to increase support for public administration education and build the image of public administrators in local government as educated, trained professionals. The award is named for Dr. Henry M. Alexander, who founded what became the Department of Political Science at the University of Arkansas and is considered the "Father of City Management" in Arkansas.
Each year the ACMA awards three of the $1,000 scholarships, selecting one student from each of the three Master of Public Administration programs in Arkansas: Arkansas State University, University of Arkansas, and the University of Arkansas-Little Rock.
# # #