Bluegrass Monday Concert to Feature Baker Family
07/08/2016
JONESBORO — The Baker Family will perform a concert of bluegrass, classic country and gospel music Monday, July 25, at 7 p.m. at the Collins Theatre, 120 West Emerson Street, in downtown Paragould. The performance is part of the Bluegrass Monday concert series presented by KASU 91.9 FM, the broadcasting service of Arkansas State University. KASU will literally "pass the hat" to collect money to pay the group. The suggested donation is $5 per person.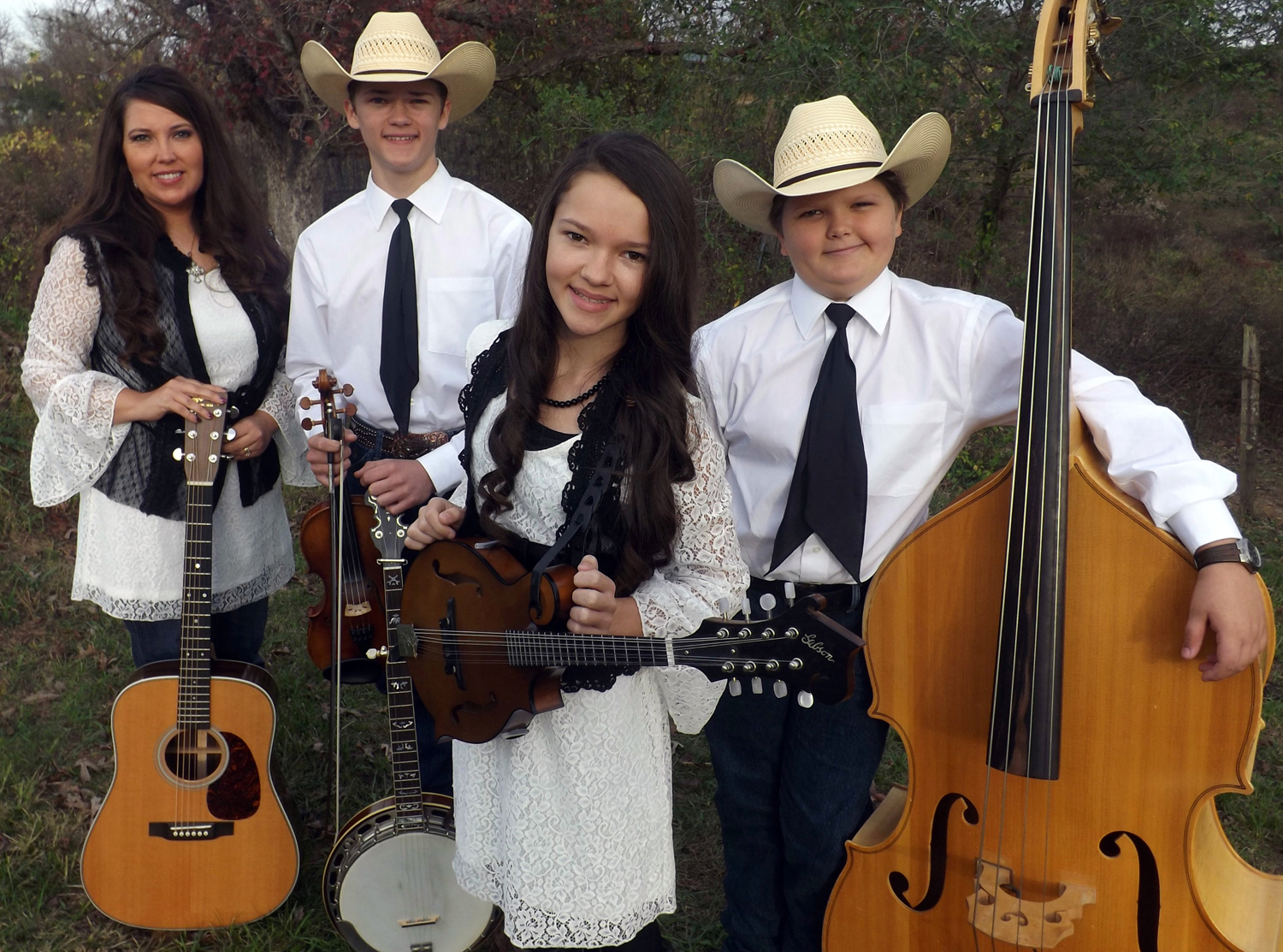 The Baker Family — (from left) Carrie Baker, Trustin Baker, Carina Baker, Elijah Baker
From Birch Tree, Mo., the Baker Family has become one of the most talked-about family musical ensembles in the country. They tour nationwide, performing approximately 100 concerts each year, and they have produced three CDs.
Earlier this year, the Baker Family won the Youth in Bluegrass band competition at Silver Dollar City in Branson, Mo. This competition is the premier showcase in the world for bluegrass musicians under the age of 21 and their parents. The family has also won the Oklahoma Bluegrass Band championship the past two years, and they won the Pickin' In The Pines band championship in Arizona in 2013.
The band features mom Carrie Baker, who sings and plays guitar, and her three children.
Seventeen-year-old Trustin Baker plays fiddle and banjo in the band, and he also sings lead and harmony vocals. He has won 10 fiddle championships in five different states, including the Tennessee and Arkansas state competitions in 2015. Last year, he was the runner-up in the Grand Masters Fiddle Championship, the most prestigious competition in the world for fiddle players.
Carina Baker is 15, plays mandolin and sings lead and harmony vocals for the family band. She was a nominee for the Female Vocalist of the Year award from the midwest chapter of the Society for the Preservation of Bluegrass Music in America.
Twelve-year-old Elijah Baker plays bass and sings both lead and harmony vocals for the band.
The doors to the theatre will open at 6 p.m. on the night of the concert, and seating will be first-come, first-served.
In addition to the concert, Terry's Café, 201 South Pruett Street in Paragould, opens on Bluegrass Monday nights to welcome bluegrass music fans. The café serves a catfish buffet meal beginning at 4:30 p.m. on the evenings of Bluegrass Monday concerts. Concessions will also be available at the Collins Theatre.
Bluegrass Monday concerts are held on the fourth Monday night of each month. These concerts are presented with support from Bibb Chiropractic, the Posey Peddler, Holiday Inn Express and Suites of Paragould, the Northeast Arkansas Bluegrass Association and KASU.
KASU, 91.9 FM, is the 100,000-watt public broadcasting service of Arkansas State University in Jonesboro. For more information, contact KASU program director Marty Scarbrough at mscarbro@astate.edu or (870) 972-2367. Bluegrass Monday is also on Facebook (search "Bluegrass Monday").