Atty. Gen. McDaniel Presents Funding to College of Engineering
12/24/2014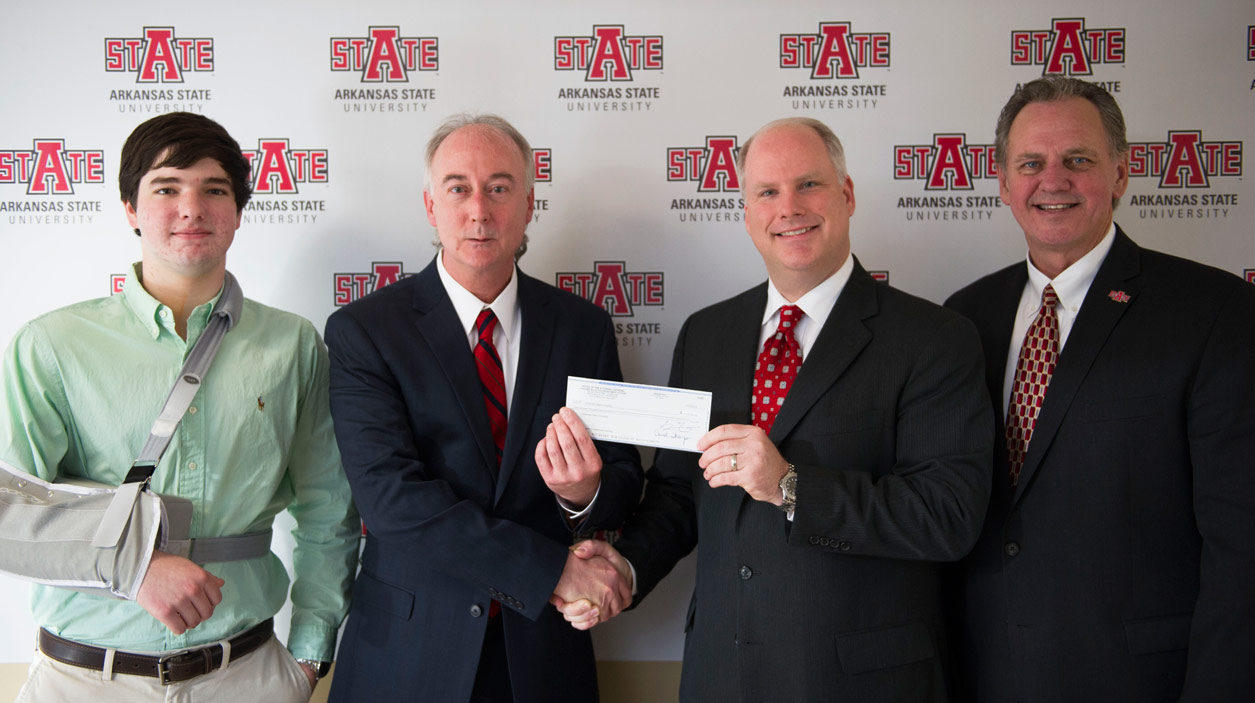 As engineering student Grant Baldwin (left) and Chancellor Tim Hudson (right) look on, interim Engineering Dean Paul Mixon (second from left) accepts a check for $100,000 from Dustin McDaniel, attorney general for the State of Arkansas.
JONESBORO – Attorney General Dustin McDaniel has announced he has provided a distribution of settlement funds under Act 763 of 2013 to Arkansas State University's College of Engineering, which will use the funds for programs that ultimately will benefit consumers and students.
During a meeting on campus, McDaniel presented a check for $100,000 to A-State Chancellor Tim Hudson, Provost Lynita Cooksey, and interim Dean of Engineering Paul Mixon.
As he expressed appreciation to McDaniel, Dr. Mixon said the donation was the largest ever received by the College of Engineering, and noted its good timing.
"One of the initiatives that we have been looking into is the creation of a cyber-security area, either as a certificate program or as a master's degree program," Mixon explained. "We believe this will be an excellent use of the funds, which also fulfills the intent of the gift. We know that internet fraud is a growing problem in the country, and pursuit of fraudulent business was a major part of the Attorney General's Office under Dustin McDaniel's leadership."
McDaniel explained his logic for directing the funds to A-State's College of Engineering.
"The law allows for reallocation of resources gained in legal actions for the people of Arkansas, and these funds were the result of consumer practices fines in our settlement with a major pharmaceutical firm," McDaniel said. "All of the issues in this case involved engineers at some level, and I couldn't think of a better way to help than to apply some of the recovered funds toward the education of more engineers here in the state of Arkansas."
Mixon plans to allocate a portion of the funds for purchasing equipment and parts for class projects. Such support provides another incentive to prospective engineering students to choose Arkansas State.
Trends in the College of Engineering, which received word last year of accreditation for its discrete degree programs in civil, electrical and mechanical engineering, are on an upswing, the dean added.
"This fall, we had the largest enrollment in the College of Engineering, up 15 percent, and this gift comes at a very important time," he said. "We anticipate our largest graduating class in the spring of next year (2015)."
# # #