ASU's "Howl" currently ranks 10th in national mascot competition
01/17/2013
JONESBORO, Ark. — "Howl," Arkansas State University's lively and very animated mascot, is competing Friday, Jan. 18, in the finals of the 2013 Universal Cheerleading Association (UCA) mascot championship being held in Orlando, Fla., at Walt Disney World's Wide World of Sports Complex.
After the judges viewed his highlight video, Howl advanced to the Division 1A level this weekend as one of the top 10 college mascots in the country.
"We are extremely proud of Howl," said Gleen Hart, assistant director of athletics for Marketing and Promotions." This competition is very prestigious and we know that Howl is a strong performer and is representing Arkansas State well."
To qualify for the competition, each mascot had to present a two-minute highlight video that shows the mascot during game situations, crowd involvement, cheer and dance routines, interaction with the band and community service.
The video judging took place in early November and each mascot received a score with the top 15 characters receiving invitations to the national competition. The video counted for half of the score with the remaining 50 percent coming from skit competition in Orlando. The skits will be judged on creativity, crowd involvement, appeal, prop usage, enthusiasm and overall impression.
In addition to Howl, here are the standings following the video scores: Auburn University "Aubie," University of Minnesota "Goldy Gopher," University of Wisconsin "Bucky Badger," Louisiana State University "Mike the Tiger," University of Colorado "Chip," University of Tennessee "Smokey," University of Iowa "Herky the Hawk," Michigan State University "Sparty," and Ohio State "Brutus Buckeye."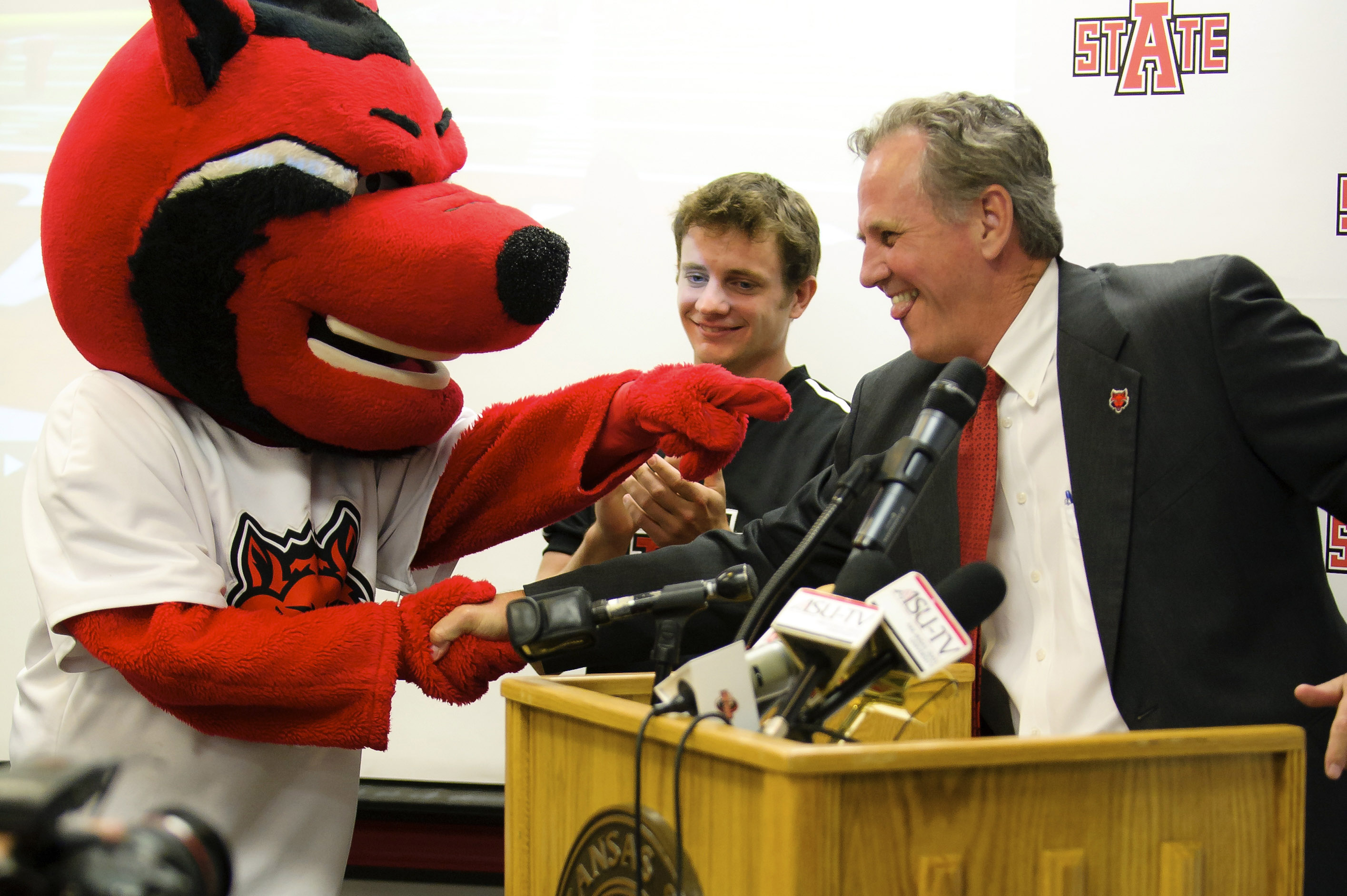 Dr. Tim Hudson, ASU Chancellor, greets Howl at a recent event as ASU cheerleader Jackson Spencer looks on.