Arkansas State Ridgewriters Camp for Young Authors is Success
07/23/2013
JONESBORO, Ark. – Thirteen young writers from Northeast Arkansas participated recently in the 2013 Ridgewriters Camp for Young Authors at Arkansas State University's Education Building. Four Arkansas Delta Writing Project teachers facilitated the camp that was co-sponsored by the College of Education and the Arkansas Humanities Council.
Arkansas Delta Writing Project Director and Associate Professor of Education, Dr. Dixie Keyes, wrote the grant that provided the 13 teen authors scholarships to participate. Dr. Adam Long, associate director and facilities manager of the Hemingway-Pfeiffer Museum and Educational Center, and Dr. Rob Lamm, professor of English at ASU, volunteered their time as humanities scholars and were central to the humanities theme of the camp. Teachers from five counties in Northeast Arkansas recommended these talented young authors for scholarships to participate.
Participating campers were Aynabeth Anderson of Jonesboro, Kamille Echols of Jonesboro, Madison Groves of Blytheville, Diana Harris of Marked Tree, Lily Hegger of Jonesboro, Hannah Hickox of Blytheville, Katie Lancaster of Manila, Molly Mason of Paragould, Kathryn Pankey of Blytheville, Brittany Rash of Jonesboro, Allie Rash of Jonesboro, Katelyn Thompson of Jonesboro and Lanetra Williams of Marked Tree. Camp facilitators were Kerri Bennett from ASU's Department of English, Tim Bennett from Southside High School in Batesville, Erica Sockwell from Jonesboro's Math and Science School and Carmen White from Nettleton Middle School.
Immediately swept up into the creative space of writing, these writers spent the first two mornings journaling in response to Prezi presentations on community-based art and graffiti, the Trail of Tears, and Ghost Signs (historical advertising on old buildings) across Arkansas. They responded to each other's writing in writing groups and shared from the author's chair throughout the camp. The teens also explored ways their favorite authors write with hopes of adding style and voice to their own writing. The young authors received journals, collections of published writings from teens across the country, and t-shirts as mementos of their time in the camp.
Two days were spent on field trips, one to the Batesville town center where they participated in an all-day writing marathon and visited the Old Independence Regional Museum, and the other to Piggott to spend time writing in the same barn in which Ernest Hemingway wrote A Farewell to Arms. Dr. Lamm, a scholar of writing, led the Ridgewriters in several of Hemingway's favorite writing techniques. Dr. Long also guided the group in a tour through the Hemingway-Pfeiffer Museum.
Friday was spent editing the multiple writing pieces produced through the week of writing and preparing digital slideshows and read-aloud pieces for presentation at the "Honoring the Ridgewriters" Celebration Event in ASU's Student Union. Parents and community members came to share in the celebration.
The Ridgewriters Camp for Young Authors was sponsored in part by the Arkansas Humanities Council and National Endowment for the Humanities. The Arkansas Delta Writing Project offers professional development for teachers across Northeast Arkansas and, as a National Writing Project site, has as one of its goals to continue the tradition of the Ridgewriters Camp for Young Authors in future summers.
"Many people contributed their time and service to provide this special space for young writers in our regional community," commented Dr. Keyes. "We want ASU to be a place where our young authors and their teachers can come to renew and refresh themselves as writers. Writing can be a powerful force of expression when we open doors to authentic experiences in writing."
Search for "Arkansas Delta Writing Project" on the ASU website, www.astate.edu for more information or e-mail dkeyes@astate.edu.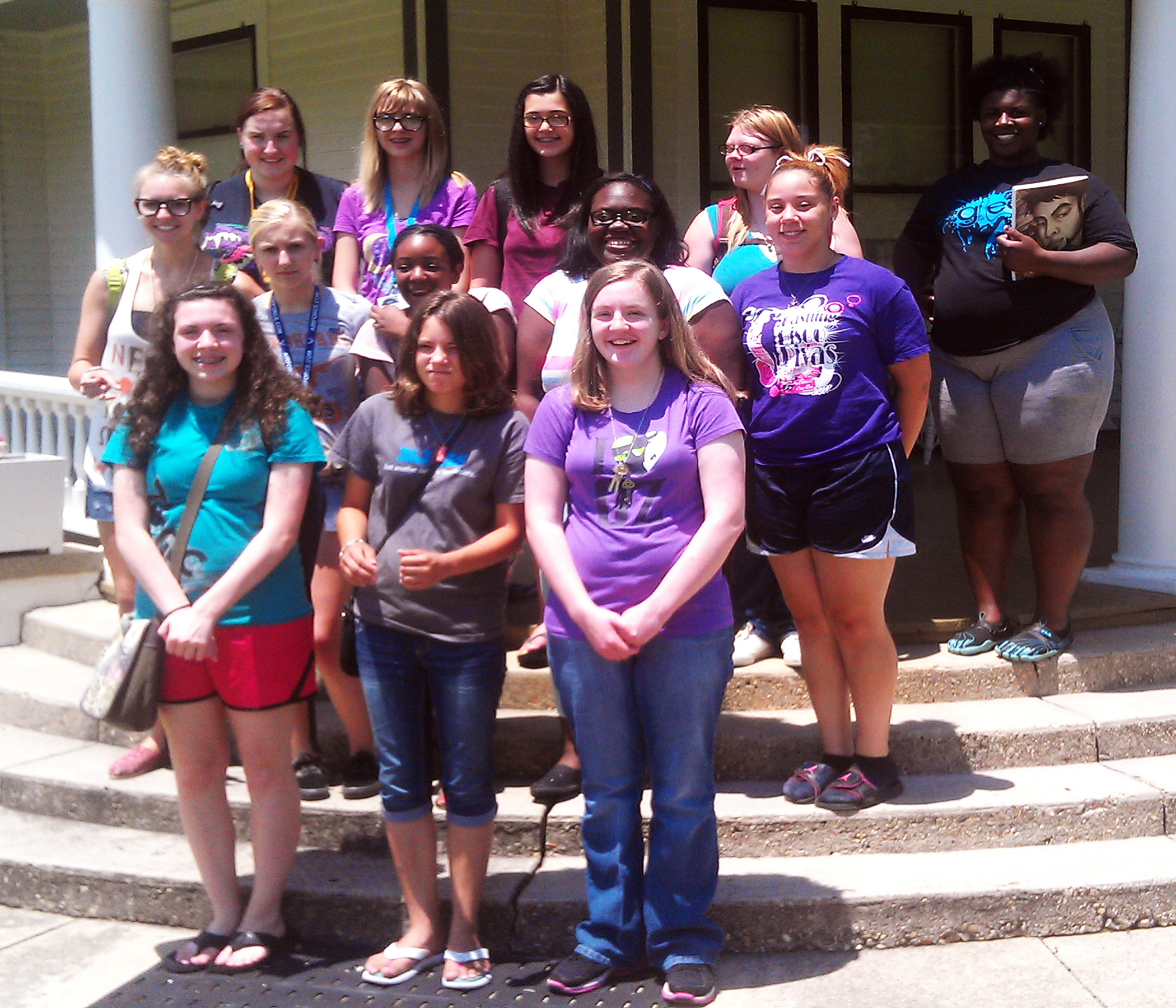 Participants in the Ridgewriters Camp for Young Authors (Front to Back, L to R): Mollie Mason (Paragould); Hannah Hickox (Blytheville); Madison Groves (Blytheville); Allie Rash (Jonesboro); Brittany Rash (Jonesboro); Kamille Echols (Jonesboro); Lanetra Williams (Marked Tree); Diana Harris (Marked Tree); Lily Hegger (Jonesboro); Aynabeth Anderson (Jonesboro); Katy Beth Pankey (Blytheville); Katie Lancaster (Manila); Katelyn Thompson (Jonesboro).