Arkansas State Rededicates Historic Wilson Hall as Home of New NYIT Medical School Site
06/02/2016
JONESBORO, Ark. – Gov. Asa Hutchinson joined Arkansas State University and New York Institute of Technology leaders today for the rededication of historic Wilson Hall, which will be home to an additional site of NYIT College of Osteopathic Medicine as the state's second medical school.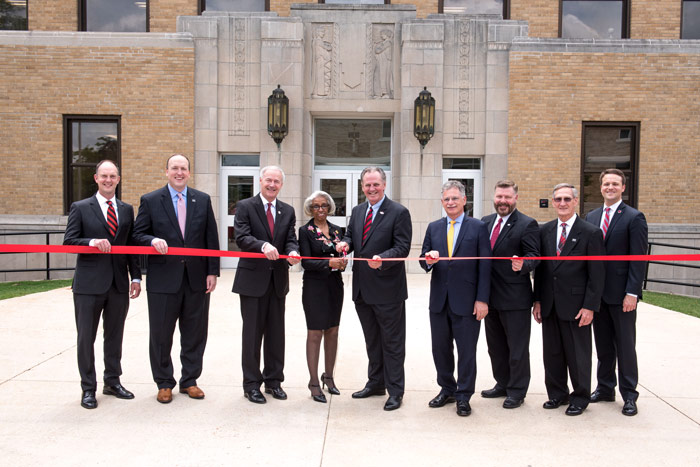 A $12.6 million renovation and modernization of the 86,000-square-foot building, which opened in 1932 and housed almost every aspect of what was then A & M College, began in September 2015. Wilson Hall became available after the opening of the 123,832-square-foot Humanities and Social Sciences Building in summer 2015.
NYITCOM at A-State will welcome its first class of 115 medical school students, including 48 percent from Arkansas, on Aug. 8. The renovation included removal of many interior walls; electrical and HVAC renovations to manage the laboratories and specialized teaching spaces such as the simulation emergency room, simulation operating room, clinical learning rooms and the gross anatomy lab; energy-efficient lighting; fire sprinkler system; modernized, ADA-compliant restrooms; and technology infrastructure.
"This is a place of innovation, and it's an amazing partnership with NYIT," Hutchinson said. "Higher education should be in the business of meeting needs of state of Arkansas, and Arkansas State is doing that using innovative ways. I'm constantly impressed with what's happening here on this campus."
A-State Chancellor Tim Hudson said he was thrilled the work toward a medical school culminated with the NYIT partnership.
"What a day and what a journey," Hudson said. "Even the most difficult journey is comprised of steps. Today is another step to bring medical education to one of the most underserved areas of the United States. This fits the idea of using higher education and the power of evidence-based decision-marking to improve our community."
Dr. Barbara Ross-Lee, founding dean of NYITCOM at A-State and vice president for health sciences and medical affairs at NYIT, said the Jonesboro site has 124 accepted students with a waiting list of 150. Their average grade-point average is 3.6, and MCAT scores are "well above the national average for osteopathic medicine." She added that 48 percent of the students are Arkansas residents, 14 percent are minorities, and 20 percent of the students have master's degrees.
"It's almost exactly three years since the first meeting between NYIT and Arkansas State," she said. "It boggles the mind to know we opened a medical school in three years. Together, we have established a new and collaborative model for delivering medical education. We will address a current and growing crisis of providing physicians for the Delta."
Ross-Lee noted that, despite warnings about residency shortages and the cap on Medicare funding, at least 200 new residency training slots have been approved in the region since NYIT began discussions with hospitals.
"This is a milestone event for NYIT and Arkansas State," said Dr. Edward Guiliano, president of NYIT. "Our universities are remarkably similar. Arkansas State has served the community and provided access to opportunities. Access to opportunities is our mission statement. This is a perfect example of progressive collaboration."
ASU System President Chuck Welch said the day should be thought of as transformative in many ways.
"The way we've transformed Wilson Hall and to have this incredible osteopathic medical school is just amazing," Welch said. "And not only is it a marvelous facility and the first osteopathic medical school in Arkansas, but it brings much-needed services without relying on tax dollars or [A-State] tuition."
Dr. Jason Penry, vice chancellor for advancement who led the project for A-State, praised community leaders and the teamwork that made the medical school possible.
Clark Contractors of Little Rock served as the general contractor. The Design Group and AMR Architects of Little Rock were the architects, and Pettit & Pettit Consulting Engineers of Little Rock was the engineering firm.
For more information and retrospective on Wilson Hall, visit AState.edu.