Air Force 'Shades of Blue' Jazz Ensemble in Concert Series
02/10/2016
JONESBORO – The U.S. Air Force Band of Mid-America's Shades of Blue jazz ensemble will present a free concert in Riceland Hall at Arkansas State University's Fowler Center on Friday, Feb. 19.
The ensemble's performance, presented in partnership with A-State's Lecture-Concert Series, is a family-friendly, all-ages event. Admission is free to the concert, which begins at 7:30 p.m.
The Shades of Blue is a group of 19 professional musicians whose music inspires patriotism, connects communities with military service members, and honors our country's veterans, according to Staff Sgt. Shawna E. Kuebler, who plays euphonium and serves as a spokesman for the ensemble.
During a concert, the audience is just as likely to hear the music of contemporary jazz composers as the classic sounds of Count Basie or Maj. Glenn Miller. The band also features instrumental and vocal soloists as well as the compositions and arrangements of its own talented members.
"It is a great opportunity for our students and community to have such a talented group of professional musicians who serve our nation and present these outreach concerts that inspire all of us," commented Dr. Christopher Wilson, associate professor of music at A-State.
The Lecture-Concert Series serves Arkansas State and the surrounding communities by bringing notable guest speakers and performers of diverse backgrounds and wide appeal to the campus, according to Dr. Tim Crist, L-C Committee chair. Many of the Lecture-Concert Series events include additional campus activities as well as community outreach projects.
For more details about the series, interested individuals may visit the Lecture-concert Series website, http://www.astate.edu/lectureconcert, or contact Crist, tcrist@astate.edu, (870) 972‑2094.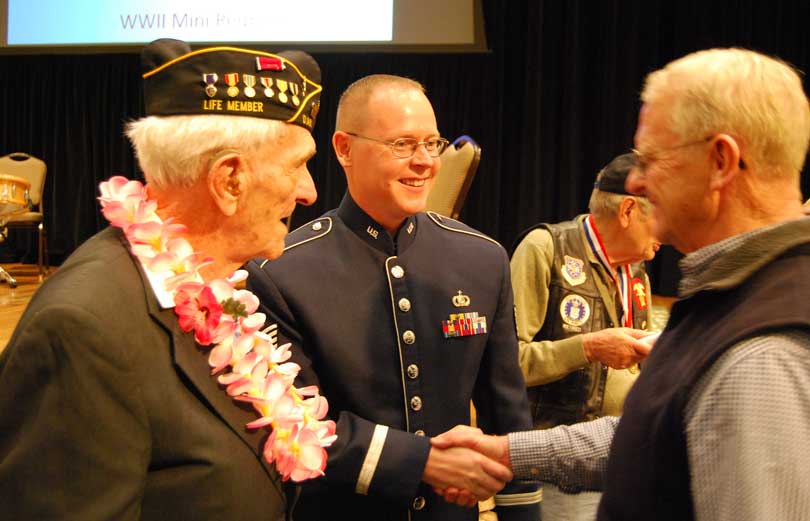 Tech. Sgt. Scott Sauer, lead trumpet player with the Shades of Blue jazz ensemble, speaks with military veterans and concert goers following the band's recent performance in Missouri.