A-State To Have Strong Presence In Miss Arkansas Pageant
07/07/2015
JONESBORO – Arkansas State University has a strong presence in the Miss Arkansas Pageant this week, as six young women, both students and graduates, will represent the university this week in Hot Springs.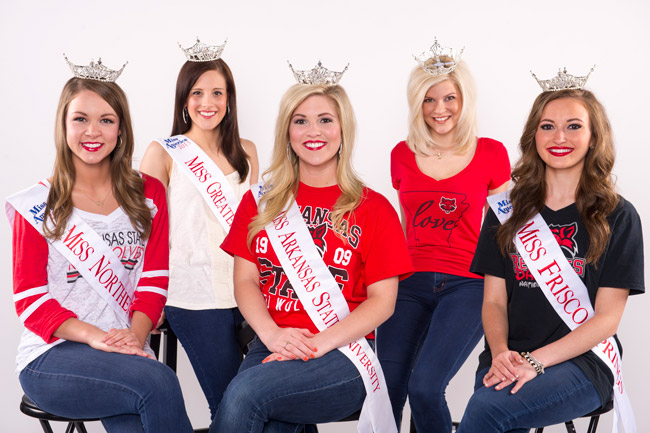 (from left) Miss Arkansas contestants from Arkansas State University — Claudia Raffo, Kasey Welsh, Jade Collins, Elli Fowler and Destiny Quinn. (Not pictured is Bailey Moses, a transfer student.)
The weeklong competition will conclude Saturday evening, July 11, with the crowning of Miss Arkansas. The winner will go on to represent the state of Arkansas at the Miss America Pageant, Sept. 13, in Atlantic City.
The six are Jade Collins of Hector, Elli Fowler of Wynne, Bailey Moses of Cabot, Destiny Quinn of Jonesboro, Claudia Raffo of Jonesboro and Kasey Welsh of Jonesboro. A pair of A-State's participants has already had an impact on the 2015 contest, as Collins and Moses were selected as two of the five finalists for the Arkansas Quality of Life Award. The winner will be announced during the pageant's final night.
The Quality of Life is awarded in recognition of outstanding community service and is based on the participants' commitment toward their philanthropy projects. Collins' platform is "Live the United Way," while Moses' is "Suitcases for Kids: Advocacy for Foster Care."
Although, A-State has had several competitors in each pageant throughout the years and there are no records outlining record numbers of competitors, C.J. Wilson of Miss Arkansas Communications, indicated this year's group is one of the largest to represent A-State. The last time an Arkansas State student was crowned Miss Arkansas was in 2000.
The participants from Arkansas State include Collins, whose platform is "Live the United Way." She is the current Miss Arkansas State University. The 19-year-old's talent is a vocal presentation. She is a sophomore majoring in strategic communication. The founder and president of A-State United Way, Collins is a member of Chi Omega sorority and serves as the philanthropy chair of that organization.
Fowler is Miss Arkansas Delta. The 21-year-old from Wynne will also have a vocal performance for her talent competition. Her platform is "A Cause to Remember," or Alzheimer's awareness and education. Fowler is pursuing a master's degree in mental health counseling.
Moses is Miss Ouachita River and hails from Cabot. The 20-year-old transfer from Arkansas State University-Beebe will have a jazz dance performance for her talent presentation. Her philanthropy, "Suitcases for Kids," is an organization that wants foster children to have something of their own to keep. Children in foster care are often in moves that don't provide time to prepare, and their items are generally placed in plastic trash bags or cardboard boxes for travel. Donations of suitcases, backpacks and duffle bags provide foster children a sense of security and worth.
Quinn advanced to the pageant as Miss Frisco Springs. Tap dancing is the 20-year-old Jonesboro resident's talent. Quinn is a member of the A-State Dance Team and Alpha Gamma Delta sorority. Her philanthropy is "The Forgotten Ones: Improving the Plight of Children in Foster Care."
Jonesboro resident Raffo is the current Miss Northeast Arkansas. The 19-year-old will perform a lyrical dance as her talent. Her platform is "Umbilical Cord Donation: New Life Saves Life." She is pursuing pre-professional degree at A-State in preparation for a doctorate of pharmacy degree. Raffo is also a member of Alpha Gamma Delta sorority.
Welsh is a 22-year-old resident of Jonesboro who earned her Bachelor of Music Education degree from A-State in 2014. She serves at Miss Greater Jonesboro and will provide a vocal performance as her talent. Welsh's is 22 and her philanthropy is "Enriching Lives Through Arts in Education." She is children's music supervisor at a local church and a Zumba fitness instructor.
Four A-State students are past winners of the Miss Arkansas crown. Sara Harris is the most recent, taking the title in 2000. Christi Taunton won in 1985. Two A-State alumnae won Miss Arkansas in the 1970s, Paula Roach in 1975 and Becky Hume in 1973.
The group is a part of 46 contestants from around the state who are competing for the Miss Arkansas title and more than $83,000 in scholarships, including over $75,000 in prizes, and the Miss Arkansas title. The agenda for the competition includes private interviews with the panel of judges about artistic expression, talent, lifestyle and fitness, and swimsuit competition.
The group will also be available Saturday, July 11, to meet the public and sign autographs from noon-2 p.m. at the Hot Springs Mall. The event is open to the public and free of charge.

# # #