A-State Students Prepare Presentation To Help Counties Improve E-Government
03/19/2015
JONESBORO — Five students from Dr. Barbara Warner's graduate class in the Master of Public Administration (MPA) program at Arkansas State University are working on a presentation about Arkansas counties' efforts in e-government as part of a Create @ State project.
The fifth annual Create @ State is a symposium of research, scholarship and creativity that will be held Tuesday, April 7, in the Carl R. Reng Student Union, 101 N. Caraway Road. The symposium provides an opportunity for undergraduate and graduate students to present original work in a professional setting.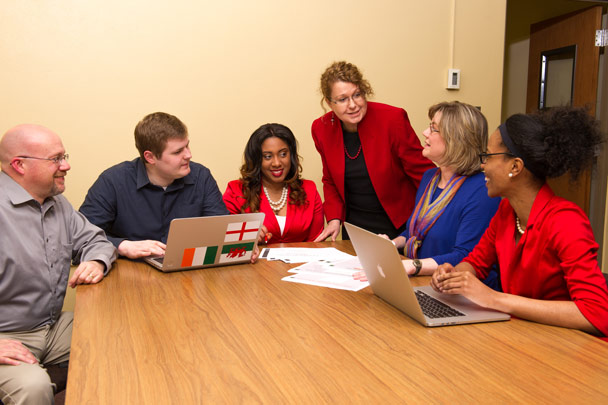 (L to R) Mark Smith, Cole Pace, Brittany Coleman, Dr. Barbara Warner, Traci Perrin & De'Kisha Fondon
The presentation will feature assessments of Baxter, Carroll, Columbia, Crawford and Jackson counties. However, officials from all 75 Arkansas counties, including Craighead and adjoining counties, are invited to the presentation to see what the students recommend counties do to enhance their e-government efforts. Their recommendations are based upon their scholarly studies from Warner's "Public Information Management" class they took last semester as a requirement for their MPA degrees.
"E-governance has become a major trend internationally for governments at all levels as a way to more intensely engage their citizens, respond to citizen needs more efficiently and provide transparency," Warner said. "Online interactions between citizens and their local, state and federal governments are continually evolving, although in a spotty fashion and sometimes less so at local levels of government where, ironically, government-citizen interaction is the greatest. Citizens rely upon county governments for many services. Yet, county e-government varies greatly in quality nationwide, including in Arkansas."
Warner selected the students from the best presentations last semester. The student presenters are Brittany Coleman, De'Kisha Fondon, Cole Pace, Traci Perrin and Mark Smith. The students have been busily working to consolidate their projects and to invite county officials.
"I'm really impressed by the leadership and initiative these students have taken to get ready for this event," Warner continued. "Three of these students are currently in my administrative leadership class, and all are demonstrating the kind of leaders we want in tomorrow's world."
Student presentations will assess the online services of the featured counties' web sites based upon the actions citizens can perform online, the levels of transparency and the ease with which citizens can connect with county officials.
"There is something here for all counties to learn from, even those that are not presented," Warner said.
Coleman, presenting on Crawford County, is a native of Belzoni, Miss. She received a bachelor of arts degree in communications, with a minor in computer science, from Mississippi Valley State University. She expects to graduate from A-State this spring. She hopes to work with federal agencies on issues of diversity and inclusion as part of community development. After being in the field for a while, she plans to open up a nonprofit organization for at-risk youth in the Delta region and eventually start a for-profit organization to help generate funds in indigent communities.
Fondon, who is presenting on Jackson County, is from Water Valley, Miss. She received a bachelor of science degree in accounting from Mississippi Valley State and hopes to graduate from A-State in May, then use her MPA and accounting degrees to ultimately establish and manage a healthcare fitness and wellness center especially to help low-income families. She also hopes to open an after-school and summer recreational center for youth in her hometown to help build intellectual, leadership and physical skills.
Pace, presenting on Carroll County, is the 2014 winner of the Arkansas City Managers' Association's Henry M. Alexander Scholarship. A native of Jonesboro, he received his bachelor's degree in political science from A-State and expects to receive his MPA in May. He has been accepted into the master of health administration program at the Boozman College of Public Health at the University of Arkansas for Medical Sciences in Little Rock. He hopes to become an administrator in a hospital or related health care setting, preferably for the U.S. Department of Veterans' Affairs.
Perrin, presenting on Columbia County, is from Jonesboro and is an alumna of Arkansas State with a bachelor of science in finance. She completed her MPA degree in 2014. Perrin is a career counselor in A-State's Office of Career Services and plans to expand her community and non-profit leadership. She has served on the board of Disability Rights Arkansas for eight years, including four years as president.
Smith, presenting on Baxter County, is from Holcomb, Mo. He has worked at a variety of radio stations in Arkansas and Missouri. While getting his bachelor's degree in communications at A-State, he worked at the university's National Public Radio station, KASU-FM. He now works full-time at KASU as the development director, managing the station's fundraising efforts. He hopes to graduate in August with his MPA degree, using it to further his career in public radio and station management.
Warner created the Public Information Management class, which is part of the core of MPA classes. It explores government-citizen communication and information management in an increasingly multi-cultural society. County e-governments can be vehicles for citizens to pay taxes, assess property, learn of meetings, find out about policies and services, and monitor the spending of tax monies. While there is room for improvement in all levels of e-government, the class focuses on assessing the e-government efforts of Arkansas counties, with the goal of helping counties improve their e-government efforts.
Warner, an assistant professor of political science who teaches in the MPA program, has done a variety of conference presentations on e-government. Her chapter, "Civic Education of Citizens through County Web Sites: A Case Study of Arkansas," is slated to be published this year by Lexington Press of New York in a book titled, "Civic Education in the 21st Century: A Multi-Dimensional Inquiry."