A-State Shooting Club Brings Home State Collegiate Championship
03/24/2014
JONESBORO, Ark. — Arkansas State University's Shooting Club captured its second consecutive state championship last weekend at the 2014 Arkansas Game and Fish Commission (AGFC) Collegiate Shooting Tournament. The Red Wolves had two teams performing in the tournament with the Black squad taking top honors and the Red squad coming in third.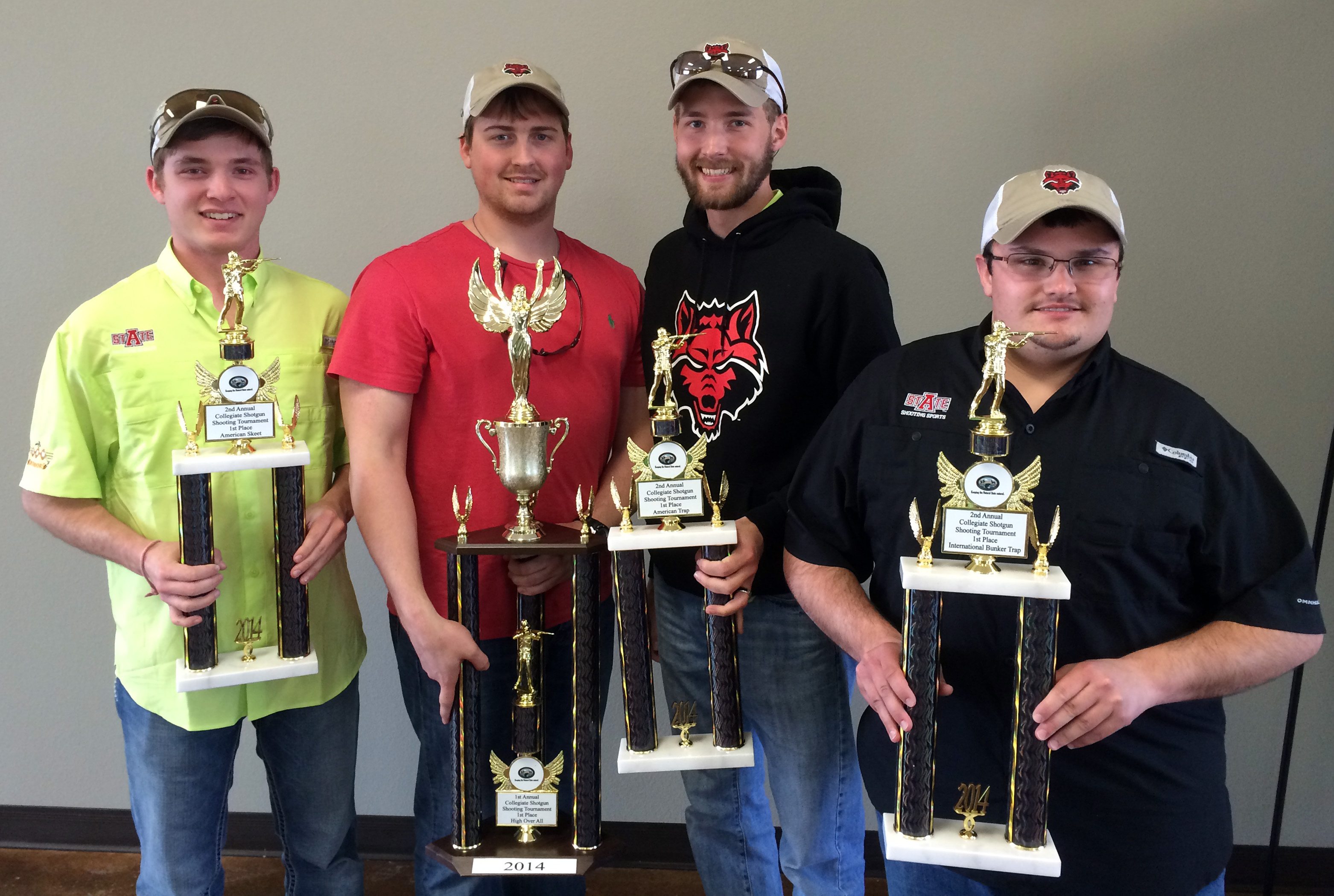 (Left to right) — Hayden Zirbel, Forrest Jones, Jordan Harper, and Fletcher Dowell.
Not pictured—James Wray.
"I'm very proud of our two squads and how they performed," said Dr. Gauri-Shankar Guha, associate professor of Economics and Finance at Arkansas State, who serves as the team's coach. "Our Red Wolves shooting sports students continue their dominance of shooting sport in the region with back-to back state collegiate championships. We already have a room full of trophies and we are just getting started."
The first portion of the second-year tournament was held at the Tommy Browning Range near Wooster where seven teams from four institutions shot International Bunker Trap and Five Stand Sporting Clays. The last leg of the tournament was held at the new AGFC Shooting Sports Complex in Jacksonville. The competitors shot American skeet and American trap.
The participants include Arkansas State, University of Arkansas, University of the Ozarks, and Ecclesia College. A-State's Black squad took top honors in all shooting disciplines except for the five stand sporting clay portion which was won by the University of Arkansas. Arkansas finished second overall.
Arkansas State travels to San Antonio, Texas, Tuesday, March 25, to compete in the 46th annual Association of College Unions International (ACUI) Collegiate Clay Target National Championship. The event is held at the National Shooting Complex and runs through Sunday, March 30.
"We are looking forward to competing in the national championship, said Dr. Guha. "I believe we have some of the top competitive shooters in the nation."