A-State Senior Interns in Boozman's Office
06/27/2016
WASHINGTON, D.C. – Arkansas State University student Julia Williams is participating in U.S. Senator John Boozman's summer internship program in Little Rock. Williams, of Searcy, is majoring in history education.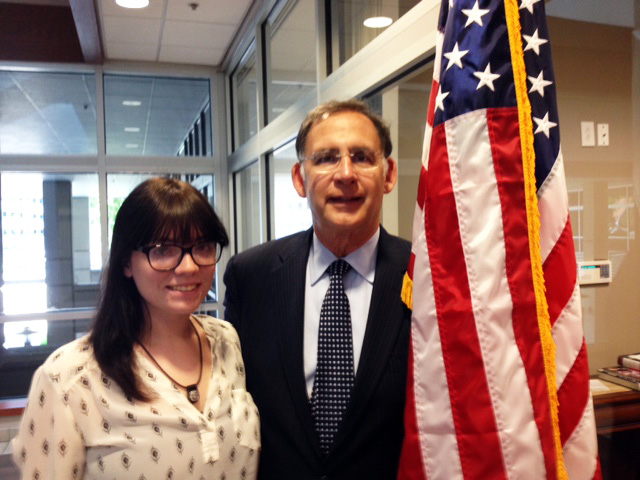 Senior Julia Williams is serving as an intern for U.S. Senator John Boozman
throughout the summer.

As an intern, her responsibilities include helping with daily office activities and compiling interviews from Arkansas veterans for submission to the Veteran's History Project. These interviews will be preserved at the Library of Congress.
"Interning with Senator Boozman's office is helping me understand what it really takes to represent a state as a senator," said Williams. "I am learning about the amount of work and the number of people that it takes to make sure our state is being properly represented. It is especially rewarding to me because I hope to run for office in the future. It has been a blessing to me to have this opportunity to help serve the state of Arkansas with Senator Boozman and his staff."
"I appreciate the commitment and dedication of Julia to serve in a Congressional internship," Boozman said. "She has been a great help to my staff and me as we respond to the needs of Arkansans. This is a valuable experience that I hope will benefit her in the future."
Williams is a senior at A-State and plans to attend law school following graduation. She serves as the A-State campus food pantry co-chair as well a senior senator in the Student Government Association.
Additionally, Williams is a member of Phi Alpha Theta, an organization to promote the scholarly work of pre-professional historians and is a historian in that association. Phi Alpha Theta is a professional society whose mission is to promote the study of history through the encouragement of research, good teaching, publication and the exchange of learning and ideas among historians.