A-State's Quest For Softball Championship Ends Saturday
05/17/2014
COLUMBUS, Ga. — Arkansas State University's journey for a softball championship came to an end Saturday as the Red Wolves dropped games to Illinois (4-3) and the Air Force Academy (6-4) in the second round of the National Club Softball Association (NCSA) World Series. A-State's two victories in the second round were back-to-back against Penn State, 7-2, and Eastern Illinois, 8-2.
"We got in the loser bracket in the first round and couldn't overcome it," said Red Wolf head coach Chris Powers. "I'm so proud of this team for fighting and not giving up. We had a great season and no one can take that away from us. We're going to build on this experience and continue to build this program into national contenders every year."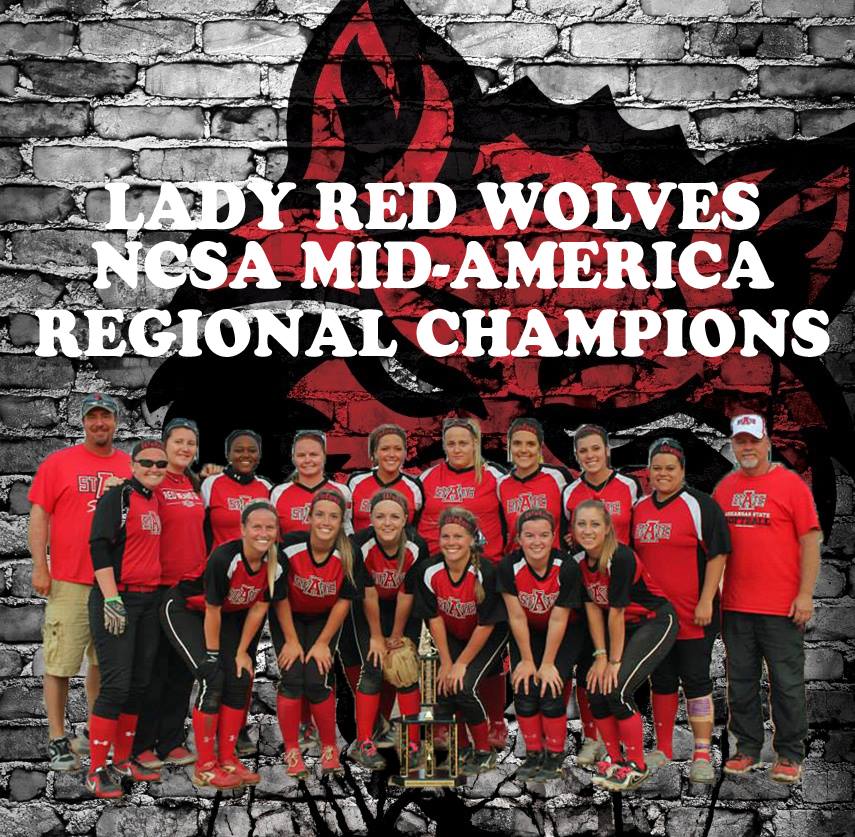 Tenth-ranked A-State completed the season with an overall record of 38-11 and a Mid-South America Conference championship with a perfect 12-0 mark. The Red Wolves, seeded second, come into pool play Friday and defeated Sacred Heart, 7-3, Kentucky 13-1 and fell 10-2 to Georgia. Following the first day of play, teams were re-seeded and began elimination play on Saturday. The national championship game is set for 4:45 p.m., Sunday, May 18.
Powers was pleased with the play of his team in the opener against Sacred Heart, noting that the Red Wolves played with confidence and hit the ball well. "We had to feed off the energy that we came here with," said junior Erica Whitaker. "We kept our heads high and kept accelerating that energy."
Arkansas State's second opponent, Kentucky, succumbed to pitching by Shea Cothren and reliever Karla Marroquin. The pair received praise from assistant coach Todd Clifford. "We came out and hit well as a team. Cothren pitched great and Marroquin pitched a good inning of relief. It was a good offensive effort by all."
Cothren concurred and said, "We had great at bats all through the lineup, we played solid defense and we had fun. It was a great team effort."
Arkansas State had to close out the first day of play against a tough Georgia club and ended losing the matchup, 10-2.
"Georgia just out played us today," continued Powers. "They out hit us. We dug ourselves a 5-0 hole and couldn't come back. Overall, we keep the pitch count down so our pitchers should be fresh starting the tournament. That's the one thing we took from here last year."
Powers and his team lost a narrow 4-3 decision to Illinois in the fourth game of the tournament and first game of the second day of play and then bounced back to defeat Eastern Illinois, 8-2.
"We couldn't get a two out hit with base runners on," concluded Powers. "I liked our fight at the end. This team never gave up."