A-State Rugby Wins Spring Season Opener
01/27/2018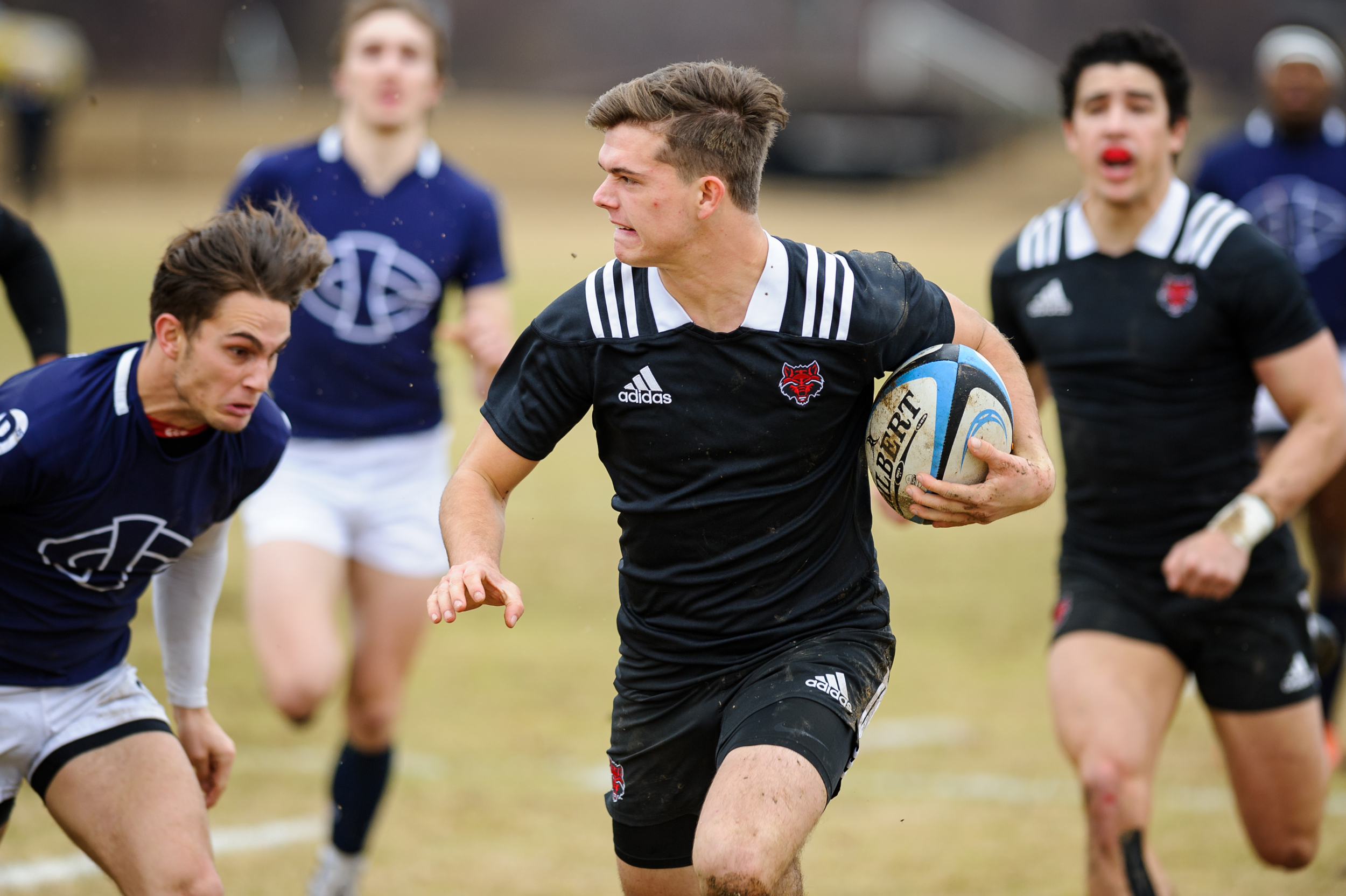 Rugby player Brandon Rokela (with ball) eludes Iowa Central player Saturday afternoon in A-State's 30-10 victory.


JONESBORO – Sloppy, muddy field conditions didn't keep Arkansas State University from defeating Iowa Central Community College, 30-10, in the spring season opener Saturday afternoon in collegiate rugby at Curt Huckaby Field.
A-State, undefeated in the fall season, picked up where the team left off by knocking off the two-year old Iowa Central program in the first meeting between the two schools. A steady morning rain that left the field in a mess created issues for both squads.
"It was a sloppy day," said Blake White, A-State head coach. "It was partly due to the weather and partly by the pressure from Iowa Central. They played very well with great energy all match long. It is a team loaded with talent and will surely have a great season. It will be good for us in the long run having a tough match to start our season and set the tone before we get into the conference season."
Action got underway when the Red Wolves' Tabo Maree stole a line out and ran it in for the score to put the Red Wolves up, 5-0. Calvin Gentry added another try from the corner to increase the lead to 10-0. Just before the halfway point, Iowa Central connected on a penalty kick to cut A-State's score to, 10-3.
Early in the final period, Brandon Rokela added three for A-State with the penalty kick to put the score at 13-3. At the 29-minute mark, Ruan Knuppel scored the try and Rokela converted to increase the Red Wolf lead to 20-3. Gentry capitalized on the tap-and-go for another successful try, making the score, 25-3.
As the clock wound down, Omphile Magome scored with no time remaining, leaving the final score at 30-10 in favor of Arkansas State.
White was pleased with the play of Maree, saying, "He had a fantastic game tackling, running and every phase of the game. Also, one of our new guys, Wallace Kwasu, had a strong game."
Kwasu, from Kenya, joined the team earlier in the month.
"It was the first live action in two-to-three months and the guys enjoyed it," added White. "It was a good start."
Arkansas State travels to Marietta, Ga., Saturday, Feb. 3, to face long-time nemesis Life University in the opening game of Mid-South Conference play.