A-State Rugby To Open 15s Season At Little Rock Tournament
09/12/2014
JONESBORO, Ark. — Arkansas State University's rugby team will get a chance to showcase its new young talent as the Red Wolves travel to Little Rock Saturday for the Ozarks 15s Tournament. The tournament is hosted by the Little Rock Rugby Club.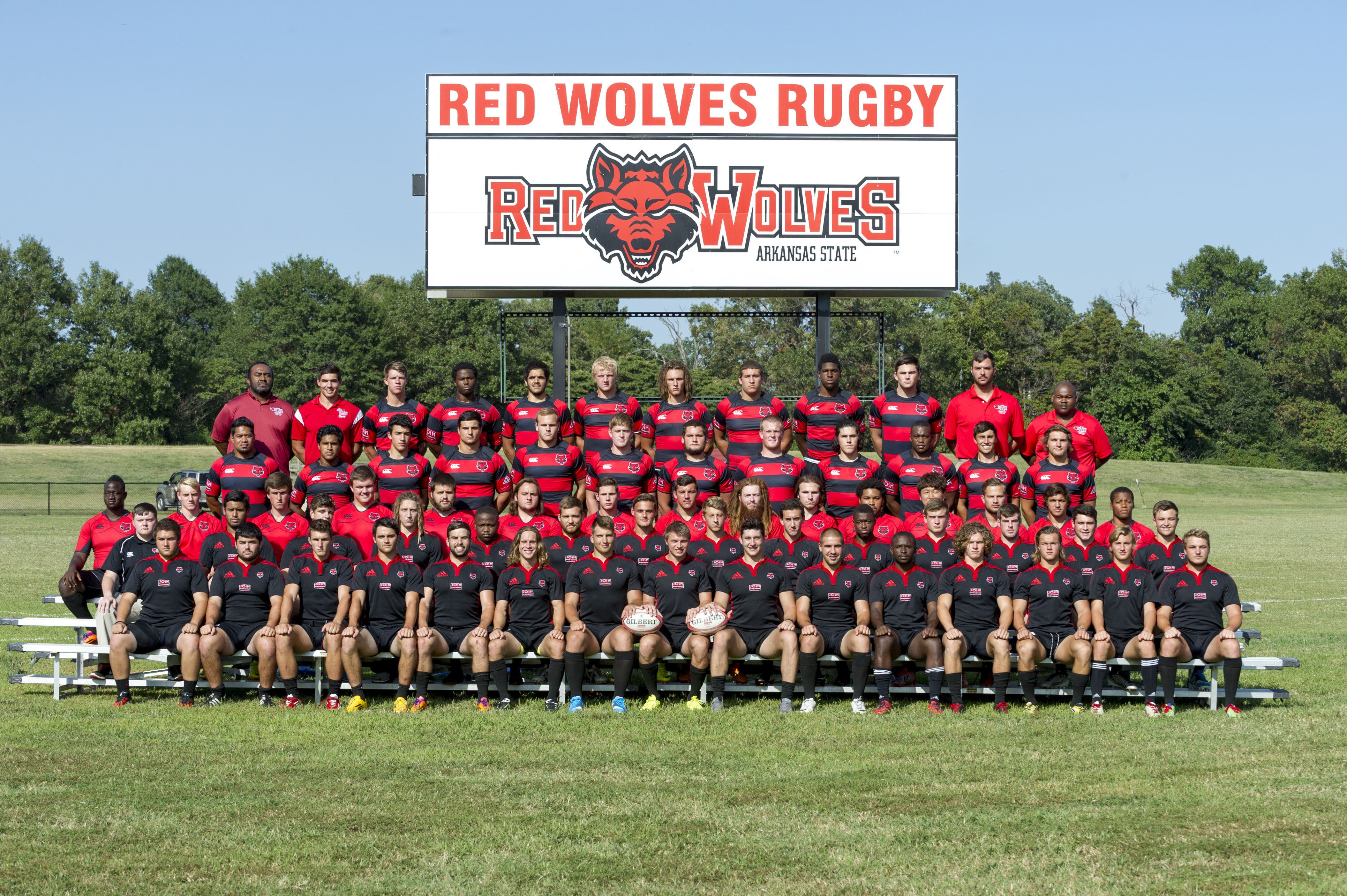 Arkansas State University 2014-15 Rugby Team
"We are excited to get the season underway by playing in this tournament," said NeMani Delaibatiki, A-State head coach. "Our focus is to give our new players a look. This is the best place to showcase how they will play against an opponent.
"Our scrimmage last weekend wasn't enough to really evaluate their play. Our guys were getting pretty physical in the scrimmage and when that happens, they tend to lose site of our game plan and try to prove how physical they are."
The tournament features five teams divided into two pools and each game includes two 15-minute halves. The teams include A-State, Arkansas, Louisiana Tech, Memphis and Middle Tennessee State. Arkansas State "B" team opens play in Pool B with Memphis at 10 a.m. and follows with a match with A-State "C" facing Louisiana Tech at 11 a.m.
The Red Wolves "B" team will go against Arkansas "A" team at noon and at 1 p.m., A-State "C" team will face Arkansas "B" team at 1 p.m. At 2 p.m., A-State "C" will face MTSU "A" and A-State "B" plays MTSU "B" at 3 p.m. Undefeated teams in each pool will play for the tournament championship. Conceivably, two teams from the same program could face each other in the finals.
Delaibatiki will be keeping a sharp eye on newcomers Garrett Soileau of Woodlands, Texas; Tanner Pope of Katy, Texas; Judah Obueghi of Atlanta, Ga.; and Jaime Togores of Madrid, Spain. All are true freshmen.
Arkansas State will be without the services of returnees Connor Cook, Harry Higgins, Martin Van Der Westhuiz, and Jonathan Howard due to injury.
Delaibatiki concluded by saying, "The players may be different from last season. We have 27 new players, but the level of intensity and heart needed to play for Arkansas State University is still the same. We expect nothing less this fall and spring.
"The fall schedule is our springboard into our spring season in 2015 which will be our biggest season yet. Arkansas State will be competing in two NBC Sports coverage competitions such as the Varsity Cup for 15s and College Rugby Championship Invitational 7s Tournament. These are two competitions we will be participating in for the first time, plus also defend our two straight titles at the USA College Rugby 7s nationals."