A-State Rugby Drops Match to Arizona in Penn Mutual 7s Collegiate Championship Quarterfinals
05/31/2015
CHESTER, Pa. — Arkansas State University fought hard to the end, but couldn't break away as the Red Wolves dropped a narrow 7-5 upset decision to Arizona Sunday morning in the quarterfinals of the Penn Mutual 7s Collegiate Rugby Championships. The loss ended A-State's hopes for a third national title.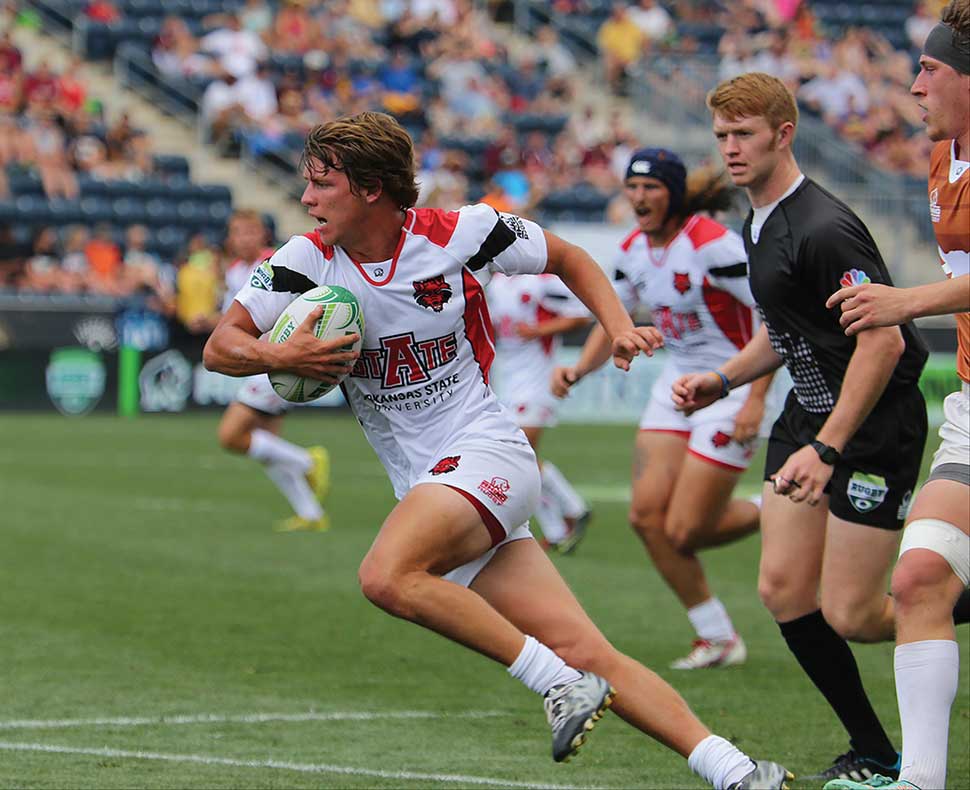 A-State rugby player Michael Baska — Photo from Penn Mutual Collegiate Championship website
"The guys played really hard," said Matt Huckaby, serving as an assistant coach. "This is a very competitive team and they did not want to go out, especially in the quarterfinals."
A-State's only points came midway through the first period when Alex Goff was successful on the try to give the Red Wolves a slight 5-0 advantage. The game was a tough defensive battle, and A-State suffered through two consecutive yellow cards but managed to keep the narrow lead.
Late in the game, Arizona's Dante Weeks eluded Red Wolf defenders to pick up points on the try to tie the score, 5-5. A successful conversion gave the Wildcats the two points and the lead with two minutes remaining.
Huckaby praised the play of young players Goff, Glenn Ericksen and Preston Weigel and was complimentary to all new players for their ability to step up and battle tough. He was also impressed by the sportsmanship A-State players displayed.
"Our team played well and played excited," continued Huckaby. "I think the players understand that it's not about scoring 40 points, but how to handle our response when the score is close. In 7s, anything can happen."
The defeat also marked the first time Arkansas State has lost a 7s match in three years. The Red Wolves came into the tournament with a 39-0 overall 7s slate.
"We want to thank all of the community and the university for their support throughout the season and in this tournament," Huckaby added. "I know all of us appreciate the encouragement."