A-State Graduate Student Wins Tri-State Governor's Cup Elevator Pitch Competition
05/29/2015
JONESBORO – Arkansas State University graduate student Joshua Baker won the graduate elevator pitch segment of the 2015 Donald W. Reynolds Tri-State Governor's Cup business plan competition Thursday evening in Las Vegas, Nevada.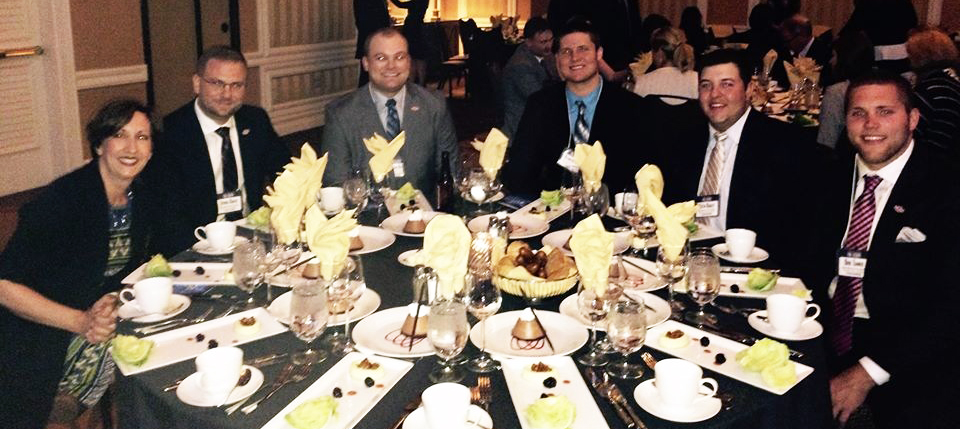 Agricultural Innovations members at the Donald W. Reynolds Tri-State Business Plan competition awards banquet. (from left) Dr. Gail Hudson, professor of marketing; Joshua Baker; Frank Kelley; Kenny Rains; Justin Bagley; Dirk Tanner.
Baker, an Iraqi war veteran, represented A-State's Agricultural Innovations and brought home a $2,000 prize. The students had developed a sensor-driven automated irrigation system named WellsVision that could aid farmers. Baker came up with the idea after his father-in-law could not make it to dinner one night because he had to turn on his well.
"I am so proud of our A-State business students for success at the Reynolds Tri-State competition in Las Vegas," said Dr. Shane Hunt, dean of the College of Business. "It is an incredible testament to their entrepreneurial idea, their hard work, their adviser Dr. Erick Chang and the education they received here at Arkansas State University."
An elevator pitch designated team member has 90 seconds to present a business idea, marketing strategy and competition to potential investors. Team members cannot use notes or other items to assist them, and the presentation cannot exceed 90 seconds—the length of an elevator ride.
"Josh has been one of best entrepreneurship students in the recent years," said Dr. Erick Chang, associate professor of management at A-State and the adviser for Agricultural Innovations. "He is a doer and an excellent and dedicated team leader.
"I am so proud of what he and the rest of the guys were able to do performing at a competitive level, especially four undergrads and one master of science student versus students with MBAs and years of corporate experience. That really tells about how prepared our students are to face these types of challenges. My hope is their accomplishments serve as an example of what future students can do to follow and even surpass them."
Agricultural Innovations earned the right to compete in Las Vegas after winning $25,000 for its first-place finish in the graduate division, as well as $3,000 for finishing second in the Arkansas Farm Bureau Agriculture Awards during the Arkansas Governor's Cup. The team also won the Delta Plastics Innovation Award of $5,000 in the graduate division.
In addition to Baker, Agricultural Innovations is comprised of four management majors including Justin Bagley, Frank Kelley and Dirk Tanner and a Master of Science in engineering student, Kenneth Rains.
The Arkansas State team competed against winners from Arkansas, Nevada and Oklahoma.