A-State Graduate Continues Journey to Volunteer and Public Service Work
09/09/2013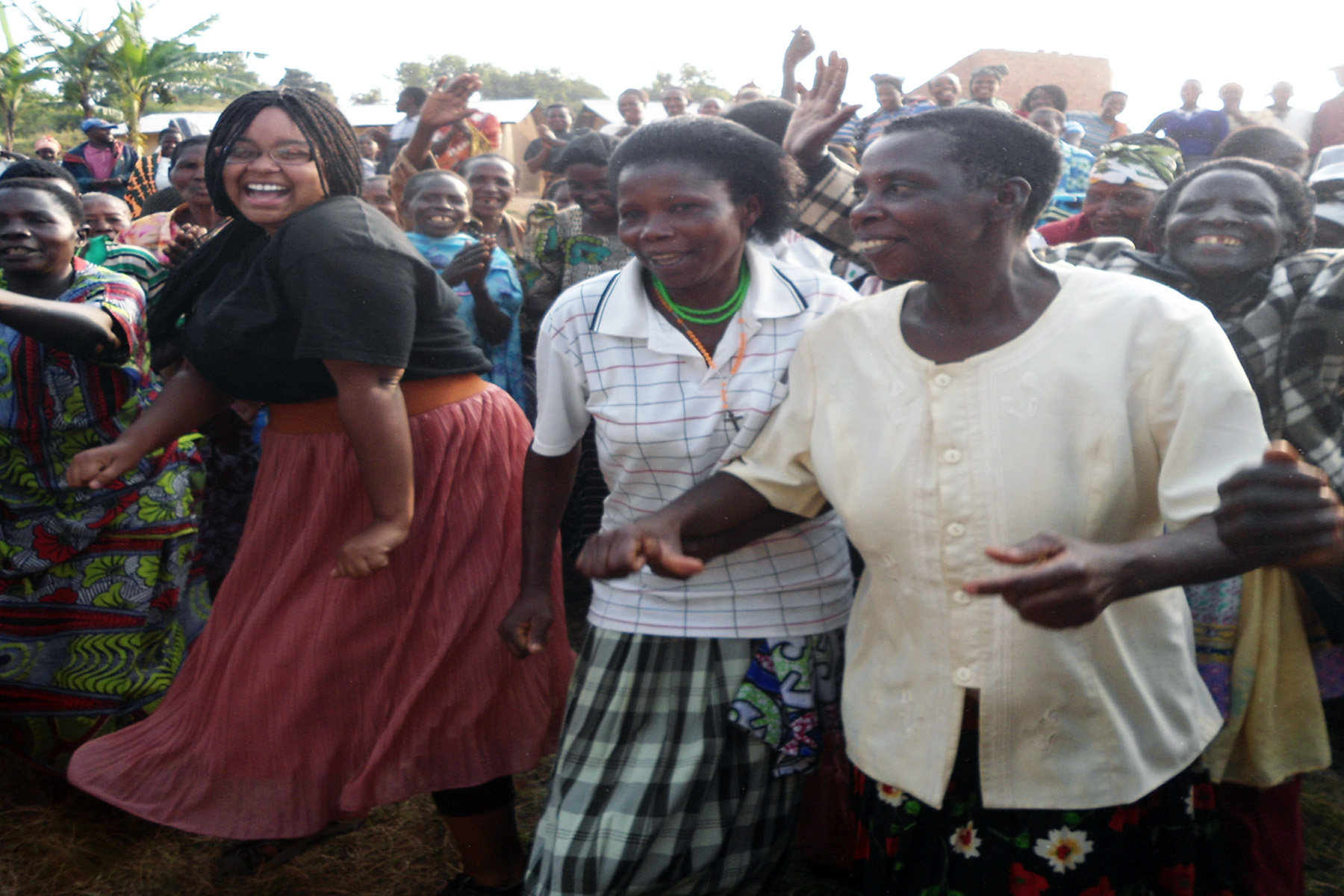 Neena Viel (left in red skirt) dances with locals in Uganda.
JONESBORO, Ark. — Little did Neena Viel know when she was a student at Arkansas State University that her education would lead her down such an inspiring path. Or, maybe she did know. After all, her life's goal has been to help others. Now the 2012 graduate is realizing her dream.
Following graduation from A-State, Viel of Jonesboro, enrolled in the Clinton School of Public Service in Little Rock to work on her master's degree. The Clinton School, founded by Arkansas native son and former president Bill Clinton, is the first in the nation to offer a Master of Public Service degree and provides to its students hands-on opportunities to continue their careers in volunteer or nonprofit service.
"I believe my time at Arkansas State helped me to prepare me for the Clinton School and for whatever lies in my future," said Viel who is originally from Newberg, N.Y. "Being part of Arkansas State's debate team and Moot Court definitely taught me how to be a better advocate in the public sector."
Serving on both the Moot Court and the debate team at A-State brought Viel plenty of recognition as she competed both nationally and internationally and was wildly successful. She was undefeated in debate competition and won numerous individual and team awards for Moot Court.
A University Honors student who majored in communications studies, she received the Bill and Melinda Gates Millennium Scholarship, the Mahlon Martin Fellowship (which supports research and programming on public policy in Arkansas) and was awarded a Student Undergraduate Research Fellowship.
She also placed first in a panel presentation in the 2012 Create @A-State in the category Educational Narratives of At-Risk Students.
Viel said that the Clinton School requires students to undergo three intensive hands-on research projects that range from working in Arkansas communities to initiating projects on six inhabited continents. She just returned from Uganda where she worked with an organization called the Nyaka AIDS Orphans Project. The orphans project allowed her to work with grandmothers who are the primary caretakers of AIDS orphans in that area.
"This project offers training, microfinance and support to these women. My project was assessing their educational perspectives and determining the impact the organization has had on this demographic," continued Viel.
She noted that her experiences in Uganda were "inspiring" and told a story of meeting women whose seven children had all died from HIV-related illnesses. Another mother was raising 12 children and Viel was charged with making education available to them.
Viel also worked in a team of Clinton students on her practicum project involving the Arkansas Out of School Network, helping to highlight the student voice in Arkansas. And, her upcoming project involves working with Court Appointed Special Advocates (CASA) for children in Phillips County and Helena.
Viel is still contemplating her future after graduating with her master's degree in 2014.
"I got my feet wet working in the public sector," she said. "I like working with the public and I'm interested in state government. Arkansas State was a wonderful experience for me and taught me a lot about public speaking and I learned valuable lessons about public service.
"In turn, that enabled me to continue the learning process at the Clinton School. At any rate, both helped prepare me for whatever lies ahead in my future. I just want to make a difference."