Graduates Ready for Career Advancement
Over the past 100 years, A-State has evolved from a regional school of agricultural instruction to a comprehensive university. The College of Agriculture has also evolved throughout the years. While education is still our primary mission, we also have extensive public outreach programming and research activities.
We prepare our graduates for entry and career advancement in the food, fiber, and natural resources industry, which involves production (farming), agribusiness and value-added processing, public service and rural leadership; and for entry and advancement in the manufacturing and industrial technology industries.
We offer both undergraduate and master's degrees within the college, and we participate in doctoral education through the interdisciplinary Environmental Sciences and Molecular Biosciences programs.
Recent Announcements
---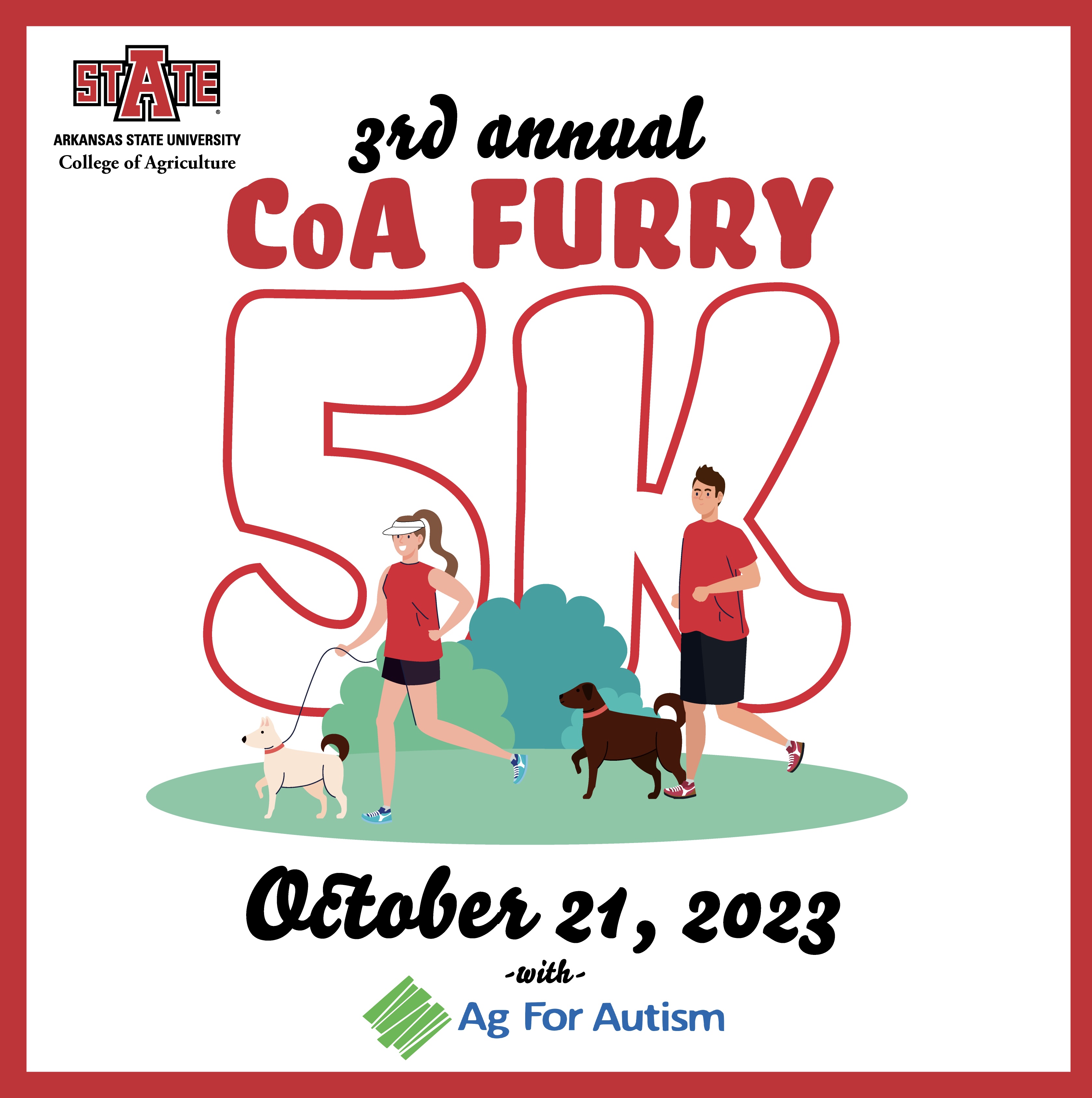 3rd Annual Furry 5k a huge success
The CoA's 3rd Annual Furry 5k took place on Saturday, October 21 with this year's partner Ag For Autism. There were 150 participants and about 50 of your furry friends! Here are this year's winners:

MEN'S DIVISON:
1st Place - Carson Lutz, 23.55
2nd Place - Nicholas Hilson, 26.07
3rd Place TIE - Cameron Dowie, Aaron Van Dyk & Warrick Day, 27.00
WOMEN'S DIVISION:
1st Place - Marina McDonough, 24.28
2nd Place - Pauline Meyer, 24.29
3rd Place - Michaela Rients, 28.36
MEN'S DIVISION WITH DOG:
1st Place - Merrick Fletcher with dog Minnie Mouse, 25.57
2nd Place - Ty Sharrow with dog Bunny, 32.35
3rd Place - Zach Harris with dog Boomer, 33.30
WOMEN'S DIVISION WITH DOG:
1st Place - Eva Wilk with dog Cronus, 27.52
2nd Place - Harper Harris with dog Lady, 35.24
3rd Place - Abby Moore with dog Moose, 35.35
CUTEST FURRY FRIENDS:
1st Place - Nova, a Bernese Mountain dog; human Courtney Sears
2nd Place - Miller, a golden doodle; human Trisha Davis
3rd Place - Oakie, a Catahoula Leopard dog, human Sarah Watson
TAIL END OF THE PACK AWARDS:
Brynn Hendricks with Basset Hound, Cannon
Shianne Rients & Trent Tooley with Yellow Lab, Molly
Lindsey Zimmer & Kyle Koster with Beagle, Waylon
---
---
Follow us on our socials for more: Facebook | Twitter | Instagram