Students to Conduct 17th Annual 'Order of the Pack' Pep Rally, Thursday, Aug. 29
08/22/2013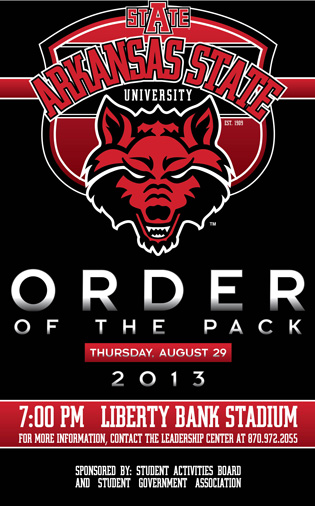 JONESBORO, Ark. – Students at Arkansas State University will conduct their 17th annual "Order of the Pack" pep rally Thursday, Aug. 29, to induct a new class of students into the Red Wolves family and show their Pack Pride on a major scale.
Officially the rally starts at 7 p.m. in Liberty Bank Stadium, but this year there is much more for A-State Red Wolves fans, both on campus and from the community.
Prior to Order of the Pack, the Jonesboro Regional Chamber of Commerce will sponsor its annual "Big Great A-State Tailgate," a major part of Paint the Town Red Week, on the west side of the stadium. After the tailgate, those attending the tailgate are encouraged to stay for Order of the Pack.
Volunteer ASU, a student organization, also is conducting a canned food drive to benefit the Food Bank of Northeast Arkansas, so students and guests are encouraged to bring non-perishable food items.
The Student Activities Board and Student Government Association work together to emphasize the traditions surrounding Red Wolves athletics and Pack Pride during Order of the Pack.
D'Andre Anderson of Little Rock, president of the Student Government Association, will welcome the crowd, and Ashlyn Godfrey of Mena and Nathan Nelson of Paron, Ark., directors for the Student Activities Board, will emcee the program.
"We want to invite everyone out to get ready for our athletic seasons and to show off their Pack Pride," according to Nelson.
Other speakers on the program include Dr. Tim Hudson, chancellor, and his wife, Dr. Dee Dee Hudson; Charlotte Razer, president of the ASU Alumni Association; Dr. Rick Stripling, vice chancellor for Student Affairs; Bryan Harsin, head football coach; and Terry Mohajir, director of athletics.
The University Choir will present the national anthem, The Sound of the Natural State Marching Band will perform the alma mater and fight song, and the Red Wolf Dancers will perform. The A-State cheerleaders will teach spirit chants.
The theme for A-State's annual Homecoming, Saturday, Oct. 12, also will be revealed during a special announcement at Order of the Pack.
Students with a valid A-State ID will receive a ticket as they enter the stadium, making them eligible for a complimentary spirit item.
For more details, contact the Leadership Center at (870) 972-2055 or Natalie Eskew, neskew@astate.edu.
# # #