Staff Distinguished Performance Awards to be Presented May 5
04/28/2015
JONESBORO – The 22nd annual Distinguished Performance Awards and Service Recognition ceremony for non-faculty employees at Arkansas State University will be Tuesday, May 5, at 1:30 p.m. in Auditorium of the Carl R. Reng Student Union. A dessert reception will immediately follow.
Angela Daniels, Staff Senate president, will serve as host for the program. Chancellor Tim Hudson will present service certificates to staff members who have completed 10, 20, and 30 years of service at Arkansas State and those who have recently retired.
The Distinguished Performance Awards will be presented by vice chancellors. The presentation of the Distinguished Performance Awards was initiated in 1994 to recognize outstanding job performance and long-time service by the university's non-faculty employees, both classified and non-classified.
The Distinguished Performance Award recipients for 2014-15 are:
Rookie of the Year – Terry Kelly, Information & Technology Services
Team Player – Rebecca Spicer, Procurement & Travel Services
Unsung Hero – Billy Hogue, Accounts Payable & Disbursing
Team Achievement (Departmental Award) – ITS Hardware Services
Enhancing the Student Experience – Sherry Hufstedler, Honors College
Outstanding Part-Time – Morgan Castelli, Procurement & Travel Services
STAR (Service, Teamwork, Attitude, Reliability) Award – Christine Perry, Accounting Department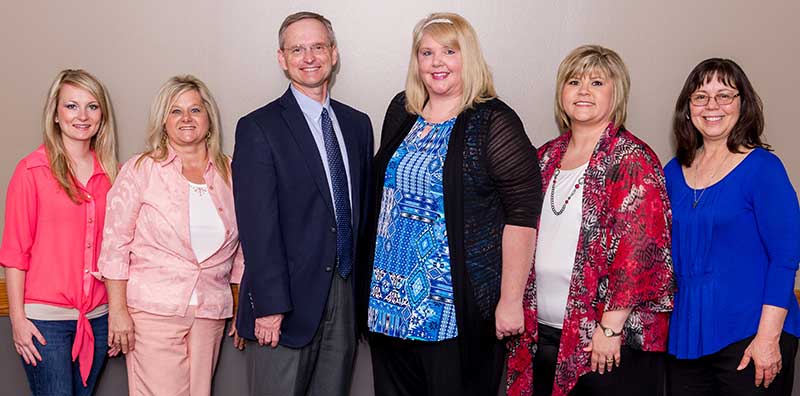 Award winners (from left) Morgan Castelli, Rebecca Spicer, Billy Hogue, Christine Perry,
Sherry Hufstedler and Terry Kelly.
Retirees to be Recognized
There are 18 individuals retiring from the university and ASU System Office during this academic year. Those to be recognized, their area of employment, and number of years of service are:
Deanna Lee Beasley – Information & Technology Services (22 years)
Clayton Browning – Student Union (26 years)
Kevin Chambers – Health, Physical Education, & Sports Sciences (26 years)
Robert Evans – System Office (16 years)
Barbara Coker – System Office (15 years)
D.A. Davis – Employment Services (21 years)
Robyn Doyle – Childhood Services (22 years)
Robin Hamilton – System Office (7 years)
Dean Lee – Student Affairs (12 years)
Dwain Lutrell – Facilities Management (38 years)
Lucinda Smith McDaniel – System Office (7 years)
Steve Owens – System Office (15 years)
Ed Rayburn – Career Services (26 years)
Billy Reid – Facilities Management (10 years)
Evone Roberts – Criminology, Sociology, & Geography (25 years)
Carol Smith – Student Account Services (36 years)
Jeanette Tennant – Economics & Finance (35 years)
Brian Tibbs – Facilities Management (25 years)
Service Awards for 30, 20 and 10 Years
Thirty-eight individuals who have achieved employment milestones of 30, 20 and 10 years of service will be recognized. They are:
30 years of service:
Philip Jackson – Advancement Services
Tom Moore – University Communications
Jan Woodruff – Payroll Services
20 years of service:
Brian Boyer – Women's Basketball
Linda Despain – Arkansas Biosciences Institute
Tammy Fowler – Office Of Recruitment
Anthony Passalaqua – Grounds & Landscaping
Elaine Poynter – Alumni Relations
Brian Richardson – Information & Technology Services
Randy West – Facilities Management
10 years of service:
Robin Blake – Childhood Services
Sonja Davison Bottorff – Childhood Services
Jon Carvell – Safety & Emergency Management
Jocelynne Coleman – Advancement Services
Paul Cox – Planning-Design & Construction
Rhonda Curbo – Advising Services
Brian Davidson – Office of Financial Aid & Scholarships
Angela Franks – Childhood Services
Chris Groves – Arkansas Biosciences Institute
David Harmon – Facilities Management
Cindy Hinson – Professional Education Programs
Christine Isabell – Childhood Services
Harvey Lee – Information & Technology Services
Kathleen Lorance – Medical Imaging-Radiation Sciences
Erin Lynn – Advising Services
Renett McCraw – Childhood Services
Pam Mangrum – Teacher Education & Leadership
Sara Moser – Information & Technology Services
Mark Osborn – Facilities Management
Kim Parker – Student Account Services
Sarah Ponder – Student Union
Michael Privett – Information & Technology Services
Shirley Smith – Information & Technology Services
Al Stoverink – Facilities Management
Michelle Summers – Human Resources
Marsha Trusty – Chemistry & Physics
Catherine Watson – Childhood Services
Gary Williams – Information & Technology Services
# # #