Staff Distinguished Performance Awards Presented
05/11/2016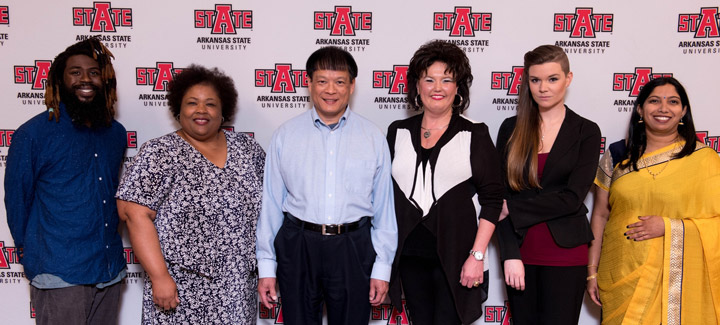 Distinguished Performance Award winners (from left) Johnathan Martin, Renette McCargo, Harvey Lee, Natalie Turney, Hillary Brooks and Prathima Appaji.

JONESBORO – The 23rd annual Distinguished Performance Awards were presented to six individuals and a departmental team at Arkansas State University.
The annual recognition ceremony for non-faculty employees at Arkansas State University was Tuesday at the Carl R. Reng Student Union.
The Distinguished Performance Award recipients for 2015-16 are:
Team Player -- Prathima Appaji, Psychology and Counseling Dept.
Unsung Hero -- Natalie Turney, English, Philosophy & World Languages Dept.
Team Achievement (Departmental Award) -- University Police Department
Enhancing the Student Experience -- Renette McCargo, College of Media & Communication
Rookie of the Year -- Johnathan Martin, Facilities Management Recycling
Outstanding Part-Time -- Hillary Brooks, Bradbury Art Museum
STAR (Service, Teamwork, Attitude, Reliability) -- Harvey Lee, Information Technology Services


Team Achievement Award: University Police Department
Nikki Turner, Staff Senate president, and Rebecca Oliver, director of Honors, served as hosts for the program, which also including retiring staff members and those achieving service milestones of 10, 20 and 30 years. Chancellor Tim Hudson and the vice chancellors presented the awards.
The Distinguished Performance Awards program was initiated in 1994 to recognize outstanding job performance and long-time service by the university's non-faculty employees, both classified and non-classified.
# # #