Staff Distinguished Performance Award Winners for 2023 are Announced
05/24/2023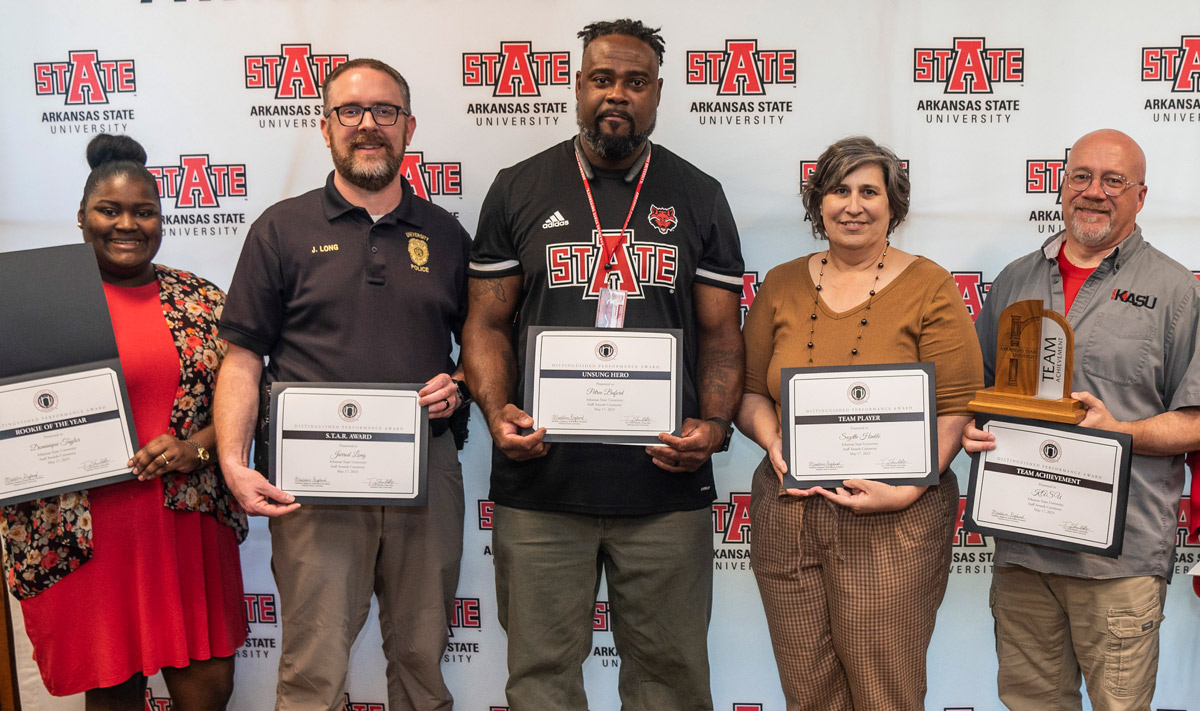 Award recipients are (from left) Dominique Taylor, Capt. Jarrod Long, Petree Buford, Suzette Hinkle and Mark Smith, representing the team at KASU-FM. Bekah Hickman is not pictured.
JONESBORO – The 30th annual Distinguished Performance Awards at Arkansas State University were presented to five individual staff members and a departmental team of employees.
The annual campus ceremony for non-faculty employees was conducted by members of the Staff Senate. The recognitions were presented by members of the awards committee: Christina Kostick, Lonell Macon, Porsha McGregor and Alyssa Wells.
The Distinguished Performance Award recipients are:
— Enhancing the Student Experience – Bekah Hickman, assistant director of student engagement, Leadership Center.
— STAR (Service, Teamwork, Attitude, Reliability) – Capt. Jarrod Long, University Police Department.
— Unsung Hero – Petree Buford, project manager in planning, construction and design, Facilities Management.
— Team Player – Suzette Hinkle, administrative specialist, Department of Occupational Therapy.
— Rookie of the Year – Dominique Taylor, administrative specialist, Division of Diversity, Inclusion and Community Engagement.
— Team Achievement – Staff of KASU, A-State's public radio service.
The award nominees are individuals who exemplify professionalism and dedication to excellence in service, and perform above the standard to enhance quality at A-State.
The program also included recognition of retiring staff members and those achieving service milestones.
The Distinguished Performance Awards program was initiated in 1994 to recognize outstanding job performance and long-time service by the university's non-faculty employees, both classified and non-classified.