Sigma Delta Pi Society, Adviser Earn National Awards
09/11/2015
JONESBORO – Arkansas State University's Pi Theta Chapter of the National Collegiate Hispanic Honor Society has been recognized for its exceptional activities in 2014-15. Along with three additional national honors, the A-State chapter was selected for the fourth annual Phoenix "rising from the ashes" Award.

Claudio Eduardo, A-State's chapter adviser and instructor of Spanish, was selected co-recipient of the 2015 Minaya Álvar Fáñez Award, granted annually to Sigma Delta Pi's chapter adviser of the year. Established in 2004, this award recognizes a chapter adviser for exemplary initiative in encouraging and assisting with chapter activities.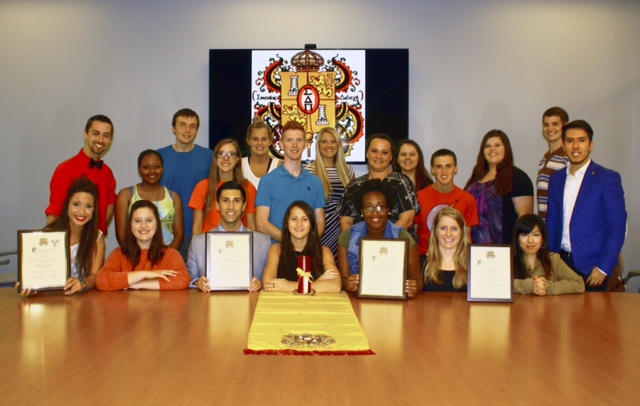 Arkansas State University Sigma Delta Pi Society members: (Front row)—Victoria Childress (vice-president), Cassandra Koekemoer, Nicholas Kitchens (president), Mary Catherine Suchomelly, Arnelle Jones, Emily Peters, Chihiro Sato. (Back row)—Kevin Chamberlain, Kayla Edwards, Matthew Yaksic, Kendal Dogget, Sarah Hamilton, Joseph Horton, Madison Adams, Angela Mejia, Mallory Hanusowski, Brett Dush, Kaycie Taylor, Aaron Wilson, Claudio Eduardo (adviser).
In addition, A-State was one of only 12 Sigma Delta Pi chapters nationwide to be named an "Honor Chapter," the first time in its 30-year history Pi Theta has earned this national prize. The group also took first place in the Facebook photo contest award.
"We are very happy we were able to bring these awards for Arkansas State University," said Eduardo. "After a 27-year hiatus, we re-activated our Honor Society last fall. There were 607 other universities in the United States competing for these awards. Our members are majors and minors in Spanish with a passion for other languages and cultures. For this academic year, we plan to have more activities that will make a positive impact on our A-State students and our community.

"I am honored to work with a wonderful group of students who are willing to use their Spanish skills and good hearts to help the community. Sigma Delta Pi organized different activities throughout the last academic year. Some of those activities were fund raisers to help children in need," continued Eduardo. "Also, we hosted movie festivals, conversation tables and free tutoring sessions for A-State students who needed help with their Spanish classes."

Eduardo is originally from Arequipa, Peru, where in 2007, he earned his Bachelor of Science degree in Computer Systems Engineering from the Catholic University of Santa Maria. He also earned a Master of Arts degree in Foreign Languages in 2013 from West Virginia University; he has been teaching Spanish for seven years.

Each May, more than 600 chapters of Sigma Delta Pi across the U.S. are asked to submit an annual report detailing their numerous activities and projects from the academic year. Based on these reports, the national executive committee chooses approximately 15-20 awardees annually.
Chapter recognitions are based upon the caliber of chapter projects that reflect the Sigma Delta Pi mission of honoring excellence in the study of the Spanish language, contributing to cultural understanding and upholding the goals of the society.
With its national office at the College of Charleston in South Carolina, Sigma Delta Pi is a member of the Association of College Honor Societies, the nation's only certifying agency for college and university honor societies and has the support of the College of Humanities and Social Sciences and the Department of English, Philosophy and World Languages at A-State.