Ribbon-Cutting Opens Student Activity Center
09/10/2015
JONESBORO – The Student Activity Center (SAC) at Arkansas State University formally opened today with a 2 p.m. ribbon-cutting ceremony, after which students, faculty, staff and community visitors had an opportunity to tour the building.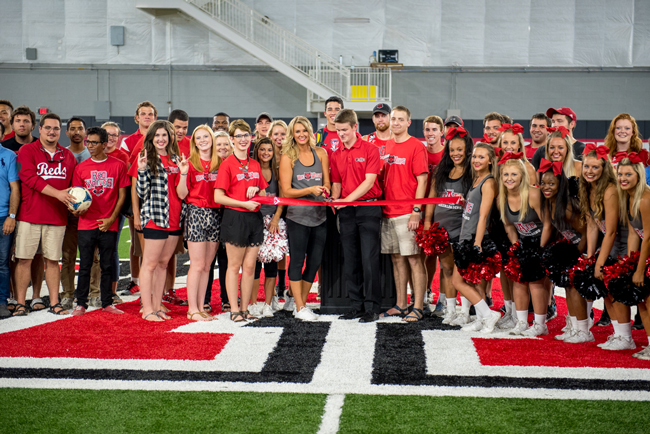 Speakers included Logan Mustain, president of the Student Government Association; D'Andre Anderson, president of the SGA when the project began; Dr. Rick Stripling, vice chancellor for student affairs; Terry Mohajir, director of intercollegiate athletics; and Dr. Tim Hudson, chancellor.
This 80,000 square-foot facility provides a new venue for multiple programs across the university. The student activities calendar will expand with the convenience of an indoor facility. The multi-purpose SAC is a new step in bringing the students, the athletic department, and the community closer together.
SAC Benefits for Students
Campus Intramurals can be held in this facility, all students welcome
A-State clubs/organizations can practice activities
Scheduled open gym nights for students to play kickball or any other activities that exceed the space of the Red WOLF Center.
Any campus recreational activity may be held in the facility through scheduling with Matt Huckaby, executive director of student health & wellness, 870-680-4050
Students can schedule activities any time after 6:30 p.m.
Full football field inside
Includes nets for batting cages
Large enough to share practice time with more than one group
Athletes can schedule the facility from early in the mornings until 6:30 p.m.
Fully padded activity area and synthetic field protects students and provides comfortable running surface
Other interesting facts about the SAC
Heated facility during the winter
Large fans circulate air through large doors to circulate air during warmer weather
80,000 square-feet of space
58 feet at ceiling height (three stories tall)
One in a handful of facilities in the country with all LED field lighting
North wall bears names of thousands of current and former students whose support made the SAC a reality
# # #