Northeast Arkansas P-20 Town Hall: A Solutions-Driven Conversation
02/26/2016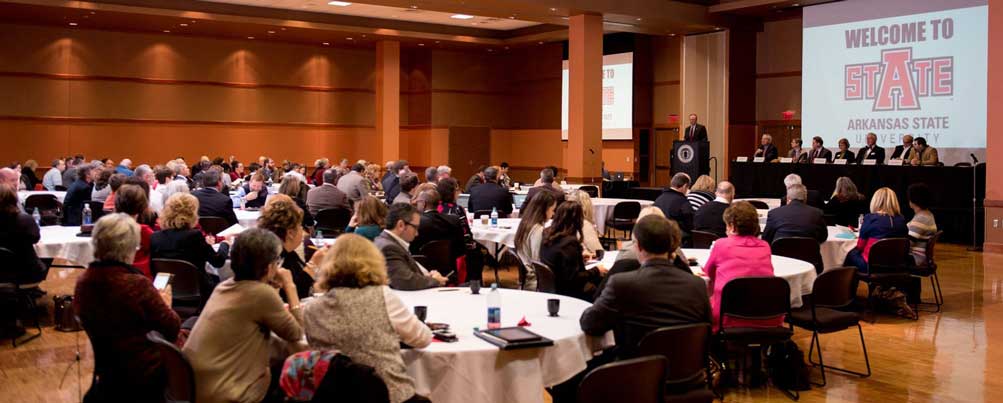 JONESBORO – Almost 200 business, industry and governmental policy makers exchanged ideas Thursday with professional educators Thursday during the "Northeast Arkansas Regional P-20 Town Hall: A Solutions-Driven Conversation," at Arkansas State University.
Shane Broadway, vice president for university relations, ASU System, facilitated the event, which featured a series of speakers and panelists. A-State Chancellor Tim Hudson welcomed guests to the campus.
Some of the most prominent participants statewide were Randy Zook, president and CEO of the Arkansas State Chamber of Commerce and Associated Industries of Arkansas; Johnny Key, commissioner of education, Arkansas Department of Education; Dr. Charisse Childers, director of the Arkansas Department of Career Education; and Dr. Brett Powell, director of the Arkansas Department of Higher Education.
The workforce needs panel also included Mark Young, president and CEO, Jonesboro Regional Chamber of Commerce, Jon Chadwell, executive director of the Newport Economic Development Commission, Sue McGowan, director of economic development CEO, Paragould Regional Chamber of Commerce, Cliff Chitwood, president of Great River Economic Development; Holmes Hammett, executive director of West Memphis Chamber of Commerce; and Rep. Chris Richey, state representative and executive director of Phillips County Chamber of Commerce.
The second morning panel also included Ron White and Belinda Hodges, with Arkansas Department of Workforce Services; Dr. Richard Abernathy, executive director of the Arkansas Association of Educational Administrators; Bill Stovall, executive director of Arkansas Community Colleges; and Dr. Cynthia Miller, director of the STEM Education Center at A-State.
The afternoon session on partnerships at work included Jon Collins, superintendent of West Memphis School District; Jody Wiggins, assistant superintendent of Siloam Springs School District; Steven Green, superintendent of Cave City School District; John Hoy, superintendent of Helena-West Helena School District; Barbara Doyle, director of A-State's K-20 educational enrichment initiatives; Dr. Shane Hunt, dean of the A-State College of Business; Dr. Russ Jones, chair of the A-State Department of Accounting and Computer Information Technology; Jeff Dyer, teacher recruitment and retention program adviser for the Arkansas Department of Education; and Jan Paschal, founder and executive director of Every Child is Ours.
Broadway said participants worked on developing ideas for fostering more effective partnerships between higher education and K-12, as well as business and industry partnerships with P-20 (pre-school through graduate-level university education).
Workforce needs of business and industry comprised a major part of the presentations, as well as development of effective partnerships to enhance job opportunities.
The town hall was sponsored by A-State's Education Renewal Zone, the College of Education and Behavioral Science, and University College.
# # #