New York Classical Players to Perform in Concert Series
09/27/2017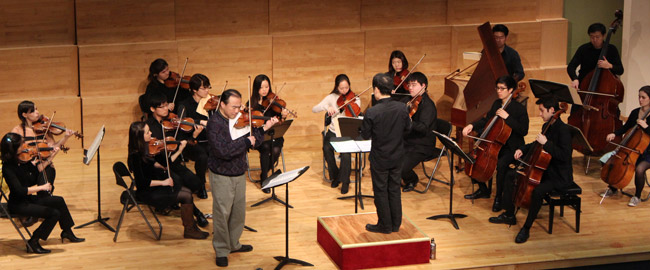 JONESBORO – The New York Classical Players are coming to Arkansas State University as part of the 2017-2018 Lecture Concert Series on Friday, Oct. 6, at 7:30 p.m. in Fowler Center's Riceland Hall.
Beyond its seasonal offerings for local audiences, NYCP is taking its artistry on the road for its first-ever Arkansas Tour, sharing the ensemble's vision with audiences in Little Rock, Jonesboro and Fayetteville, among other Arkansas communities. The statewide tour partners NYCP with local universities, blending the ensemble's model of free performance with community outreach and educational programming for student musicians.
New York Classical Players will be joined on stage by A-State's Dr. Lauren Schack Clark to perform Beethoven's "Piano Concerto No. 4." In addition, the group will perform "Omaggio a Gesualdo for String Orchestra" by Eric Nathan, Bach's "Concerto for Two Violins in D minor, BWV 1043," and "Prelude and Scherzo, Op. 11" by Shostakovich.
NYCP is the region's only professional orchestra sharing exclusively free performances. Comprised of creative and virtuosic young musicians, NYCP's adventurous programming shares familiar masterpieces, bold new commissions, and unexpected musical treasures. Each season, thousands of NYCP concertgoers experience both the dynamic power of the orchestral repertoire and the versatile intimacy of chamber performance.
NYCP collaborates with some of the world's most renowned musicians, and is under the baton of music director and founder Dongmin Kim. He is quickly establishing himself as one of the most exciting and versatile conductors of his generation.
The Lecture-Concert Series serves Arkansas State and the surrounding communities by bringing notable guest speakers and performers of diverse backgrounds and wide appeal to the campus, according to Dr. Tim Crist, chair of the Lecture-Concert Committee.
For more details about the series, interested individuals may visit the Lecture-concert Series website (http://www.AState.edu/lectureconcert), or contact Crist, tcrist@AState.edu, (870) 972‑2094.
# # #