Kelly Damphousse Appointed Chancellor of Arkansas State University
05/17/2017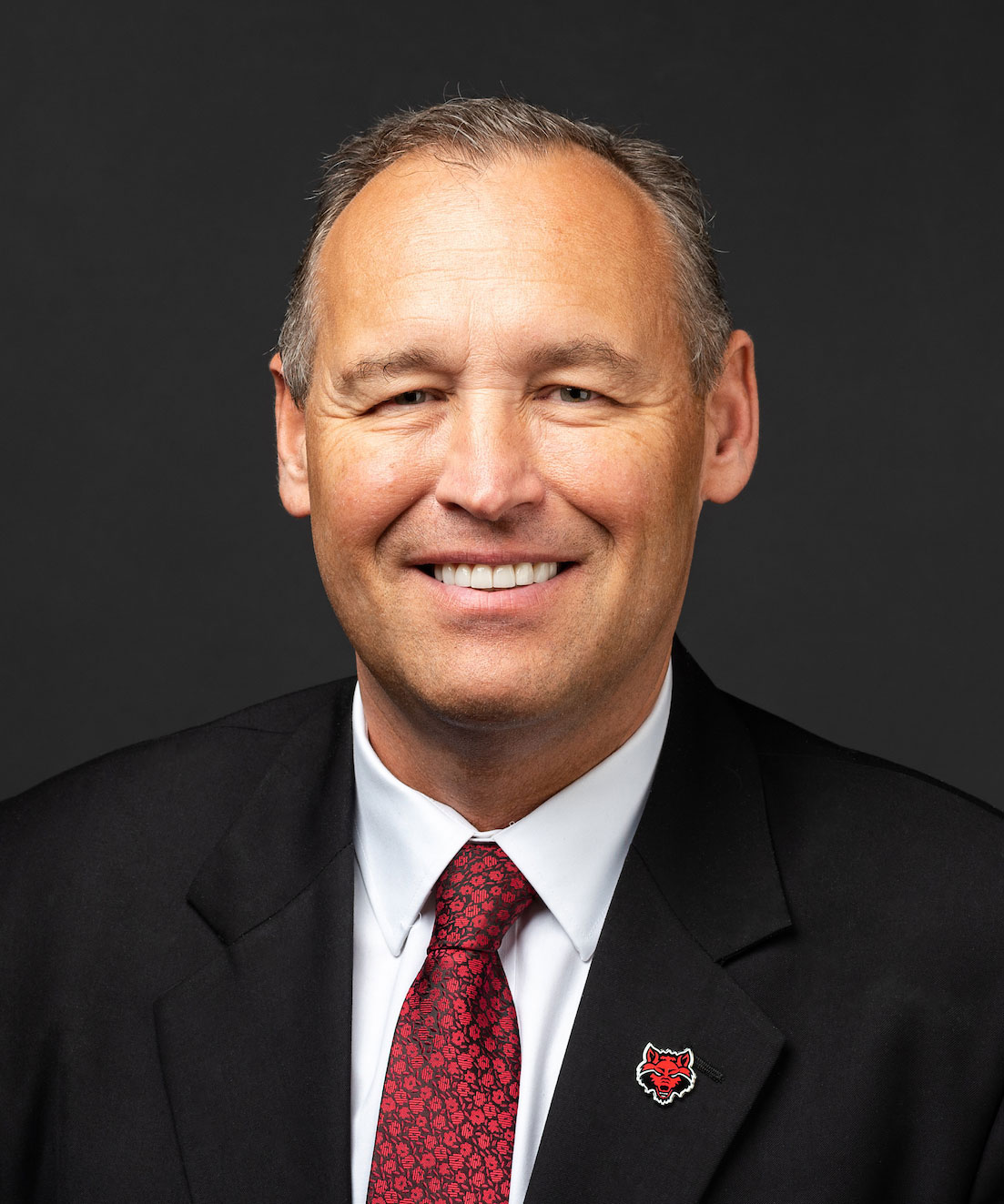 Dr. Kelly DamphousseJONESBORO, Ark. – Dr. Kelly Damphousse [DAMF-iss] has been appointed as the next chancellor of Arkansas State University, ASU System President Dr. Charles L. Welch announced today.
Damphousse, who has served as dean or interim dean of the College of Arts and Sciences at the University of Oklahoma in Norman since 2013, will begin his duties at A-State effective July 1. He succeeds interim chancellor Dr. Doug Whitlock.
Welch said the Chancellor Search Advisory Committee voted unanimously Friday to recommend Damphousse following campus interviews with three finalists.
"We conducted an extensive national search, had three outstanding finalists and I believe hired an extraordinary individual to lead the Jonesboro campus," Welch said. "Kelly's personal story is compelling, and his blend of academic and leadership experience and history of significant student interaction are all traits that made him an ideal choice. His servant leadership approach and commitment to shared governance really resonated with many of us. His experience at a major research institution such as Oklahoma will benefit A-State, and I can't wait for him to get started."
With members representing faculty, staff, students and the community, the 21-member Chancellor Search Advisory Committee –– reviewed 53 viable applications for the position. Three finalists were interviewed on campus during the past two weeks.
"I'm very appreciative of the work of the Chancellor Search Advisory Committee. They did their homework on each candidate and all of them came to the conclusion that Dr. Damphousse is the ideal choice to be the next chancellor."
A native of Canada, Damphousse served as associate dean of the College of Arts and Sciences at OU for nine years prior to becoming dean. The college is the university's largest and most diverse with an annual budget of $100 million, 31 academic and research units offering 60 degrees, nearly 600 faculty, more than 1,500 instructional or support staff, and almost 10,000 students. As dean, he worked with faculty, staff and alumni to cultivate more than $30 million in private giving to the college.
Damphousse, who once worked as a prison guard prior to his career in higher education, is a sociologist who has done extensive research on terrorism and substance abuse. In addition, he has served as OU's faculty athletics representative to the Big 12 Conference and NCAA since 2012. He and his wife, Beth, serve as faculty-in-residence in an OU residence hall, living with 384 freshmen every year. Students voted him "Best OU Professor" in 2015.
"This is a humbling moment for me personally, but I am also very excited about this opportunity," Damphousse said. "Beth and I appreciate the confidence that President Welch, the Search Committee and the rest of A-State's community have in us. We cannot wait to get back to the Upper Delta in July so that we can begin serving our faculty, staff, students, alumni and the Jonesboro community. Together, we will all continue building on A-State's rich legacy begun so nobly by President V.C. Kays in 1910."
Damphousse holds a doctoral degree in sociology and a master's degree in sociology from Texas A&M University. He holds a bachelor's degree in criminal justice from Sam Houston State University and an associate degree in law enforcement from Lethbridge College. He has two daughters: Kristen Howell, who just completed the first year of her master's degree in public health at Emory University, and Kayleigh Damphousse, who is assistant director of retention and persistence at the University of Florida.
Damphousse will join Arkansas State on July 1, Welch said, and his annual salary will be $360,000.