Kade Holliday Commits Gift for Professorship and Scholarship
09/20/2019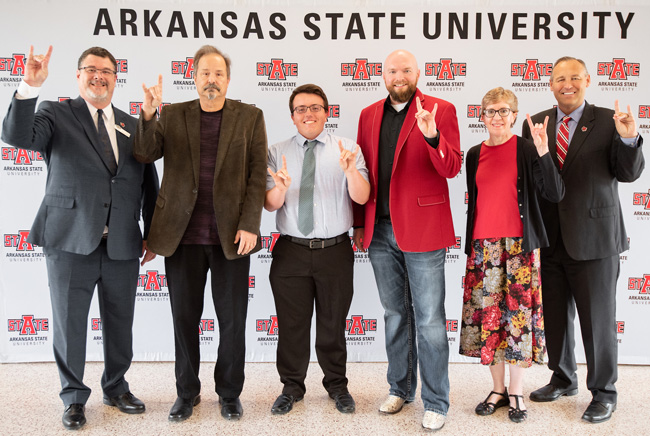 Those present for the gift announcement included (from left) Dr. Carl Cates, Dr. Kenneth Carroll, Dean MacDonald, Kade Holliday, Dr. Lauren Schack Clark and Dr. Kelly Damphousse.
JONESBORO – Arkansas State University announced today the creation of an endowed professorship of jazz studies and an endowed scholarship for outstanding students in the jazz program.
Chancellor Kelly Damphousse said Kade Holliday of Jonesboro, an alumnus who has earned three degrees at A-State, has made a gift commitment of $500,000 to establish the two programs, with equal funding to each. He also has pledged additional annual gifts while the endowments build to maturity.
"There is a very special pride that the university feels when a graduate thinks enough of his alma mater to invest in its future," Damphousse said. "Again, Kade, for your classmates, for the current Red Wolves, thank you for giving back. And, what a gift this will be."
Holliday's undergraduate degree is in finance, with corporate finance, insurance and banking emphases. He later completed a Master of Business Administration and a Specialist in Community College Teaching. While serving as Craighead County Clerk, he also has found time to work toward a Doctorate in Educational Leadership that he hopes to complete soon.
"The reason I decided to make this gift is simple," Holliday explained. "I saw a need and a place that I knew that I could assist. Music, especially jazz, has held a special place in my heart as it provided a mechanism for me to create and foster lifelong friendships, gave my creativity an outlet, and provided an escape that only music can truly provide."
Dr. Carl Cates, dean, expressed appreciation to Holliday on behalf of the College of Liberal Arts and Communication.
"This pledge in support of the Department of Music and its Jazz Bands attests to the life skills and values provided by student experiences in the arts," Cates said. "It is deeply significant for our jazz studies program to receive support that will provide for its quality and longevity."
A former member of Marching Band, Trombone Choir, Jazz Band, Concert Band, Orchestra, and Wind Ensemble, Holliday credits Dr. Kenneth D. Carroll, director of the jazz studies program, with creating special opportunities for students like himself.
"Ken does a fantastic job of educating his students and being a mentor for their success, regardless of what path they choose to pursue," Holliday continued. "He treated me like a son even though I was not a music major; he understood my love for the art and helped foster that. I will always be thankful for what he and music have done in the overall betterment of my life and I hope that this gift will make an impact on those that it touches, throughout future generations, as I have been impacted."
Carroll expressed pride in Holliday, both as a friend as former student.
"His desire to honor his time in the jazz studies area and his words of praise are truly humbling. His prestigious gift will be transformative for the program and students," Carroll said, noting Holliday provided funding last year to send the Jazz Orchestra to the Greeley Jazz Festival and created opportunities about which the students are still talking. "The present gift will aid generations of students, and establish A-State as the jazz education center of the region."
Dr. Lauren Schack Clark, interim chair of the Department of Music, echoed Carroll's comments.
"We are ecstatic about this extremely generous gift from Mr. Holliday," added Dr. Lauren Schack Clark, interim chair of the Department of Music. "It will help us recruit more talented jazz students, enhance the experiences of our many gifted current students, and underscore the long tradition of jazz excellence at A-State."
Dean MacDonald of Paragould, a double major in music education and political science, plays tenor saxophone in Marching Band and piano in Wind Ensemble and Jazz Band. He expressed his enthusiasm for what Holliday's gift means to the program.
"I've loved my experiences in jazz band and studies here at A-State. I've learned so much, and just the experience and music itself have been extremely enriching," he said.
Chancellor Damphousse put the commitment into historical perspective, noting what Arkansas State has done best for more than 100 years is change the lives of students.
"From V.C. Kays, the first president, to today, the faculty of A-State has made involvement with students our hallmark. There is no greater compliment to a professor than to have a student pay it forward with an endowment that will ensure future generations can learn. Thank you, Kade."
# # #