Get to Know the Faculty: Melody Lo
09/16/2020
It's fitting that the inaugural Neil Griffin Endowed Dean of the Griffin College of Business is a precedent setter in her past academic career. Big things are ahead for Griffin College as Melody Lo is moving forward full gas and well caffeinated.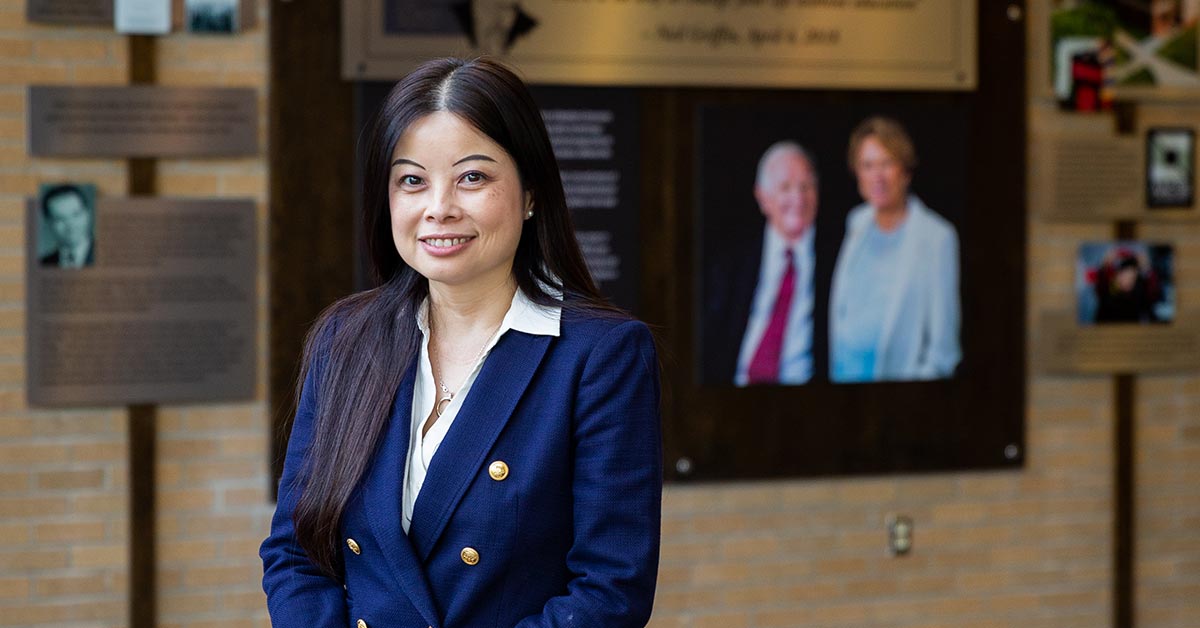 Melody Lo
Name?
Melody Lo
Place of birth?
Taipei, Taiwan
Family?
Husband David, Son Andrew, and dog Tubby
Why did you choose A-State?
I saw the potential impact of being the Neil Griffin Business Dean on the quality of education for students. The opportunity to change lives particularly for first generation college students is the reason that I choose to join A-State.
What is one thing you always have on you?
My Starbucks mobile card
What makes a good professor?
A good professor is the one who will have every student's best interests in heart, and will guide all students to reach their next level regardless of their starting points.
My favorite motion picture is...
Braveheart
Who was your favorite teacher (and why)?
My favorite teacher was Dr. Pan-Long Tsai at National Tsing-Hua University. He was the Professor who made me see why economics makes sense for the very first time. His teaching continues to inspire me to be the best educator I can be in and out of a classroom.
Four people I'd take to coffee...
Any three A-State colleagues and my son who shares my love for coffee
What makes for a good student?
Have a mindset to put in consistent effort to learn everything. Brave enough to question in any classrooms that helps stimulate others' learning.
My passion is...
having positive impact on student's education and future career path(s).
What's the value of a university education?
There is no doubt that education has helped me become the person who I am today. To me personally, the value of a "high-quality" undergraduate education is that it provides a lifetime learning foundation leading to personal prosperity as well as meaningful contribution to our society.
Your philosophy on education in seven words:
Unleash every student's greatest potential in life
If you could teach another field, which one and why?
Ethical (Entrepreneurial) Leadership. It is lacking in our society in almost everywhere and yet it greatly affects the health of work environment as well as the organizational efficiency.
What is your favorite podcast?
Any business news
The last book I read for fun was...
Wow... I have not found time to read a book just for fun for quite a while.
What is the one thing you wish you could teach everyone about your field?
Rational behavior (of everyone), a fundamental assumption used to explain the choices that people make to achieve satisfaction. Recognize the fact that everyone is born rational helps to explain all human behavior as it relates to decision-making.
What are you working on right now?
Meeting with NGCOB faculty and staff, members of the business community, donors, and alumni, evaluating existing degree programs, and expanding degree program offering.
Before you retire I want to...
I have not thought about retirement.
In college, I was known for...
the independence in my thought and my determination to pursue further education in the United States.
What music is playing in your car?
Hip-Hop
The television series I must DVR...
Sex and the City
My favorite trip was...
a cruise in Europe with my family in summer 2019.
If I could travel anywhere it would be...
Northern Europe in the summer.
I wish I could...
travel more with my son before he grows up.
The best advice I ever received was...
never give up.
What is the one thing I've learned I'd tell my college self...
always believe in yourself.
My hobby is...
cooking, decorating, and starting new businesses or projects.
My pro sports team is...
now it is Memphis Grizzlies
My pet peeve is...
people talking too much without substance.
My favorite meal is...
steak (and dessert).
A perfect day is...
Strolling around town without a time constraint or driving without a destination.
What I like about Jonesboro is...
how green and peaceful it is.
Cats or dogs?
Dogs
E-book or hardback?
Hardback
Beach or mountains?
Mountains with lakes
Dinner or supper?
Supper
The one thing I'd take to a desert island (and a boat is not an answer)...
TV.
Only my friends know I...
am resilient and nothing can break my determination and ethics (Well, I am stubborn.)
My favorite saying is...
I know we (or you) can do this.