Dr. David Ray Joins A-State Campus Queretaro Administration
09/21/2018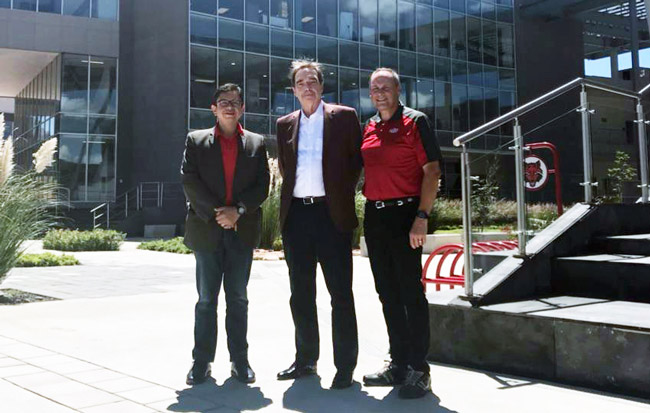 ASUCQ General Director Felix Edmundo Vallejo Cano, incoming Vice-Rector Dr. David Ray, and outgoing Vice-Rector Dr. Brad Rawlins)
JONESBORO – Arkansas State University welcomes a new vice rector for its academic campus in Queretaro, Mexico, as Dr. David Ray joins the A-State Campus Queretaro administration. Ray steps in at the start of the spring 2019 semester as Brad Rawlins, the inaugural vice rector for Campus Queretaro, is returning to Jonesboro. Ray begins transitioning into the role Nov. 15, then becomes vice rector Jan. 1.
A graduate of Yale with his Ph.D. from Stanford, Ray most recently served as the dean of the Joe C. and Carole Kerr McClendon Honors College at the University of Oklahoma. Retiring from OU in 2017, Ray is currently a resident of Mexico.
"This is a wonderful opportunity to bring on board an outstanding academic leader to begin the process of moving forward with new initiatives at Campus Queretaro," Chancellor Kelly Damphousse said. "I've known David for many years from when we served together at Oklahoma. He established a well-earned reputation as a wonderful scholar and gifted teacher and faculty mentor. His availability aligned perfectly with Brad's desire to return to Jonesboro, so the timing was perfect."
During his academic career, Ray was on the faculties of Georgia Tech and Boston College prior to joining Oklahoma's department of political science in 1992. Earning several honors and awards at OU for his teaching skills, he is a prolific writer with publications ranging from American Political Science Review, Journal of Politics, and Inter-American Studies and World Affairs.
"I'd heard of the Campus Queretaro project before, and was intrigued by the unique aspects of what Arkansas State was proposing in Mexico," Ray said. "When Kelly reached out, it was one of those 'once-in-a-lifetime' opportunities that bring you back out of retirement. It is such a privilege to work with Brad Rawlins and build upon the strong foundation he has established here."
Damphousse expressed appreciation for the work Rawlins did in establishing the initial operations. "Being the first administrator in a project as daunting as starting up Campus Queretaro might cause some to not volunteer, but Brad did so with no hesitations and did an admirable job during our launch phase," Damphousse said. "A-State will always be grateful for his service in that role."
Rawlins reflected on his time in Mexico, since the project's earliest stages.
"Helping establish the Queretaro Campus of Arkansas State has been the most challenging and rewarding experience of my life," he said. "When I was first asked to be a part of this project, the campus was a few steel skeletons in the middle of a high desert. It took a lot of imagination by everyone involved to see what the campus would become. Now, two and a half years later, we are operating with students eager to learn and talented faculty teaching in all of our program areas. That's what makes the university tick and I believe we have established a good foundation."
Rawlins will return as a professor of communication after taking the spring 2019 semester as a sabbatical to work on research and his resumption of classroom duties. During the spring 2019 semester, he will also serve as a special assistant to the provost, tasked with serving as a liaison between Jonesboro and Queretaro.
"I believe what we need is someone who is familiar with both campuses who can help facilitate that collaboration," Rawlins added. "I feel very positive about the potential of the CQ campus and the additional possibilities it extends to students and faculty on the Jonesboro campus."
# # #