Distinguished Service Award Recipients for 2017-18 Honored
04/26/2018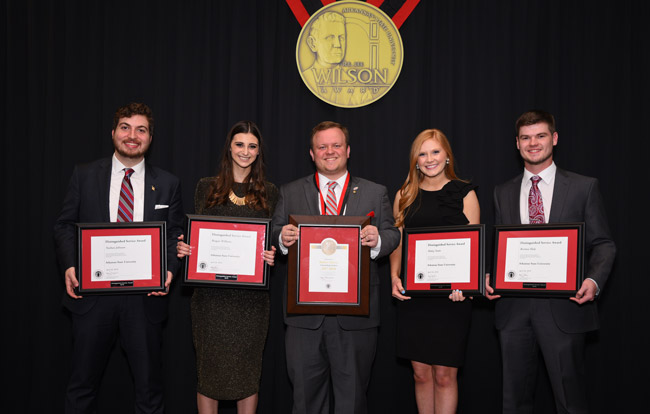 Recipients of the Distinguished Service Awards for 2017-18 are (from left) Nathan Johnson, Reagan Williams, Robert Morris, Haley Stotts and Brett Hale.
JONESBORO – Five outstanding students who are graduating during the 2017-18 academic year were recognized during a Convocation of Scholars ceremony Thursday evening as recipients of the Distinguished Service Award (DSA) from Arkansas State University.
The award recognizes of their exemplary service and contributions during their collegiate career.
The five students are Brett Hale of Doniphan, Mo.; Nathan Johnson of Jonesboro; Robert Morris of Jacksonville, Haley Stotts of Little Rock; and Reagan Williams of Jonesboro. Morris also was named recipient of the R.E. Lee Wilson Award, the university's highest honor for a graduating student.
The DSA recognitions and Wilson Award announcement comes during A-State's 40th annual Convocation of Scholars, a celebration of academic achievement that includes college and departmental awards.
The Distinguished Service Award winners are the institution's most outstanding graduates because of their leadership, scholarship and citizenship. Faculty, staff, advisers to student organizations, and other members of the campus community submit nominations for the prestigious awards.
All of the nominees have achieved excellent academic records and provided countless hours of service to the community, their classmates, campus organizations, their departments and colleges, and to Arkansas State University. A committee comprised of students, faculty, staff and previous Wilson Award recipients makes the final selections.
More details about this year's Distinguished Service Award recipients are available in an online news release.
# # #