Create@State 2019 to Showcase Student Research
04/11/2019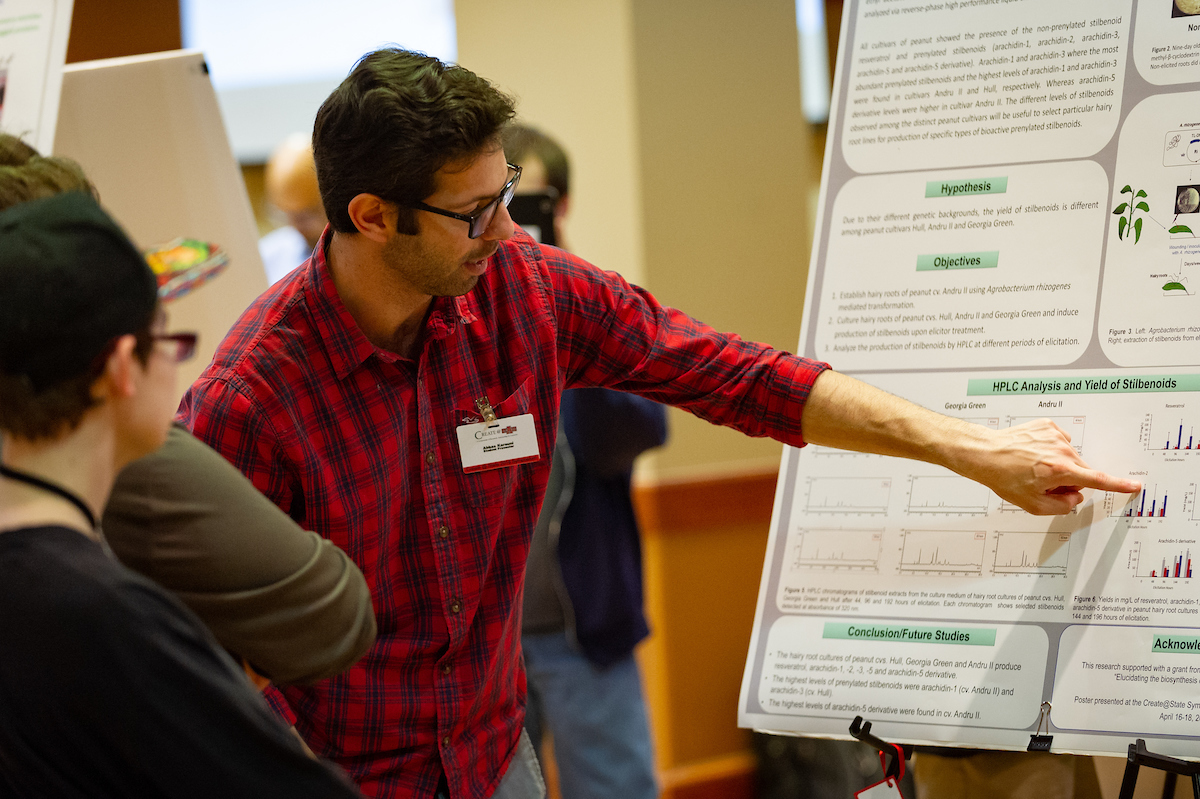 An A-State student explains details of a poster presentation at Create@State 2018
More than 310 undergraduate and graduate students at Arkansas State University will share their work when the ninth annual Create@State: A Symposium of Research, Scholarship and Creativity begins Monday, April 15.
The three-day event will be held at Fowler Center and the Reng Student Union on the A-State campus, featuring more than 100 oral and creative presentations and over 120 poster presentations, along with hands-on demonstrations from students representing various colleges and discipline. This event is open to the public.
New to the Create@State program is a weekly podcast, "Create@State: Making Connections that Count!," which highlights faculty, students and community partners while discussing the research and creativity that takes place on the A-State campus and in the community. The podcast is produced by KASU Public Radio and hosted by news director Johnathan Reaves, and may be found on the NPR One app, Apple iTunes podcasts and Google Play. This podcast features many of the works throughout the year which are annually showcased at the symposium, and it will highlight the students at this year's event through broadcast and recordings on-site.
Student work will be showcased in seven categories: Agriculture, Engineering & Computer Science, Business, Education & Behavioral Science, Liberal Arts & Communication, Nursing & Health Professions, and Sciences & Mathematics. Students will offer oral, poster and creative presentations throughout the symposium. Judges for the presentations will include leaders from local business, industry, foundations and A-State alumni.
"This event marks yet another record year of student presentations and performances, showcasing more than 300 student presenters and their faculty-mentored works," said Emily Devereux, executive director of Research & Technology Transfer. "We are especially grateful for the faculty who have provided countless hours of mentoring to our students through research and creative projects, as well as the support of the community and alumni that have generously invested their time and involvement in this year's symposium."
"It is hard to believe that the Create@State Symposium started out as a research event nine years ago and has grown to not only showcase all disciplines and areas of study, but is now the culminating event of the Create@State program, a year-long development program for student research and creativity offered to all students at A-State," Devereux added. "This program and its symposium provides a professional setting for our students to engage with the community, showcase research for community impact, and to receive feedback from potential employers and networks for student learning and community building."
The Create@State 2019 Symposium is a collaborative effort of A-State's Research and Technology Transfer office (RTT) and University Advancement.
For a complete schedule of events, visit the Create@State webpage at AState.edu/CreateatState
Create@State 2019

The ninth annual celebration of Create@State: A Symposium of Research, Scholarship & Creativity, showcasing the faculty-mentored works of our high achieving students from across all of the university's colleges and disciplines.
Download the full schedule >>
# # #