Black History Month 2020 Launches in February With Activities
01/22/2020
JONESBORO – Observance of Black History Month at Arkansas State University begins Saturday, Feb. 1, and runs through Saturday, Feb. 29, with a full slate of activities.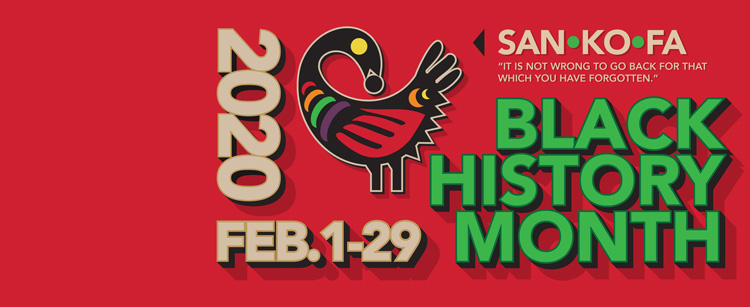 The month of special events gets underway Monday, Feb. 3, in the Carl R. Reng Student Union, first floor, center court at 11 a.m. Attendees can win prizes and celebrate the 51st anniversary of the Black Student Association at A-State. Cake and punch will be served. In addition, participants can get an overview of upcoming activities for the month.
An accompanying civil rights exhibition is also scheduled to be open Jan. 28-March 16, titled "For All the World to See: Visual Culture and the Struggle for Civil Rights," in the Arkansas State University Museum. This is a nationally touring exhibition from National Endowment for the Humanities (NEH) on the Road. A reception celebrating the exhibit's opening will be held Thursday, Feb. 6, at the museum from 3-5 p.m.
The Strong-Turner Chapter of the A-State Alumni Association and the A-State Multicultural Center will host the annual Soul Food dinner Friday, Feb. 7. The dinner starts at 6 p.m. in the Military Science Building, 1921 Aggie Road, as an evening of food and fellowship.
Events for the NAACP (National Association for the Advancement of Colored People) Week are from Sunday through Saturday, Feb. 9-15. Look for up-to-date information at AState.edu/BHM2020.
Other special Black History Month events scheduled in February include:
Living Black History Museum, Feb. 20, 11 a.m., 2 p.m. and 6 p.m., Reng Center Student Union, Centennial Hall — Students, faculty and staff at Arkansas State are bringing an art museum to life. There will be representation of Pan African leaders and Pan Africanism.

Implicit Bias Conference, Feb. 21, 9 a.m.-3 p.m., Red Wolf Convention Center — St. Bernards Healthcare and the Division of Diversity and Community Engagement at Arkansas State will host a conference,

"Leaping into Diversity & Inclusion." The conference will promote awareness of implicit bias and tools for mitigating its effect. Participants will be introduced to diversity and inclusion terms and their importance, followed by break-out sessions that focus on implicit bias within specific professional fields. Registration is $30, and includes breakfast and lunch.
Karl Hagstrom Miller will speak on "Hearing Race and Region in Popular Music" Thursday, Feb. 20, from 3-5 p.m. in the ASU Museum auditorium.
Black Professionals' Network of Jonesboro will host the sixth annual Black History Quiz Bowl, Saturday, Feb. 22, at noon in the Reng Student Union Auditorium. There are three categories: Elementary (Grades 3 - 6), Junior (Grades 7 - 9), and Senior (Grades 10 - 12). Individuals, churches, or organizations may sponsor a team for this event. Cost is $35 per team. Payment may be made via PayPal to BPN Jonesboro or via Cash App

$BPNJonesboro

. Schools may be invoiced for payment by submitting a purchase order to blackprofessionalsnetworkjb@gmail.com. Click here for

BHQB Registration Form

.
Also, a schedule of events associated with Black Student Association Week is set for Feb. 23-28, including:
Church at St. Paul Missionary Baptist Church, 716 E. Washington Avenue, Sunday, Feb. 23, 11 a.m.
Like Mike vs. Roll Bounce/Cascade, Red W.O.L.F. Center, Sunday, Feb. 23, 5-8 p.m.
Kickoff, Reng Student Union, Monday, Feb. 24, 10 a.m.-2 p.m. Music and cookies; wear red BSA shirts.
Black Love Forum, Tuesday, Feb. 25. Visit AState.edu/BHM2020 for details.
Dress Like Your Favorite 90s Artist, Shazam's 90s music, Wednesday, Feb. 26. Visit AState.edu/BHM2020 for details.
Movie Night, "Juice," Thursday, Feb. 27. Visit AState.edu/BHM2020 for details.
90s Party Night House Party, Community Service, Friday, Feb. 28, Visit AState.edu/BHM2020 for details.
The second Black History Month Living Legends Breakfast, on Saturday, Feb. 29, will honor Arkansas natives who have excelled in their careers, enriched their communities, and inspired the younger generation to greatness. The breakfast starts at 9 a.m. in the Reng Student Union Spring River Room.
Evolve, with Multicultural Affairs and Ejji Studios, will highlight Black art, hair, music, fashion and entertainment, wrapping up the month of celebration Saturday, Feb. 29, starting at 7 p.m. in Centennial Hall.
For more information about Black History Month, visit the Black History Month website, AState.edu/BHM, or contact Multicultural Affairs, Room 3003 of the Reng Student Union, (870) 680-4052 or AStatemc@AState.edu.