Arkansas Delta Writing Project Hosts Writing Institute
08/17/2018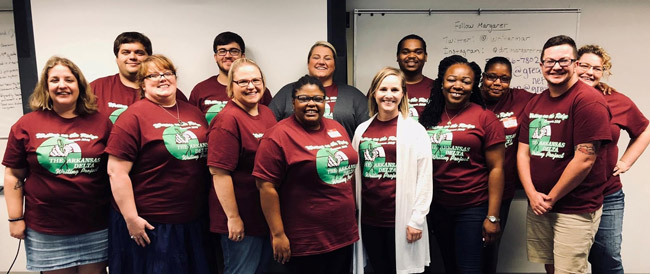 The 12 participating teachers in the National Writing Project included (front, from left) Margaret Ann Robbins, Kelly B. Webb, Tara Harrelson, Dasnee McChristian, Kelsey Riley, Kimberly Sims and Lee McBride; (back) Sebastien Isom, Hunter Durham, Debbie West, Darnell Rancifer, Constance Watson and Heather Neeley.

JONESBORO – Inquiry, writing, and teachers thinking together — that's what occurs in National Writing Project (NWP) summer institutes. The Arkansas Delta Writing Project at Arkansas State University hosted its 10th summer writing institute for teachers on the A-State campus.
Dr. Karen Kleppe Graham, Writing Project director and assistant professor of teacher education at A‑State, supervised the institute, while two master teachers facilitated the teacher-driven workshop.
Dr. Margaret Robbins of Mount Vernon Presbyterian School in Atlanta and Debbie West, technology facilitator for Nettleton Public Schools, organized the daily events and created the workshop learning environment. Both have extensive experience as teachers in the field of writing instruction and as Writing Project facilitators.
National research studies confirm significant gains in writing performance among students whose teachers participate in NWP programs.
Each ADWP 2018 Fellow conducted a teaching demonstration involving writing instruction. They also participated in a writing marathon on campus and wrote in several genres throughout the week, such as poetry, personal narrative, reflective writing and lesson plan writing/technical writing.
The facilitators conducted workshops on technology, blogging, using graphic novels/comics in the classroom, and teaching interdisciplinary poetry. The newly-minted NWP Fellows also learned about local public library resources and programs from Jessica Horton, teen services librarian.
The goals of the week's activities were to encourage the Fellows to share innovative and interdisciplinary writing pedagogy with each other, to develop writing skills, to prepare the Fellows for their own teacher leadership endeavors, and to foster a community of writers that will continue with National Writing Project involvement.
Through its professional development model, NWP develops the leadership, programs and research needed for teachers to help students become successful writers and learners. This year's summer institute was funded by the College of Education and Behavioral Science, the Department of Teacher Education, and the Educational Renewal Zone at A-State.
National Writing Project sites promote writing across all disciplines and consider writing as an important thinking tool for inquiry into all content areas. Summer institutes involve demonstration lessons by the teacher participants, with digital tools and classroom inquiry at the center of their experiences together. Participants experience writing on a personal level, following the National Writing Project model that "teachers of writing also write."
# # #