Apple Dennie is Crowned Miss Arkansas State University 2020
02/04/2020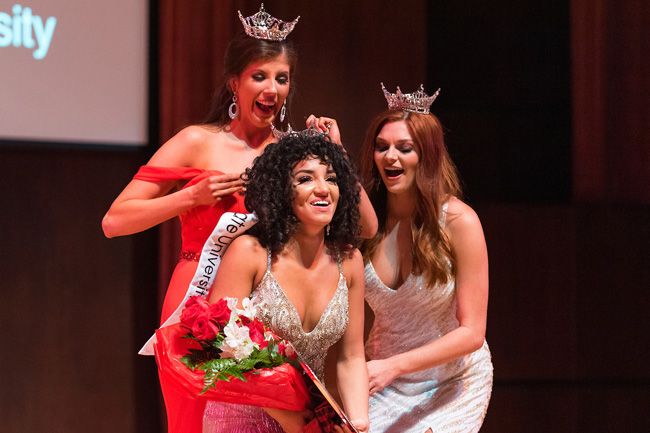 Apple Dennie of Sherwood receives her Miss Arkansas State University crown from Ellie Stafford (left), her predecessor, and Miss Arkansas Darynne Dahlem.
JONESBORO – Apple Dennie, 21, of Sherwood was crowned Miss Arkansas State University 2020 tonight at the 46th annual competition presented by the Delta Theta chapter of Pi Kappa Alpha Fraternity.
Dennie is a junior, seeking a degree in interdisciplinary studies. Her service platform is "Build the Picture: Providing Positive Influence in Young Minority Women."
For the talent segment of the competition, she performed a vocal solo, "I Am Changing," by Jennifer Hudson. Among her prizes, Dennie also received a $5,000 scholarship from Arkansas State University.
Kenzie Williams, 21, of Benton was selected as first runner-up. Williams is a senior, majoring in strategic communication in the College of Liberal Arts and Communication.
Her platform is "S.E.L.F. – Small Effective Lifestyle Factors." For the talent segment, she performed a contemporary jazz dance to "I'm Gonna Live Till I Die." She also received a $750 scholarship.
Olivia Grace Smith, 20, of Lepanto received the Miss Congeniality Award. Smith is a junior, majoring in strategic communication in the College of Liberal Arts and Communication.
Others in the top five were:
-- Makayla Sprinkle, 19, of Harrisburg, a sophomore exercise science major, second runner-up;
-- Kayla McGee, 21, of Lonoke, a junior interdisciplinary studies major, third runner-up; and
-- Maria Cissell, 19, of St. Louis, Mo., a sophomore, with a double major in biology and criminology, fourth runner-up.
In addition, Sprinkle won the Social Media Promotions Awards, and McGee won the People's Choice Award.
The contest is an official Miss America Preliminary, so Dennie will begin preparations immediately to compete in the upcoming Miss Arkansas competition.
The Pi Kappa Alpha chapter at A-State began sponsoring the Miss Arkansas State University Competition in 1975.
# # #