Alan Utter Next Provost and Executive Vice Chancellor
04/11/2019
JONESBORO – Dr. Alan Utter accepted the offer to become the next Provost and Executive Vice Chancellor for Academic Affairs at Arkansas State University, Chancellor Kelly Damphousse announced.
Currently serving as the provost and vice president for academic affairs at Texas Woman's University in Denton, Texas, Utter previously was the vice provost for research at Appalachian State University. While at App State, he was the founding director of the university office of student research and had a lengthy tenure as a professor in the department of health and education.
"I am pleased that Professor Utter has accepted our offer, and will be joining us soon in Jonesboro," Damphousse said. "As our Provost, he will serve as A-State's chief academic officer, the university's second-ranking officer with responsibilities that cover the entire institution. He will report to the chancellor, serve on the chancellor's leadership team, and take a leadership role over the academic enterprise, student success, curriculum and faculty development, research support, accreditation oversight, and carrying out our developing strategic plan. It's a big job, so I am glad that we have someone with Alan's experience to move us forward."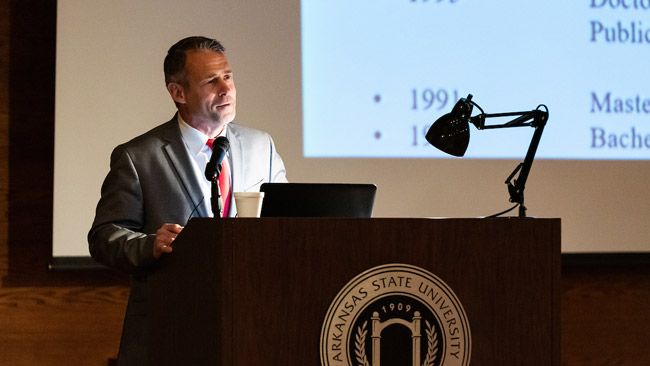 Alan Utter
With research and professional associations in the sports medicine field, Utter has led National Institute of Health grant-funded research as well as being a patent holder and co-inventor on a body weight and nutrition monitoring system. He holds both his doctorate in exercise physiology and a master's in public health from the University of Pittsburgh.
"Throughout Alan's career, he has put great emphasis on student experiences through research and finding ways to support faculty members in their research pursuits," Damphousse said. "Given that undergraduate student research opportunities are a hallmark of A-State's distinctiveness, Alan's background made him an outstanding candidate. He has a tremendous background in administration for academic affairs at his previous universities, but it is grounded in his own personal commitment to his research areas. These days in American higher education, we are called upon to be innovative, but also accountable to our stakeholders – accrediting agencies, assessment, state and federal governments, and most of all, our students and their families. My conversations with Alan lead me to believe that he is the right person at the right time for A-State, particularly as we move forward with our strategic plan."
Utter's appointment is subject to approval by the Board of Trustees of the Arkansas State University System, which is anticipated to happen at the next regularly scheduled board meeting in June. He will assume his new role at A-State starting July 1, 2019.
"I want to express my thanks to the selection committee and to Dr. Damphousse for the offer and their confidence in extending the opportunity to join Arkansas State University," Utter said. "From all accounts, whether it is an elevation of research and creative endeavors, advancing concepts of globalization and international education and a commitment to innovation, Arkansas State is on a positive trajectory under the leadership of Chancellor Damphousse.
"It is both and honor and privilege to assist the faculty in their quest for excellence in the classroom and with their research pursuits," Utter continued. "My very first goal is to spend time listening to and talking with constituents on the Arkansas State campus and I am looking forward to it."
Faculty Association President Dr. Loretta McGregor expressed her confidence in Utter's appointment and the leadership style he will bring to the campus.
"On behalf of the A-State faculty, I am excited about the hiring of Dr. Utter," McGregor stated. "I look forward to working with him."
Dr. Will McLean, member of the search committee, said the group was impressed with Utter.
"His experiences and successes will mesh well with what we are trying to accomplish as an emerging research institution. His expressed commitment as an advocate for faculty, students and academic endeavors really resonated with the committee. We all look forward to pushing forward with many of the new initiatives that he has."
Dr. Mary Jane Bradley, dean of the College of Education and Behavioral Sciences, was also a member of the search committee.
"We believe we have identified a professional who will be a "good fit" for Arkansas State University," Bradley said. "Dr. Utter has had experience as Provost and Vice President for Academic Affairs as well as experience as Vice President for Research. Not only did he increase the institutional external funding for research grants and contracts at his previous institution, he also launched the founding Center for Student Research."
While at Texas Woman's, Utter served as the chief academic officer over six college units and three campus locations, the main TWU campus in Denton plus additional campuses in Dallas and Houston. In his role as provost, he guided the selection of a founding dean for the newly established College of Business at TWU. He initiated several administrative advances for academic affairs that he had pioneered previously at App State in assisting TWU President Carine M. Feyten.
He began his teaching career at Appalachian State in 1995 as an assistant professor, promoted to associate in 2001 and full professor in 2004. From 1996 to 2002, he was the director of graduate programs within the App State Department of Health, Leisure and Exercise Science.
As the founding director for the Office of Student Research (OSR) at Appalachian State, he created advisory boards and committees that led to OSR funding more than 400 student research and travel grants a year leading to a significant increase in student participation in undergraduate research. App State led the 16-member University of North Carolina system with the highest overall participation in the National Conference on Undergraduate Research. OSR's budget grew from $30,000 to $200,000 through his efforts to locate and secure funding for student research.
"While Arkansas State has a similar program in Create@State, I am committed to fostering and expanding these type of passionate commitments to student and faculty research interaction in the learning environment that combines discovery, knowledge creation, and applied scholarship at Arkansas State," Utter said. "I am excited to work with the faculty and staff in continuing to provide and support high quality, 'hands-on' educational experiences for our students at A-State."
His success with OSR at App State led to promotion to vice provost for research where he oversaw a 50 percent growth in institutional external funding for research grants and contracts, rising from $10.9 million in 2014 to $16.2 million in 2016. Among the administrative achievements including establishing four distinct divisions within the Office of Research and setting up its own mission separate from the graduate school.
Currently serving as associate editor for Medicine & Science in Sport & Exercise (July 2004 to present) and the American Journal of Lifestyle Medicine (April 2006 to present), he was granted a fellowship in 1999 from the American College of Sports Medicine (ACSM) based on his academic work. Other notable certifications are ACSM Certified Exercise Specialist for Preventative and Rehabilitative Exercise Programs, ASCM Registered Clinical Exercise physiologist, and he served for a decade as the director of the ACSM Health and Fitness Instructor workshop.
His research focus is body composition assessment, sport performance, and cardiovascular, metabolic and perceptual responses to exercise. Utter has more than 100 research publications in peer-reviewed journals including Medicine & Science in Sports & Exercise, European Journal of Applied Physiology, Sports Medicine, and the American Journal of Clinical Nutrition as well as numerous presentations at regional, national and international meetings.
A graduate of the University of Pittsburgh for all four of his degrees, Utter was a member of the Panthers' Division I wrestling program during his undergraduate days, earning the Pitt Blue-Gold Award as the senior athlete with the best combination of academic scholarship, athletic achievement and leadership.
Utter remains involved in athletics through his service to the Sports Medicine Advisory Committee for the National Federation of State High School Associations and a consultant to the NCAA and the National Wrestling Coaches Association on weight loss issues in wrestlers.
From his bachelor's in exercise science in 1989, Utter first completed his master of science in exercise physiology in 1991 followed by a master of public health with an emphasis in epidemiology in 1995. Utter completed his Ph.D. in exercise physiology with a minor emphasis in research methodology from Pitt also in 1995.
Utter succeeds A-State Provost Dr. Lynita Cooksey who is retiring at the close of this fiscal year.
"I am so thankful for Lynita's service to A-State, especially these last seven years as our Provost," Damphousse said. "During challenging times, she led her alma mater faithfully, and we are a better university because of her hard work."
# # #