A-State Recognizes State Rep. Homer Lenderman at Agri Event
03/13/2014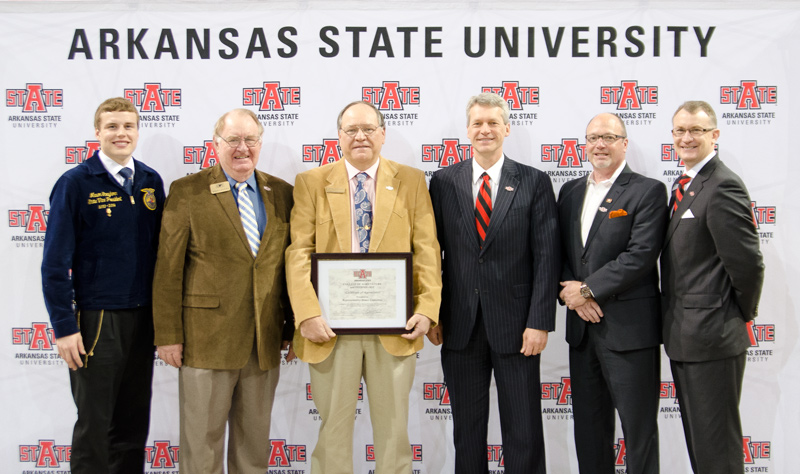 State Representative Homer Lenderman (center) was recognized at the FFA Career Development Events
JONESBORO – State Rep. Homer Lenderman, D-Brookland, was recognized for his service to Arkansas State University Thursday morning during the opening of the university's annual Eastern District Future Farmers of America Career Development Events at A-State's Convocation Center.
Lenderman recently secured $50,000 in legislative funding that enabled the College of Agriculture and Technology (CoAT) to install much-needed windscreens at the university's Equine Center, located at the northeastern edge of the A-State campus.
"We are very grateful to Rep. Lenderman and the Arkansas General Assembly for earmarking these General Improvement Funds to benefit the Equine Center," said Dr. Len Frey, vice chancellor for finance and administration, who thanked the state representative on behalf of the university. "Because Rep. Lenderman is a retired high school agriculture teacher, we thought it fitting to recognize him in the company of his former peers."
"Since its opening in 2003, the Equine Center has expanded its service beyond A-State students participating in the equine program," said Dr. Timothy Burcham, CoAT dean. "Area children and veterans, as well as regional equine enthusiasts all use the facility, and we have seen a continuing need to add these windscreens, which have now been installed around the entire perimeter of Garry Meadows Arena."
Burcham noted classes are held Monday–Thursday for equine students, while on Friday graduate students from the College of Nursing and Health Professions use the arena to conduct hippotherapy sessions with area children and military veterans. Various equine groups and riding enthusiasts also use the facility for different events throughout the year.
"Before these screens were installed, the Equine Center staff used a good deal of time and resources daily to keep the arena in good riding condition," Burcham said. "Wind whipped through the arena often enough that our staff would water it at least twice daily to keep down the dust. Since the screens were installed, we've seen a significant reduction in wind, the sun's blinding glare has been cut, and the temperature is a bit more comfortable within the arena. We appreciate Rep. Lenderman, an alumnus of this university, for securing these capital improvement funds."
Rep. Lenderman is serving his second term, representing District 53, which includes part of Craighead County, in the Arkansas House. As a member of the 89th General Assembly, he serves on the House Agriculture and Economic Development Committee; the House Education Committee; the Legislative Joint Auditing Committee; and the Joint Committee on Public Retirement and Social Security Programs, for which he serves as vice chair. Rep. Lenderman holds bachelor's and master's degrees from Arkansas State University.
# # #