Master of Science (M.S.)
College: College of Education & Behavioral Science | Graduate School | School of Teacher Education and Leadership
Department:
School of Teacher Education and Leadership
Description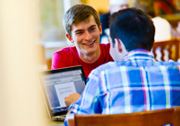 The online Master of Science in College Student Personnel Services (CSPS) program is ideal for motivated working professionals who are interested in a superior graduate program that is more flexible than traditional programs.
The CSPS program provides professional preparation for entry to mid-level positions in a broad array of student services areas in higher education. Program graduates will be prepared to assume leadership roles in such specialty areas as residence life, financial aid, career services, multicultural centers, admissions, orientation programs, student leadership offices, academic advising centers, student center management, recreation, recruiting, judicial affairs, disability services, and alumni programs.