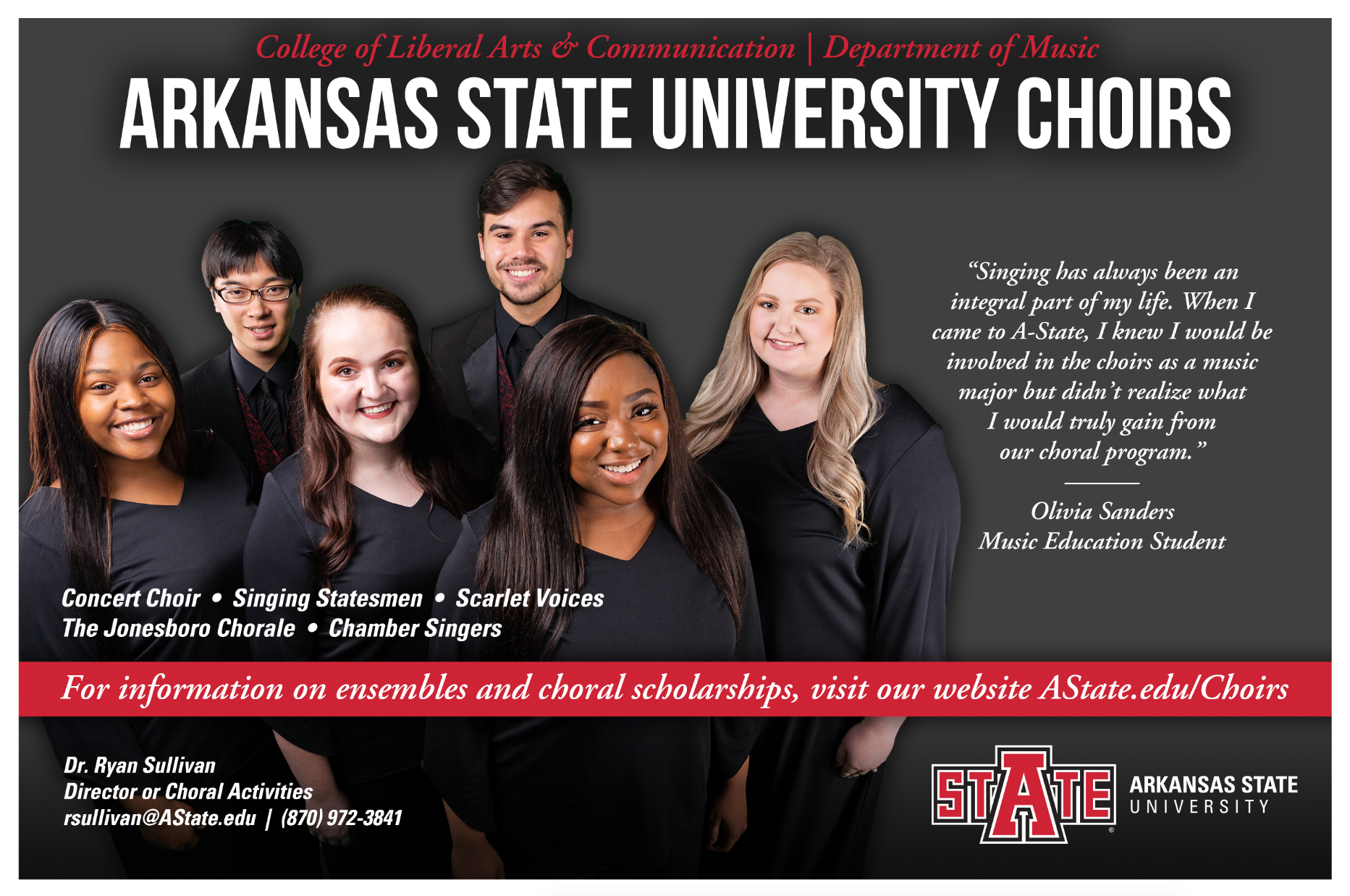 The A-State Choirs welcome all students and community singers to join an ensemble because we believe in the power of life-long music making. We are committed to an inclusive environment and performing a wide range of repertoire with musical excellence. A-State has a long and distinguished history of preparing great choral directors and singers for careers in music.
The A-State Concert Choir has long been known in the southern United States for choral excellence. The A-State Choirs have been led by Mr. Alfred R. Skoog, Dr. Dale Miller, Mrs. Cherie Collins, and Dr. Ryan Sullivan. The A-State Choirs have performed at National ACDA conferences, at Lincoln Center and Carnegie Hall, as well as international tours in countries such as the Czech Republic, Poland and Ireland. A-State graduates have held state, regional, and national leadership positions in professional music organizations. We are proud of the impact that members of our choirs have made on their musical communities in Arkansas and throughout the country.
ENSEMBLE AUDITION INFORMATION
A-State students of every major are encouraged to audition for a choral ensemble. Ensemble auditions for Fall 2020 will be held remotely. Instructions for remote auditions can be found here.
CHORAL ENSEMBLES
Chamber Singers (MUS 3371-014)
TR 2:00-3:30pm
Open to all students by audition. A select mixed choir of highly independent singers. Several concerts are given per semester.
Concert Choir (MUS 1351/3351)
MW 10:00-12:50pm; TR 12:30-1:50pm
A-State's flagship choral ensemble. Open to all students by audition. A select choir of mixed voices. Several concerts are given per semester, as well as regional, national, and international tours.
Jonesboro Chorale (MUS 1361/3361)
M 6:00-8:00pm
Open to all A-State students and members of the community by audition appointment. Approximately two concerts per semester.
Scarlet Voices (MUS 1631/3631)
MWF 1:00-1:50pm
Open to all treble voice singers by audition. Approximately two concerts per semester.
Singing Statesmen (MUS 1641/3641)
MWF 2:00-2:50 pm
Open to all tenor/bass singers by audition. Approximately two concerts per semester.

ALL-STATE CHOIR AUDITION CLINIC

This year's audition clinic take place on Saturday, Jan. 30, 2021 from 1:00-5:00pm in Riceland Hall.

Directors, please register your students by downloading this Registration Form template and send to rsullivan@astate.edu by Friday, Jan. 22, 2021. Registration fees must be paid upon arriving for the clinic.


AUDITIONS & CHORAL SCHOLARSHIPS for FALL 2021

All new singers A-State must audition on the designated dates or by appointment by preparing a memorized solo in a classical style and will be asked to sight sing. Please see the Music Department Auditions Page for more information. The Choral Scholarship Application Form can be found here. If you have further questions, please email Dr. Ryan Sullivan (rsullivan@astate.edu).

All returning singers must schedule a brief audition with the Director of Choral Activities.


A-State Choir Camp 2020 Cancelled due to COVID-19 threat. Please check back for information regarding our 2021 camp soon!