Dr. Melody Lo
Welcome to the Neil Griffin College of Business (NGCOB) at Arkansas State University and thank you for your interest in learning more about us. We are excited to welcome all prospective students, current students, alumni, and members of the business community.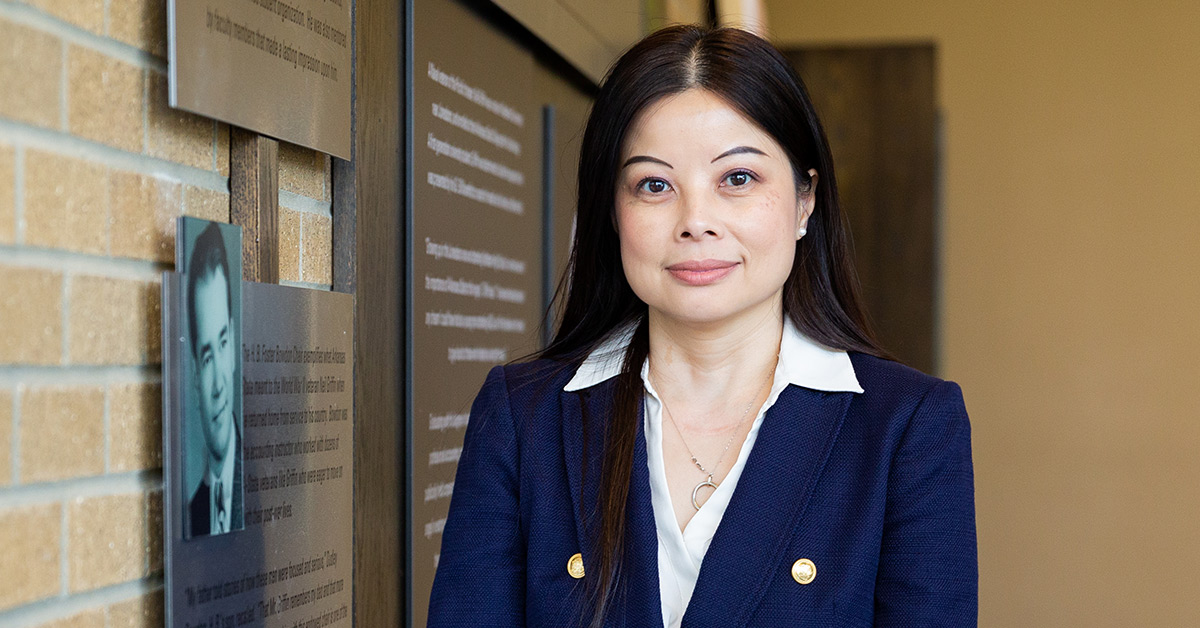 Dr. Melody Lo
The NGCOB at Arkansas State University is a strong, regional school with award-winning faculty and programs. The NGCOB offers a wide array of degree programs and a multi-faceted, industry-centric approach for a diverse student population. NGCOB alumni can be found having an impact in their communities all over the world.
If you are looking for a place to pursue a specialized career path with student success at its core, the NGCOB is the place for you. The college offers degrees in all major business disciplines, as well as areas of emphasis designed to meet the specific needs of students and industry. NGCOB students also excel in areas outside of the classroom and gain valuable real-world experience that can increase their potential for success once they leave the campus. Students compete successfully in a variety of national competitions and participate in internships and community outreach activities as part of the business curriculum.
Nothing is certain, except the notion of change, and the NGCOB is evolving alongside the business world so that its approach to education will address future industry needs. This new strategic approach will involve focusing on student career success by identifying specific career paths, developing academic degree programs coupled with co-curricular activities that provide the best fit, and collaborating with the business community.
I recently joined the NGCOB in Summer 2020, during what has proven to be a tumultuous time for everyone on a global scale. Every college campus has had to strengthen its resolve and pivot to provide a safe environment for its students, while still maintaining a quality education. Despite the difficult circumstances, I have seen our rich history, our students' accomplishments and our faculty's deep-rooted passion for those they teach remain intact. I have also been able to meet many of our alumni and partners in the community and thank them for all they have done to support us. I am energized by the commitment everyone has shown to NGCOB, as well as the enormous potential I see in our students. I believe that the NCGOB has a very bright future, and I am honored to be a Red Wolf.
As we navigate our way through the COVID-19 pandemic, we will remain hard at work finding creative ways to continue providing our students with a rewarding academic experience. I'm grateful to everyone for doing their part to keep each other safe.
Be well and Go Red Wolves!