President Bill Clinton, the founder of the Clinton Foundation and 42nd President of the United States, will speak at Riceland Hall of Fowler Center on the Arkansas State University campus, Monday, Feb. 11.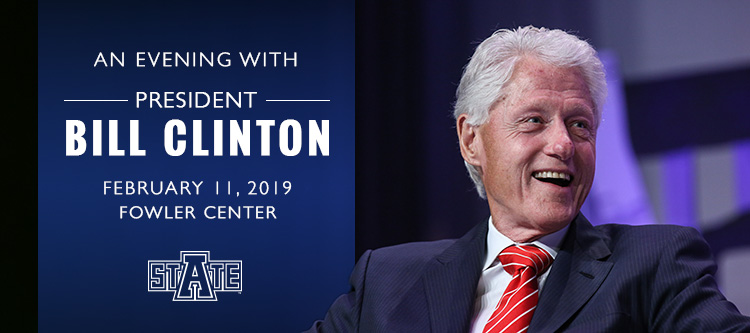 photo credit: Chris Savas, chrissavas.com
"An Evening with President Clinton" is a part of the Riceland Distinguished Presentation Series, and will begin at 5:30 p.m.
Admission is free courtesy of the Riceland Distinguished Presentation Series, but all seats are reserved and must be requested in advance.
Tickets may be requested using the buttons below, with the ticket portal opening on Monday, Feb. 4, at 10 a.m. CT. Students, faculty and staff will be asked to verify themselves as members of the A-State community. A limited number of seats will be available to the general public through the portal on a first-come, first-served basis. Only one seat per person may be requested.
Update: All available tickets have been requested and the waiting list has reached capacity.