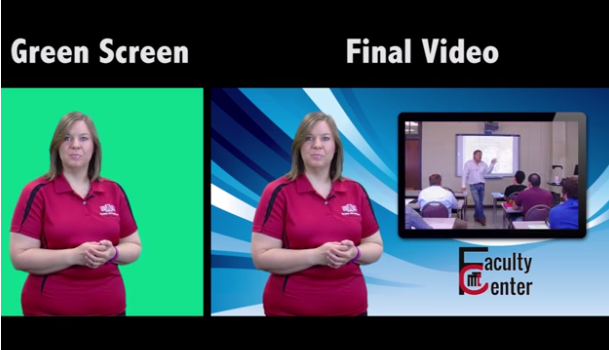 Our Multimedia Specialist will be recording and editing your introduction video for your online class(es). We are looking forward to working with you on the project.
Our goal is to aid you in the creation of a video that will serve its purpose with the highest quality that is within our means. To achieve this, we will have to schedule a time and location for the actual recording. Please email us with the time(s) and day(s) you are available to record. The location will be determined by the setup and background that's chosen. More than likely, they will be recorded in the ITTC office. We are available Monday through Friday, 10am to 4pm. If there's any time before 10am or after 4pm that works best for you, inform us of that and something can be arranged. Also, a script or outline should be prepared for the recording (script is best). We will provide you with a sample script if needed.
Content Guidelines
Personal Profile
Because your students won't have much, if any, in-person contact with you, this allows them to see you & know a bit about their instructor. The information doesn't have to be too in-depth or too personal. It's just enough so the students won't feel like they're being taught by a robot.
Name & title/position
Background (where you grew up, went to school, studied, things enjoy doing away from teaching, why you do what you do, etc.)
Class Introduction
You will inform the students of what you hope they get out of the class & what the class consists of. This, as is the first one, doesn't have to be too detailed. It should contain enough information for the student to not enter the online class blindly. Think of it as a 'condensed video syllabus.'
Class name
Overview of what is to be learned (Information, concepts, skills, etc.)
Overview of how the online class is structured
Why this is important to the student
Tips, if any, on how to effectively navigate through, learn from &/or pass the class.
Video Tips and Examples
Model your script as they have. We will only do two unless there is a need for a third. Each video will be three to five minutes long. When it comes to wardrobe, solid colors are best. Avoid tight patterns and thin stripes. Keep colors in contrast to the major color(s) of the location (i.e.: if the office is brown, don't wear brown). Also, red is good in moderation on video. We are all Red Wolves but the camera doesn't know that and would rather see us as the Pink Wolves. A list is linked below with more rules.
If you have any questions or comments, contact us. Our availability is fairly open but others that need videos may be limited. Scheduling is on a 'first come' basis. Please be fully prepared for the shoot when the time comes. Practice the script, your posture and plan your wardrobe.