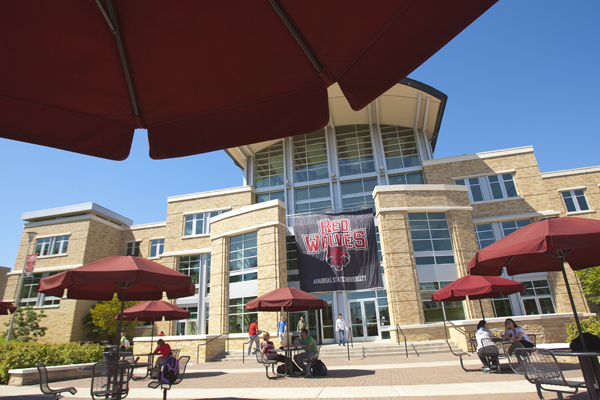 Pack Preview
Saturday, March 3, 2018
REGISTRATION WILL CLOSE TODAY (MARCH 2) AT 4:00 PM
This all-day visit is your opportunity to see first-hand the academic and co-curricular options at A-State.
CHECK IN & RED WOLF INFORMATION FAIR
The day will begin at 9:00 am with Check in and the Red Wolf Information Fair in the spectacular Red Wolf Center - our state of the art fitness facility that sits across from Sorority Row on Aggie Road.
At the Red Wolf Information Fair, faculty from each of our six colleges will be on hand to talk about a wide range of academic pursuits. Learn about any of our 140 undergraduate fields of study. Perfect for students who are still exploring majors!
Red Wolves students will be ready to tell all about campus involvement opportunities outside the classroom such as Student Activities Board, Volunteer A-State, Student Government Association, Intramurals, Greek life, and various student clubs and organizations. There are SO MANY ways to get involved, meet new people, build a foundation for the future and have fun!
WELCOME
You will make your way from the Red Wolf Center to Centennial Hall in the Student Union to hear opening remarks from our Chancellor, Dr. Kelly Damphousse. We know that college is a big decision for you and your family and want you to know that we appreciate you taking the time to visit our campus.
ACADEMIC SESSIONS
The Pack Preview format will allow each student to manage their own schedule. Students will choose which Academic Session to attend. During the Academic Session each college will provide an in-depth academic tour of classrooms and labs. You will hear from faculty about career opportunities and accomplishments of current students.
INFORMATION SESSIONS
We hope you will take the time to visit each of the Information Sessions that are offered throughout the day. These short sessions will provide need to know information and give you the chance to ask questions and talk with staff. Session topics include:
Admissions, Financial Aid & Scholarships
Honors College
Leadership Center, Student Groups & Organizations
Multicultural Center & Diversity
Residence Life
Student Support Services
Study Aboard
TOURS
All tours will start on the Heritage Plaza Lawn (weather permitting) guided by current students.
General campus tours will showcase academic buildings and hot spots around campus.
Residence Life Ambassadors will take you through our freshmen residence halls; Arkansas, Kays, or University.
Honors Ambassadors will take you through the Honors Living-Learning Community showcasing residential suites and classrooms.
LUNCH
Enjoy a break in the action and experience fine dining in the Acansa Dining Hall or grab something quick at the Food Court.