Theatre Announces Cast and Crew for 'Soft Animals'
02/14/2019
JONESBORO – Arkansas State University's Department of Theatre continues the 2018-19 season with "Soft Animals" by Erin Mallon, a collaboration with New York's Farm Theatre.
Performances will be Friday and Saturday, Feb. 22-23 and Tuesday and Wednesday, Feb. 26-27, at 7:30 pm in Simpson Theatre, located in Fowler Center on the Arkansas State University campus. The run also includes a matinee performance Sunday, Feb. 24, at 2 p.m.
According to Tim Bohn, director, and associate professor of theatre, "Soft Animals" examines the relationship between the mind and body. Four medical misfits sign up for a three-day workshop to tackle their issues. A former male nurse and self-professed "woo woo" attempt to guide them toward healing.
The cast includes Amy Faughn of Jonesboro, who plays Emily; Abigail Gray of Jonesboro, Sabrina; Reilly Heffer of Little Rock, Rebecca; and Kirsten Larrison of Little Rock, Dylan. Youssef Sheroubi of Cairo, Egypt, plays Jacob, and Brendan Yocom of Wynne, is Mark.
The associate director is Brandon Sterrett, instructor of theatre. Scenic design is by Jeff McLaughlin, assistant professor of theatre, who also is technical director. Costume design is by Zachary Passmore of Jonesboro. Lighting and sound design is by Caisa Sanburg, assistant professor of theatre. Kassidy Ratz of Beebe, is the choreographer.
Assistant lighting designer is Eli Webb of Jonesboro. The stage manager is David Norris of Southside. Assistant stage managers are Grace Dial of Paragould, Precious McCollough of Clarendon and Sam Scott of Flint, Mich.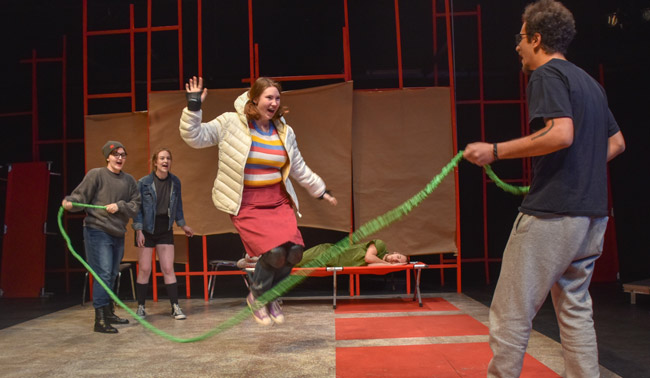 Rehearsing a scene from "Soft Animals" are (from left) Kirsten Larrison, Abigail Gray, Amy Faughn and Youssef Sheroubi.
Prop masters are Clay Bures of Little Rock and Lauren Wilcox of Jonesboro. The master electrician is Elizabeth Escobedo of Russellville, and the assistant master electrician is Hannah Martin of Blytheville. The house manager is Katelyn Stanton of Trumann. The sound board operator is Catherine Finne of Little Rock.
Dramaturg is Courtney Light of Alicia, and the light board operator is Cody Preston of Bono. Wardrobe crew includes Davis Campbell of Batesville. The publicist is Abbey Cooper of Russellville.
All of the students major in theatre except for Sheroubi, a graphic design major, and Bures, a chemistry major.
For tickets, one may call 870-972-ASU1 or visit www.AState.edu/tickets. Admission is $10-15.
# # #