Reception to Note 50th Anniversary of University Status
01/11/2017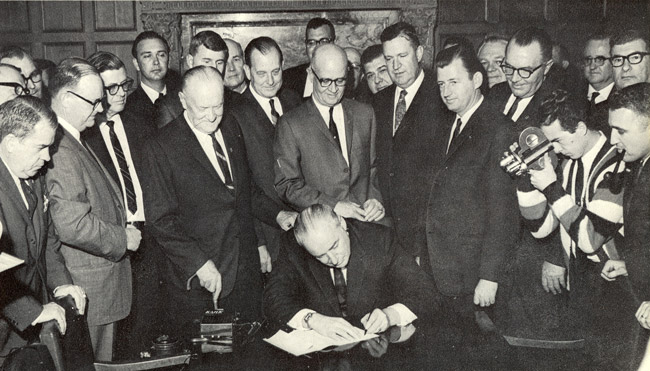 Gov. Winthrop Rockefeller signs legislation authorizing Arkansas State College to become Arkansas State University, Jan. 17, 1967, as university representatives and legislators look on.
JONESBORO – Chancellor Doug Whitlock invites everyone to a reception in recognition of the 50th anniversary of A-State's attainment of university status on Tuesday, Jan. 17, at 10 a.m. in the Administration Building lobby.
On Jan. 17, 1967, Gov. Winthrop Rockefeller signed legislation changing the name of Arkansas State College to Arkansas State University while President Carl R. Reng, Student Government President Ray Hall Jr., and local and area legislators observed.
After brief comments, cake and coffee will be served. The public is welcome to attend.
# # #