Destiny Quinn Crowned Miss Arkansas State University 2017
02/07/2017
JONESBORO – Destiny Quinn of Jonesboro was crowned Miss Arkansas State University 2017 tonight at the conclusion of the 43rd annual pageant presented each year by the Delta Theta chapter of the Pi Kappa Alpha Fraternity.
Quinn is a senior at A-State, majoring in multimedia journalism.
With a stated service platform of "Vote! It's Not Just Your Right. It's Your Duty," she presented a tap dance to "Work" during the talent segment of the competition. She was sponsored by the men of Lambda Chi Alpha fraternity. Her parents are Wade Quinn III and Diana Davis.
The Pi Kappa Alpha chapter at A-State began sponsoring the Miss Arkansas State University Pageant in 1975.
Quinn also won the interview segment of the pageant. Samantha Shelley won the evening gown competition.
Randi Hestir, a junior exercise science major from DeWitt, was named Miss Congeniality.
The pageant is an official Miss America Preliminary, so Quinn will begin preparations immediately to compete in the upcoming Miss Arkansas Pageant.
Among her pageant prizes, she will receive a $5,000 scholarship from Arkansas State University.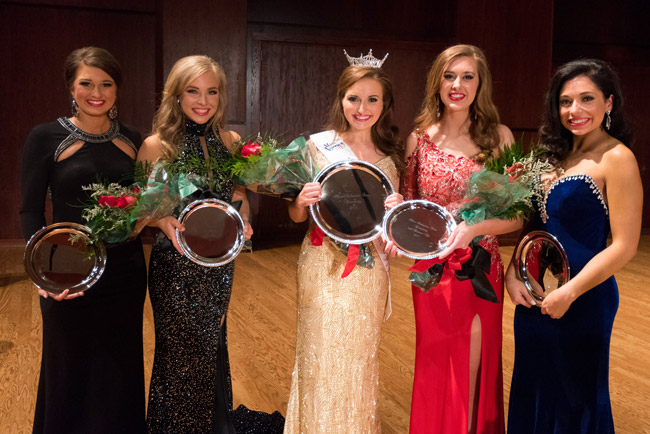 The top five finalists in the Miss Arkansas State University Pageant were (from left) Madison Janski of Paragould, fourth runner-up; Cori Keller of Stuttgart, first runner-up; Destiny Quinn, Miss A-State 2017, Emily Doggett of Jonesboro, second runner-up; and Samantha Shelley of Mountain Home, third runner-up.
# # #