Creative Writers Participate in Hemingway-Pfeiffer Retreat
06/11/2015
PIGGOTT, Ark. – Twelve talented writers came together to hone their skills and form a community in Northeast Arkansas at the site where Ernest Hemingway penned much of his iconic novel A Farewell to Arms as part of the Hemingway-Pfeiffer Museum & Educational Center Summer Writers' Retreat.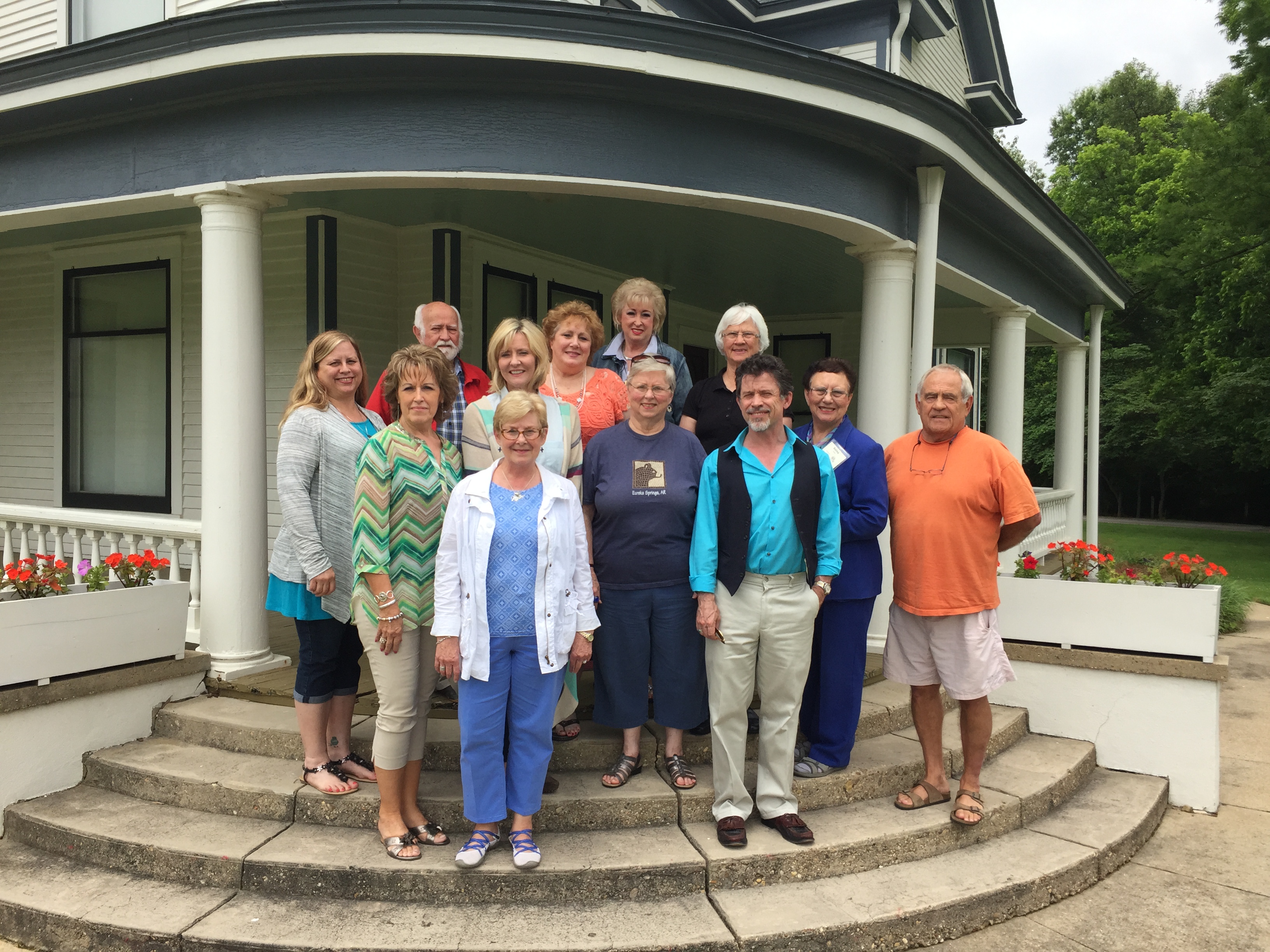 Attached photo: Summer Writers' Retreat Participants, Hemingway-Pfeiffer Museum, Piggott, Arkansas. From left, Front Row: Jane Gatewood (Rector), Dorothy Johnson (Little Rock), Pat Laster (Benton), Garry Craig Powell (mentor, Conway), Belma Cossey (Paragould), Donald Gean (Sarasota, Florida) Back Row: Lydia Cheatham (Benton), Eric Binnie (Conway) Talya Tate Boerner (Fayetteville), Vicki Braden (Pollard), Fay Guinn (Jonesboro), Linda Wyss (Piggott).
Garry Craig Powell of Conway, Arkansas, served as mentor for the retreat. Powell grew up in England and attended the Universities of Cambridge and Durham, and later, the University of Arizona. He has lived in Spain and Portugal, Poland and the United Arab Emirates. That last destination is the setting for his novel-in-stories, Stoning the Devil (Skylight Press, 2012), which was long-listed for the Frank O' Connor Short Story Award and the Edge Hill Short Story Prize.

The book has been described as "mesmerizing" by both George Singleton and Naomi Shihab Nye. His short stories have appeared in Best American Mystery Stories 2009, McSweeney's, Nimrod, New Orleans Review and other literary magazines, and he has been awarded fellowships by the Writers Colony at Dairy Hollow, the Hambidge Foundation, and the Arkansas Arts Council.

Powell is an associate professor in the writing department at the University of Central Arkansas, where he teaches creative writing to undergraduates and graduate students. He is completing a historical novel about the life of Gabriel D' Annunzio, Italy's greatest poet, playwright, playboy and war hero in the early 20th century, and also, arguably, the "John the Baptist" of the Fascist movement. For more information, see his website, garrycraigpowell.com.
Writers began each day with time to write and then came together to look at samples of Hemingway's writing as models for their own. They enjoyed lunch together at the Educational Center and ended the afternoon with a group meeting to reflect, share and discuss the processes used by each writer.

The format allowed writers time to focus on their own creative interests, to receive feedback on their work and to form relationships with other writers. Writers also enjoyed a reading of Powell's own work.

Writers' retreats are held twice annually at the Hemingway-Pfeiffer Museum in Piggott. The next retreat is scheduled for Nov. 2-6, 2015, with Pat Carr of Fayetteville serving as mentor. The museum will also hold a special writing retreat for military veterans in July. This special opportunity is held in partnership with the Arkansas Humanities Council. Contact the museum for more information at (870) 598-3487 or email Adam Long, director of HPMEC, at adamlong@astate.edu.
# # #