A-State Rugby Moves To Plate Bracket In Penn Mutual Championship
06/02/2018
PHILADELPHIA, Pa. — Arkansas State University's rugby team will open play against Virginia Tech, Sunday, June 3, in the second day of the Penn Mutual Sevens College Championship (CRC) Tournament in Talen Energy Stadium in Philadelphia.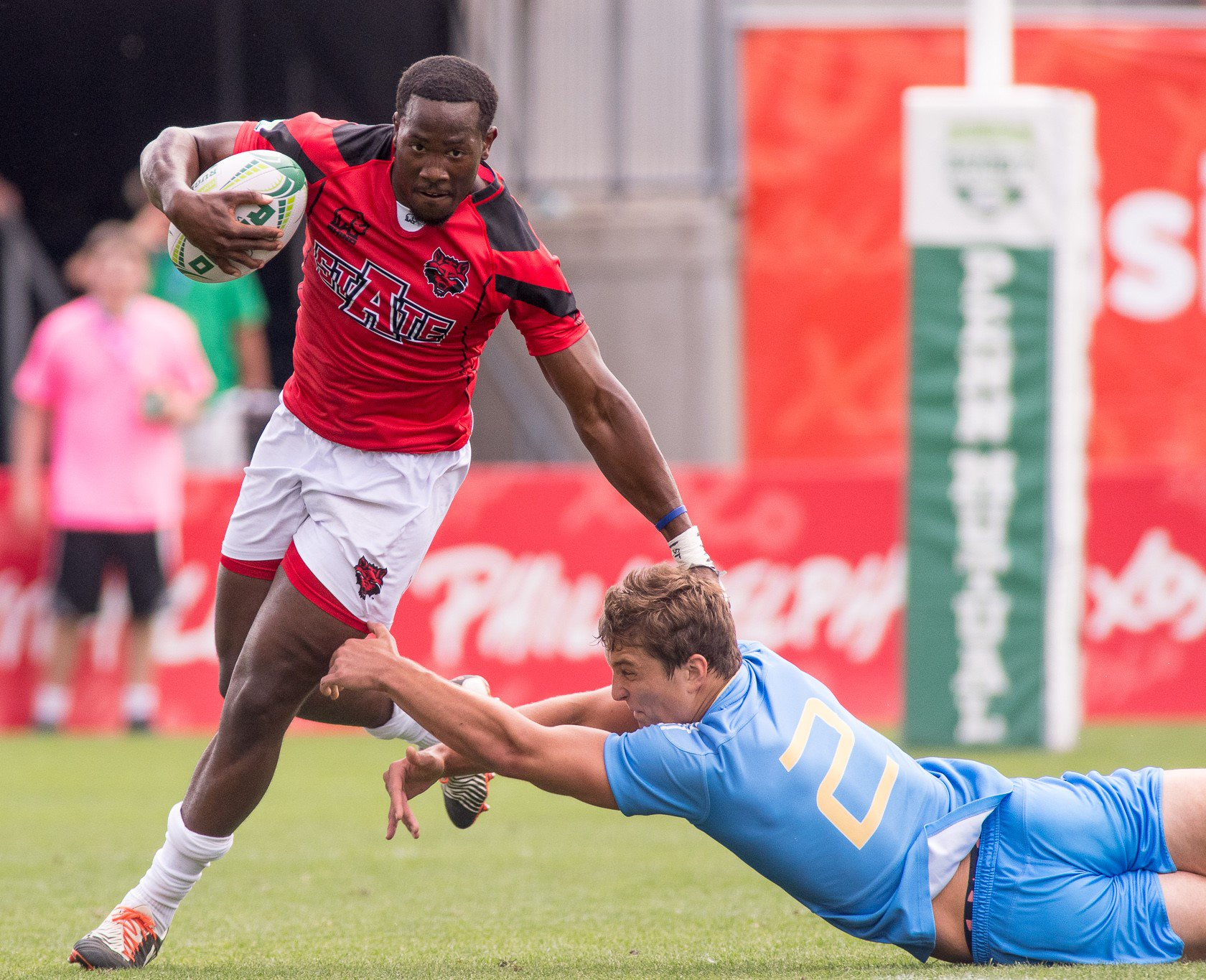 Calvin Gentry eludes a defender in pool play at Penn Mutual Sevens Collegiate Rugby Championship. — Photo by Andrew Ferguson.
The Red Wolves moved to the plate bracket with three trophies to compete for. A-State will compete in their bracket as the No. 1 seed. Virginia Tech is seeded eighth. Play gets underway at 10 a.m. CT.
Arkansas State finished 2-1 in first round pool play Saturday by defeating the University of Delaware, 31-12, in the early morning. UCLA won the second game by a narrow margin, 17-12. The Red Wolves bounced back in the late game to knock off Virginia Tech, 19-5.
"We came out well against Delaware in the first match, but really let our decision-making and execution slip against UCLA," said A-State head coach Blake White. "We came back and beat a very physical Virginia Tech team to end the day.
"I'm proud of our guys' effort. Now it's time to recover and get ready for Sunday. Everyone is going to wake up sore. It's who can focus and deal with it best will come out on top. I know our guys are fit enough and should be ready."
The 2018 Penn Mutual Collegiate Rugby Championship will mark the eighth consecutive year that the event has been held in Philadelphia and at Talen Energy Stadium. The annual event features the nation's top 24 men's collegiate rugby 7s teams, the top 16 women's teams, a regional competition with a six-team field vying for a spot in next year's main bracket, the NSCRO national championship, and a national high school tournament with both boys' and girls' teams.
Some games will be aired on ESPN2, ESPN+ and ESPNNEWS. Check sevensrugby.com for games and times.