A-State Rugby Knocks Off No. 3-Ranked Lindenwood in Thriller
02/09/2019
JONESBORO – A jubilant Arkansas State University team celebrated a 29-23 victory over No. 3-ranked Lindenwood University in men's college rugby, Saturday afternoon, to open the spring season at Curt Huckaby Field.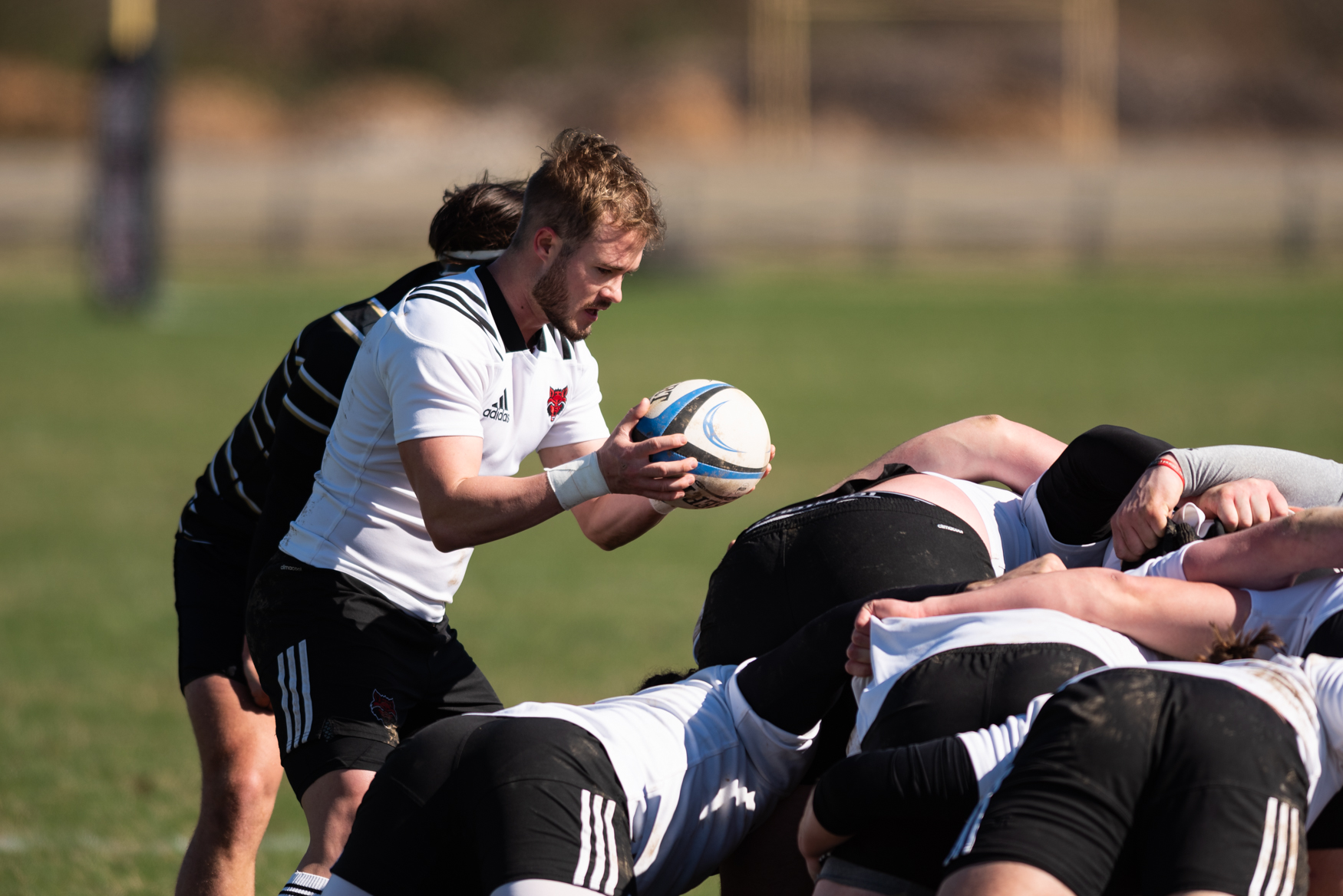 Arkansas State rugby player Keagan Barratt (with ball) vs. Lindenwood University Saturday afternoon.


The Mid-Conference matchup gives the Red Wolves a 1-0 league play edge over LU. It was also the first game in 2019 for A-State who came in ranked ninth by D1ARugby.com. Lindenwood came into the game with a 2-0 overall record after a two-match road swing through Texas, defeating Texas A&M, 33-5, and the University of Texas, 95-3.
"Lindenwood is a great team and they're ranked third for a reason," said second-year head coach Blake White. "I think both teams played well. It was a physical match with both teams getting the upper hand at times. Our guys stuck to the plan and came away with a great win."
The Red Wolves scored the try early with freshman Mazvitaishe "Beefy" Nuamarebvu outracing Lindenwood defenders nearly the length of the field. The conversion kick by Dylan Boast extended the lead to 7-0 for Arkansas State. The Lions followed with two penalty kick to cut the lead to 7-6.
Nuamarebvu took advantage of a timely defensive hit by Calvin Gentry to scoop up the ball and score again to make the score 12-6. Lindenwood scored its first try of the game just before the end of the first half to send both teams in with A-State holding the narrow 12-11 lead.
Early in the final period, a pair of All-Americans teamed for a successful try when Tabo Maree powered through the Lion defense before getting the ball to Zach Young who made his way into the end zone. The score stood at 17-11 when Tanner Pope executed another score for the 22-11 lead increase for the Red Wolves.
Moments later, Tino Msasanure completed his try and Boast's conversion upped A-State's advantage to 29-11.
With about 10 minutes remaining, Lindenwood's offense kicked in and the Lions connected on two tries and one conversion. Arkansas State's defense outlasted the visitors to end the game with the final 29-23 score.
"Our defense stood tall," continued White. "We kept talking about it all week. At the end, the defense led to our ability to attack."
White, while pleased with the play of the entire team, singled out Gentry and Nuamarebvu as both having "a great game . . . Val Balande was steady for us, and the subs came in and really made a difference."
Arkansas State will travel to Marietta, Ga., Saturday, Feb. 16, to take on No. 1-ranked Life University.
A-State's junior varsity squad dropped a 13-7 decision in the early match against Lindenwood.